The sneakers with which inclusion makes its way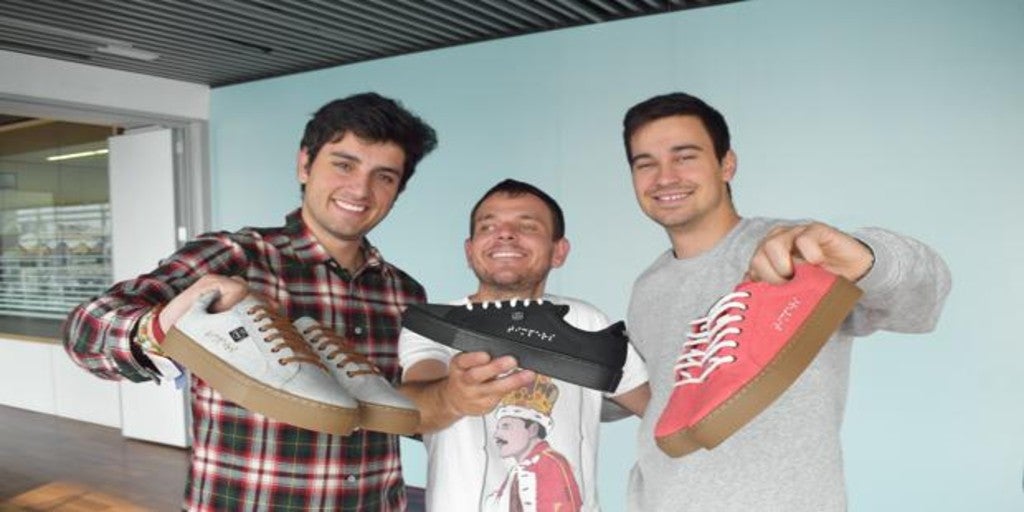 MADRID
Updated:
save

The brand's sneakers Timpers They have a unique design, since they have been made from touch as well as visually impaired people look at the world. Well know Diego Soliveres, co-founder of this company and in charge of designing the models. At his side are also Aitor Carratalá, with cystic fibrosis who deals with Advertising and Marketing, and Roberto Mohedano, a young kidney transplant manager responsible for Production and Finance. It is clear that this SME is already born with genes imprinted on its DNA: a strong commitment to the inclusion of people with some type of disability. «Timpers we are a staff with people with disabilities And we want to hire trained people like us to demonstrate that we can and do business and succeed. Our fight is to break barriers and stereotypes for the normalization of people with disabilities in the workplace, "he explains.
Each model has been designed with the aim of evoking different sensations, situations and places. They are sneakers that make us feel. «Each shoe is made of different materials and fabrics. For example, with green felt that when playing is very reminiscent of nature, and cork that simulates the trunk of a tree, you think you touch a forest, the fresh grass ... ", says Diego. The Green Forest line is for moving into nature. The Blue Jean, with the denim back, "remember that jacket or jeans that you will never forget in your life," says the designer. The Total White is "a white shoe made with different materials, which is a trompe l'oeil. When you touch it, you realize the difference in texture, the softer front and the rougher rear, "says Diego. Of course, an experience for the sense of touch.
Other qualities have been incorporated into Timpers footwear that will be greatly appreciated by visually impaired people. "One of our hallmarks - continues Diego - is use strong color contrasts. And this is so that those with reduced vision have an added bonus of showiness and originality in theto the shoe and, on the other hand, so that they can locate the shoe in a more agile and faster way. We also use round laces because they are easier to tie and untie and more difficult to tie knots. " And to close details the brand is embroidered in Braille.
At the moment, Timpers sells through its online platform. And they hope to launch a new collection for spring. Last year was his turning point. «We were winning social entrepreneurship competitions, until we were selected to enter Lanzadera, by Juan Roig, and we left everything to live this adventure. We have noticed a big growth. Last year we started to invoice heavily from May / June until the end of the year: about 60,000 euros, "says Diego. A figure that they hope to exceed this year, in addition to adding more people with disabilities to its workforce.