The Slaughter thing brings a tail: it could not be trained and was subjected to tests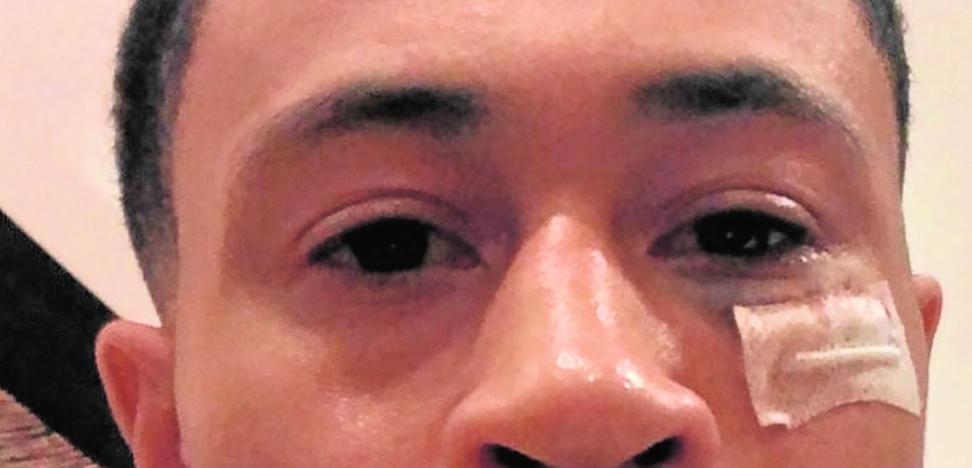 basketball
The aggression suffered by the Granca player makes him a doubt for this Wednesday's game since he was explored for his dizziness
Much to his regret, AJ Slaughter continues to dominate the news of Granca, after the savage aggression of which he was the victim in Sunday's game in Murcia and at the hands of Sadiel Rojas. Slauhgter returned with the team's expedition and showing clearly visible traces of an intolerable mishap: the elbow that hit him in the face, and which miraculously did not remove his left eye, left a bruise in the affected area. But beyond that incidence, what caused the most concern was the
The picture of pain and dizziness that, hours later, persisted and that forced him to perform a series of medical tests, including a computed tomography (CT) to rule out major sequelae.
"He has severe headaches and neck pain and is awaiting neurological tests," the club specified on its social networks regarding the state of health of the Kentucky point guard. In principle, and with due rest, the positive evolution of AJ is trusted, although it is doubtful for this Wednesday's match
against Andorra at the Arena (8:00 p.m.).
Fisac ​​will attend to the advice of the medical services in case of doubt. For now, yesterday he did not exercise with the rest and it remains to be seen if he can do some kind of activity today.
Not the slightest risk is going to be taken after what happened and it will be the player himself who, according to his feelings and the results of the medical tests, marks the times in this difficult trance and who has made all the levels of the entity aware and a good part of the guild, since there have been numerous signs of rejection of Rojas's action, which is not new in this of being singled out for his ways and manners.
There will be no formal complaint

"I'm fine, although his nose was missing," said the American on his social networks and with a certain sarcasm when evaluating how he had gotten out of this action and what could have had worse consequences, although the arbitration trio left him with a technical foul.
Granca sources consulted by this newspaper ruled out any type of institutional reaction,
despite the fact that the sports director, Willy Villar He said he felt "disgust" for what happened and warned that one day "a misfortune will happen" because of Rojas's performances. he has caused
enormous anger what happened with AJ as a victim and they understand that this gratuitous show of aggressiveness should never have gone unpunished, although they prefer to maintain protocol and turn the page because the calendar does not let up.
However, the concern and encouragement from the club has been transferred to the player, while he regrets that there is no apology from the other involved, which further inflames the prevailing indignation.
«
AJ will return, hopefully as soon as possible, and that is what we have to stay with. It doesn't make sense for us to focus on what he doesn't deserve. We are only concerned about our player and his health, "these sources insist.