The sixth wave threatens Christmas: 694 new infections and three deaths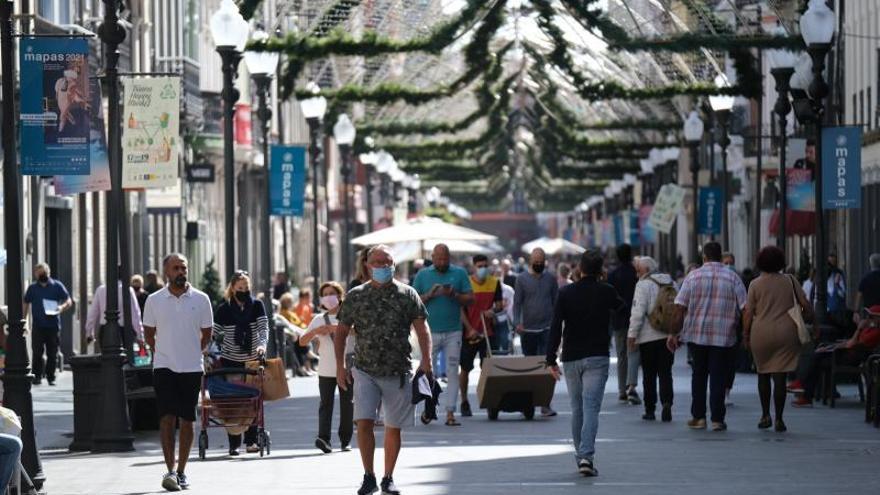 The Ministry of Health of the Canary Islands Government today communicates 694 new cases of coronavirus COVID-19. The total accumulated cases in the Canary Islands is 109,703 with 7,670 active persons, of which 51 are admitted to the ICU and 251 remain hospitalized. In the last hours they have been notified three deaths in the Canary Islands: a 51-year-old woman in Gran Canaria and two 69 and 71-year-old men in Tenerife. All suffered from previous pathologies and remained in hospital.
The Accumulated Incidence at 7 days in the Canary Islands stands at 163.33 cases per 100,000 inhabitants and at 14 days at 286.31 cases per 100,000 inhabitants.
By islands, Tenerife today adds 382 cases with a total of 51,695 accumulated cases and 3,371 active; Gran canaria It has 42,012 accumulated cases, 226 more than the previous day, and 3,063 active. Lanzarote adds 21 new positives with 7,862 accumulated and 234 assets; Fuerteventura It has 5,805 accumulated cases, with 49 new cases, and 872 active ones. La Palma adds 12 new positives so it has 1,368 accumulated and 98 assets. La Gomera registers a new case, so it has 483 accumulated and its assets are 23. El Hierro he adds three new positives, so his accumulated are 477 and his assets are nine.
Until today, a total of 2,500,353 diagnostic tests have been carried out in the Islands, of which 8,279 correspond to yesterday.
Health begins tomorrow, Wednesday to vaccinate against COVID-19 with and without appointment to the population between 5 and 11 years old
The SCS begins this Wednesday, the 15th, as in the rest of the autonomous communities, to administer the vaccine against COVID-19 to minors between the ages of 5 and 11, once this age group was included in the Strategy National Vaccination Against COVID-19.
At the time of vaccination, minors must go to their appointment accompanied by their father, mother or legal guardian.
The inoculation process for this group will be carried out both in health centers and in mass vaccination points according to the agendas established by the appointment system. In addition, the spaces enabled for mass vaccination will have specific daily dose schedules and quotas for vaccination without an appointment.
In the vaccination of this age group, made up of 136,910 boys and girls in the Canary Islands, priority will be given to the immunosuppressed pediatric population who will be directly summoned by their referral hospital.
This group includes children in the Canary Islands who have undergone bone marrow or solid organ transplants or are on the waiting list for it. Also those who are undergoing hemodialysis and peritoneal dialysis treatment, or with a diagnosis of oncohematological diseases, solid organ cancer under treatment with cytotoxic chemotherapy, metastatic or radiotherapy for tumors of thoracic location with risk of pneumonitis, or for primary immunodeficiencies, infection with HIV with less than 200cells / ml despite effective ART and undetectable viral load, cystic fibrosis, Down syndrome, people with immunosuprensive treatment, cyanogenic congenital heart disease, nephrotic syndrome or congenital metabolic diseases.
Make an appointment
To access the vaccination, you can make an appointment by calling 012 or the numbers 922470012 or 928301012. You can also make an appointment through the mobile application and on the SCS appointment website.
In the case of the Health Area of ​​La Gomera, the prior appointment is requested through the following telephones: 822 171 220 (San Sebastián), 822 171 318 (Hermigua), 922 478 530 (Agulo), 922 171 170 (Vallehermoso ), 822 171 196 (Playa de Santiago), and 822 171 187 (Valle Gran Rey).
Drop-in vaccination points
In addition to the agendas set by the appointment system, you will be able to go to the spaces set up for mass vaccination at the times defined for this vaccination system where you will be vaccinated without an appointment until the end of daily doses available at each point of vaccination.
Gran canaria
-Infect: Monday to Sunday from 2.45 p.m. to 6.30 p.m. (100 doses).
-Expomeloneras: Monday to Sunday from 2:45 p.m. to 6:30 p.m. (100 doses).
-Hospital Universitario de Gran Canaria Dr. Negrín (Floor 3): Monday to Friday from 11:00 to 14:00 (holidays not included) (50 doses).
Tenerife
-Fair Center: Monday to Sunday from 5:00 p.m. to 7:00 p.m. (60 doses).
-Magma Arte & Congresos: Monday to Sunday from 5:00 p.m. to 7:00 p.m. (60 doses).
-Hospital Universitario de Canarias: Monday to Friday from 12.00 to 14.00 (holidays not included) (60 doses).
Lanzarote
-Valterra Health Center: Saturday 18 and Sunday 19 from 10:00 to 12:00 and from 15:00 to 19:00 (60 doses in each shift).
La Palma
-Pabellón Roberto Rodríguez Estrello (Santa Cruz de La Palma): Saturday 18 and Sunday 19 from 09:00 to 17:00.
-Centro Cultural de Argual (Los Llanos de Aridane): Saturday 18 and Sunday 19 from 09:00 to 17:00.
La Gomera
-Audillón de La Gomera (San Sebastián de La Gomera): on the 15th from 3:00 p.m. to 6:00 p.m., minors between 9 and 11 years old will be vaccinated (250 doses) and on the 16th from 3:00 p.m. to 7:00 p.m. the minors will be vaccinated between 5 and 8 years (275 doses).