The shocking image of Piqueras and the reporter Alejandro Rodríguez ten meters from a lava tongue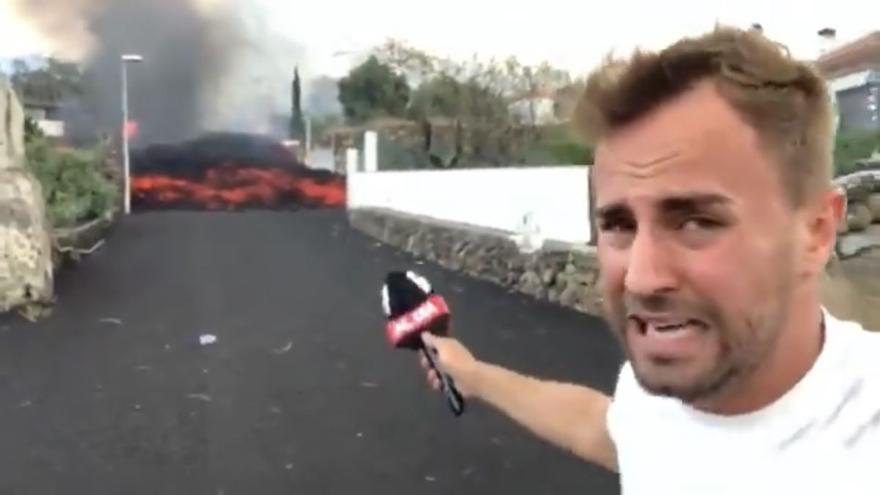 The La Palma volcano eruption It has caused a great informative display. Journalists, including presenters from major networks, they have traveled to the area to report first-hand of the advance of the lava that has caused the eviction of 6,000 residents. Many of them have even reported a few meters from the lava tongues, as is the case with Alejandro Rodriguez, reporter of 'Four a day'.
The journalist has received several criticisms for standing just ten meters from the lava, as he himself explained in a video posted on his social networks: "I have one of the languages ​​of the Cumbre Vieja volcano as it passes through the municipality of El Paso ", Explain. "We have managed to access up to this point, already evicted in a matter of hours because, as you can see, the magma is destroying the houses and the cultivated fields, "he adds.
He has not been the only one to perhaps get too close to tongues of fire. Pedro Piqueras, sent by 'Informativos Telecinco', also approached: "What we are seeing is something tremendous. I had never come across something like this, "explained the journalist, who added:" You can already feel the heat from here. "
At that moment, several rocks began to fall very close to where the journalist was reporting, to which they shouted: "Watch out!" He added naturally: "Here comes this lava rock". For his part, Susanna griso He also did something similar, reporting live a few meters from the lava.