The ship Ángeles Alvariño will continue looking for Anna and her father for a few more days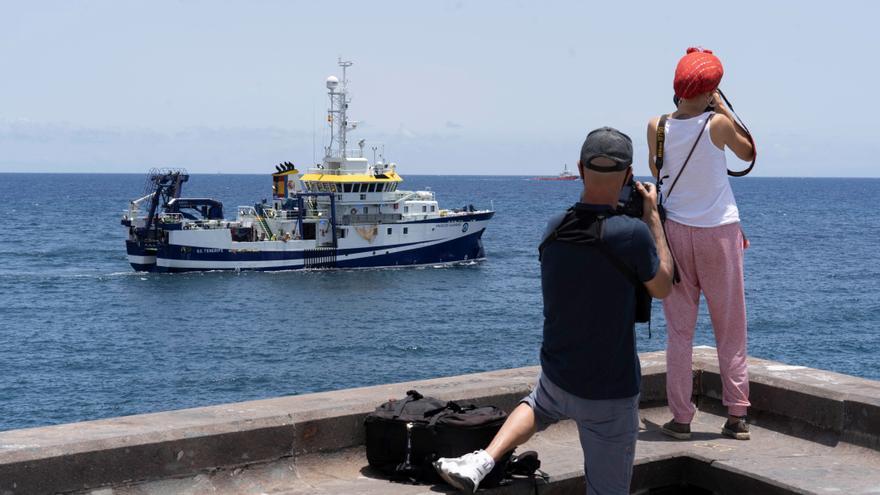 After several extensions of its stay in the Tenerife area, the ship, dependent on the Ministry of Science and Innovation, will extend its deployment a few more days to continue with the tracking work in the maritime area marked by the Civil Guard researchers, reports Government Delegation.
In a complementary manner, the Civil Guard is carrying out the pertinent steps in the civil sphere to have technological solutions that allow the vessel to be replaced in search tasks.
The ship is expected to return soon to the port of Santa Cruz de Tenerife, to carry out maintenance work on the equipment. This equipment, suitable to work up to 2000 meters deep, has limited operability for continuous work.
Third extension
This extension occurs as a result of the Steps that the Government Delegation in the Canary Islands has carried out this Wednesday to try to get the oceanographic vessel to stay on the island "a few more days," according to the delegate, Anselmo Pestana.
The 'Ángeles Alvariño' had planned to conclude the search for Anna and Tomás this Thursday; However, this morning it was announced that the ship would end its searches this afternoon, around 7:00 p.m., to join the research work carried out by the Spanish Institute of Oceanography.
Anselmo Pestana has wanted to value the "very remarkable" work carried out by the 'Ángeles Alvariño', as well as the "generosity" of the Ministry of Science and Innovation, which has allowed the ship's stay on the island to be extended on two occasions and , now, a third time.
Pestana insisted that We had to wait for the decision made by the State authorities and see if we could collaborate on something else, knowing the "very slim chances of finding something else," he said.
Commitment
The delegate stressed that the oceanographic vessel has put its equipment "to the limit" during the tracking work, to the point of having even suffered a breakdown, and also highlighted the "so great" commitment they have had with Canarian society and with the Anna and Olivia's family.
On the other hand, judicial sources have indicated that the oceanographic vessel does not need a court order to leave, but only to have complied with the order issued by the magistrate who was handling the case, which involved tracking the points in which the investigation determined that it had been Tomás Gimeno's mobile, being able to abandon this task once it was considered completed.
Mother's supplication
Also this afternoon it was learned that the girls' mother, Beatriz Zimmerman, had directed the authorities through her spokesperson Joaquin Amills a request precisely to extend the search at sea "until all areas of their possible locations are fully and exhaustively revised and thus it is endorsed by the investigators of the Civil Guard ".
"We ask that the search for Anna and her alleged murderer Tomás Gimeno not cease for other reasons such as work, financial or technical commitments," continues the plea: "Olivia and Anna's family will not be able to have peace until the body is recovered. of the little girl and especially that of the alleged murderer, it would be a pain, anguish and horror added in this case to the victim who is Beatriz Zimmerman at the remote idea that such a monster is still alive. "