The shaking of the La Palma volcano awakens the population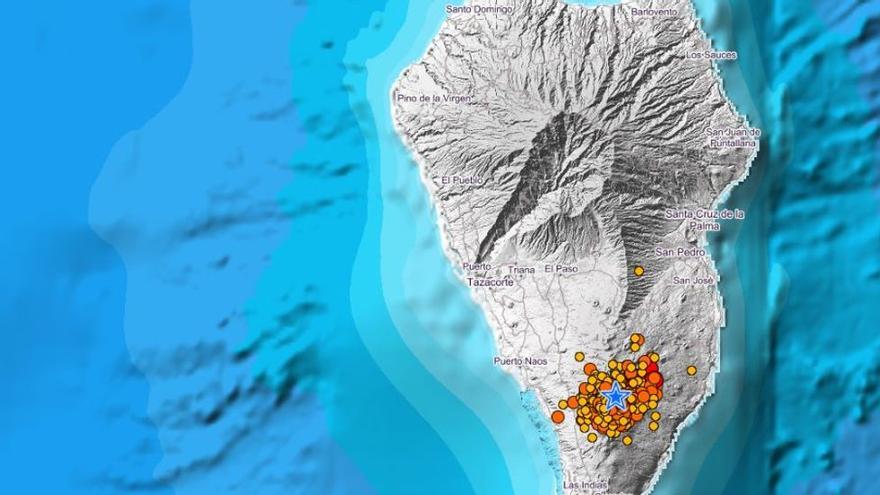 But in addition, according to the data of the National Geographic Institute (IGN)This is the day with the greatest impact for La Palma trees: many of them have been felt by the population and the tremor of greater intensity has even been registered to date.
The classification of earthquakes takes into account two main variables: magnitude and intensity. The first one refers to the force of the shake, which until not long ago was known as the Ritcher scale. In this regard, the figures for tonight's shocks on La Palma range between 3 and 4.8, amounts that, while remaining within the usual trend of recent weeks, stand out because on this occasion too many have accumulated. in just a few hours.
Thus, up to five earthquakes have exceeded magnitude 4, although three of them stand out. Two served to close Tuesday and with a few minutes of differences: with 4.8 magnitude they were located in the municipality of Mazo and about 35 kilometers deep. The third of the most relevant was registered in the same municipality shortly after six in the morning and at a greater depth.
Regarding intensity, it is the variable with which professionals classify tremors based on the damage it can cause to the surface. Until now, the eruption of the Tajogaite volcano it had left intensities of between two and three, but during the last weeks they have been increasing gradually.
Those responsible for the scientific committee of the Pevolca: La Palma had to prepare for an increase in intensity. And it is at this point that today's day has begun to agree with the scientists. Of the more than 70 earthquakes registered since midnight, up to ten have been felt by the population with intensities mostly above three.
However, the earthquake registered at 06:19 today stands out. With the greatest magnitude and meaning in the entire Island, it is also the one with the greatest intensity to date, touching five in this scientific classification. Earthquakes of this type are those that feel inside buildings as if it were a wobble and hanging objects sway considerably and even the smallest can fall. In addition, they can cause minor damage to buildings.