The Seville does not resign to the League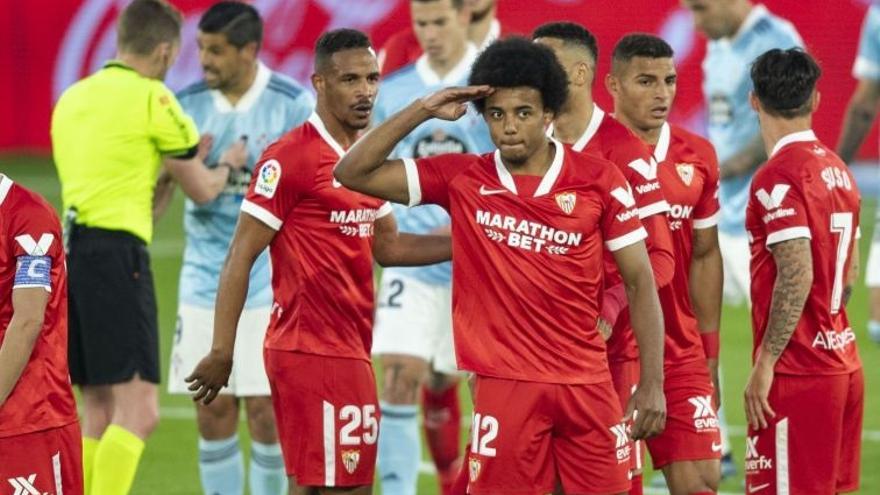 The Seville confirmed his candidacy for the title after going back in the second part to Celta Vigo (3-4), after a goal festival in Balaídos that the Argentine Papu Gómez unbalanced, after a gift from Joseph Aidoo at the exit of the ball.
The Sevilla team found the best Celtic of the season in the first half. With suffocating pressure in the rival field, a sensational Denis Suárez and another exhibition by Iago Aspas, the team led by Eduardo Coudet dwarfed Sevilla despite being hit by Kounde on his first approach.
The celestial team needed victory to keep their European dream alive, and in four minutes he turned the scoreboard with a double from Aspas, the first from the penalty spot and the second after beating Bono in heads-up. Denis Suárez commanded in the medullary, but Fernando equalized with a distant shot that was poisoned after touching Aidoo.
Celta, overturned, continued to press, dominate, and Brais Méndez, after another sensational assist from Denis Suárez, closed the scoring festival of the first half to give advantage to theirs. Lopetegui went to the locker room with a serious face.
And the script of the crash was another in the second part. The celestial ones took a step back to counterattack. Serious mistake. Sevilla grew with the ball, and began to generate their usual football. Suso brushed the tie with a cross shot. At minute 63, Rakitic did not miss. He was able to equalize the Galician team, but Fernando corrected an error in his defense to avoid the launch of Aspas, who shot very hard.
Celta tried to regain control of the game but a monumental error by central Aidoo at the start condemned him because the Papu Gómez did not fail in the heads up. The people from Vigo asked for a penalty for an elbow from Fernando to Ferreyra (min.81), but Hernández Hernández did not indicate anything. Sevilla lengthens its great moment, with four victories and a draw in the last five games.
3 – Celtic: Ivan Villar; Hugo Mallo, Aidoo, Fontán, Aarón Martín; Wall; Brais Méndez, Denis Suárez, Nolito (Baeza, min.86); Aspas and Santi Mina (Ferreyra, min.26) (Fran Beltrán, min.82).
4 – Seville: Bond; Jesús Navas (Munir, min.85), Koundé, Diego Carlos, Acuña; Fernando, Joan Jordán (Oliver Torres, min.63); Suso (Papu Gómez, min.67), Rakitic (Gudelj, min.85, Ocampos; and En Nesyri (De Jong, min.63).
Goals: 0-1 Kounde, min 7; 1-1 Iago Aspas (p), min.19; 2-1 Iago Aspas, min.23; 2-2 Fernando, min.34; 3-2 Brais Méndez, min.42; 3-3 Rakitic, min.59; 3-4 Papu Gómez, min.75
Referee: Hernández Hernández (Canarian school). He admonished Aspas (min.8), Hugo Mallo (min.50), Brais Méndez (min.73) by Celta, and Kounde (min.18), Diego Carlos (min.57) by Sevilla.
Incidents: Match corresponding to matchday thirty of LaLiga played at the Abanca Balaídos stadium. Before the game, a minute of silence was observed in memory of the former celestial player Antón De las Heras, who recently passed away.