The seven Canarian artists of 'Cayó la noche Remix' collect their Gold Disc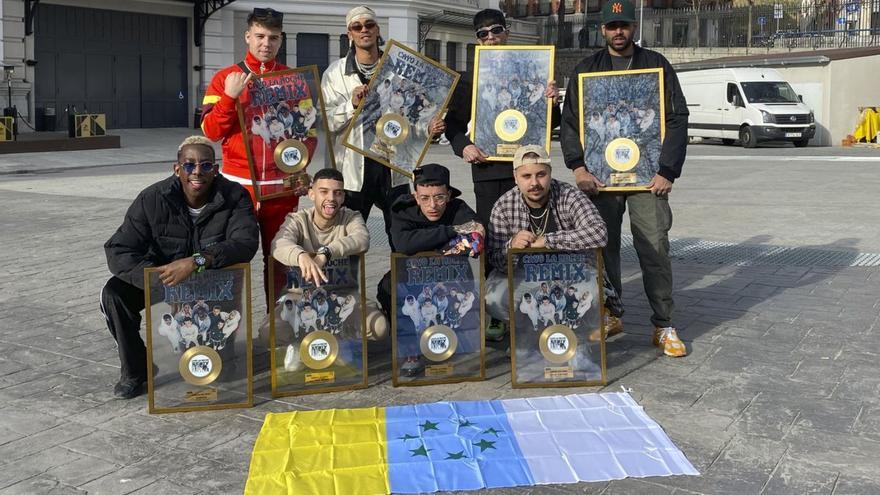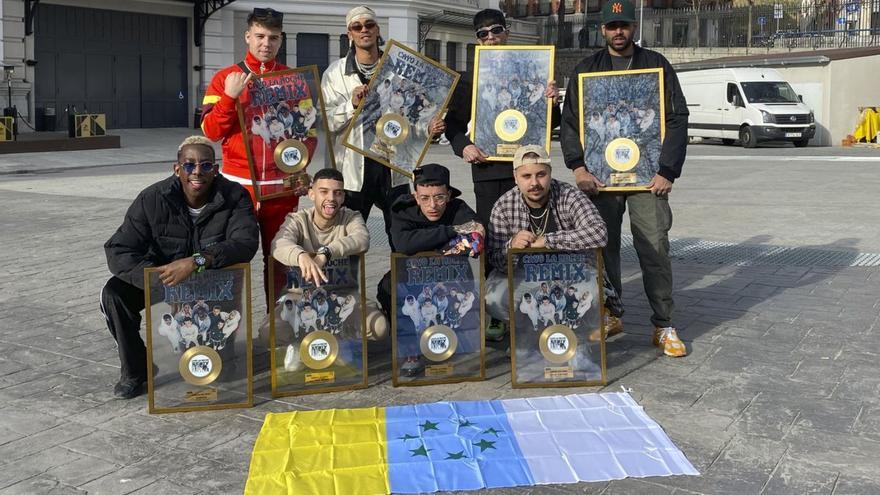 Few meteoric rises like that of the anthem Night fell Remix, defended by an acclaimed list of seven Canarian artists, they have climbed such high mountains and still promise years of advantage to continue touching the sky.
Their names are already known worldwide -La Pantera, Quevedo, Juseph, Bejo, Abhir Hathi, Cruz Cafuné and El Ima- in the urban music circuits worldwide and their golden dream was crowned yesterday with their first Gold Disc, which the seven young artists received in a personalized way at the headquarters of Warner Chappell Music Spain, in Madrid. In total, seven awards that guarantee the figures that support them: number 1 on the Spotify list nationally and 73 worldwide; more than 12 million views on YouTube and, in addition, the permanence in the top after international figures such as Rosalia or C. Tangana They will publish their respective works in the last few days.
The event of the affectionately called "Canarian troop" by the national media took place yesterday afternoon, around 4:00 p.m. and, after a photo session around the awards and the Canary Islands flag, the young people toured the Warner facilities , to then retire directly to record.
The event, as the components revealed yesterday, took place in a very familiar environment, since everyone knew each other and was endorsed by the distributor Ada Latin.
The young people yesterday collected their seven personalized awards at the Warner headquarters
In the current music scene, this group that brought together its talent and desire almost fortuitously in the midst of a pandemic marks the contemporary sound and stylistic trend at an unstoppable pace, with its feet on its roots and with an unprecedented impact on digital platforms. and on social networks, which has placed the Canary Islands in the center of the map thanks to beats.
«Spain needed someone like us, I would love for this to be a before and after in the history of the music of the Canary Islands», stated La Pantera in a monograph dedicated to this phenomenon last January in LA PROVINCIA.
In less than a month, since then, the success of Cayó la noche Remix already triumphs in Chile, Argentina and sweeps the United States and Italy. By all accounts, double platinum is coming soon.