The setting up of scenarios in Cáceres for the prequel to 'Game of Thrones' begins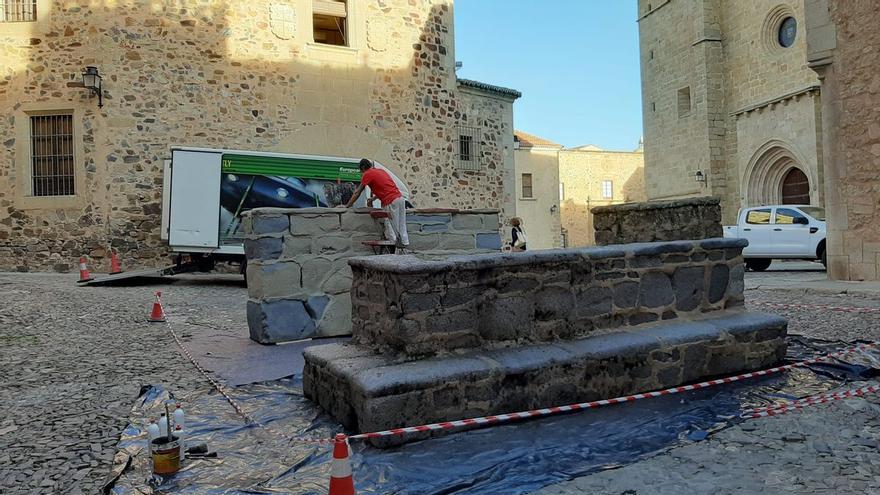 The installation of the sets for the blockbuster has already begun in Cáceres 'House of the dragons', the most anticipated series internationally as it is the prequel to 'Game of Thrones'. Filming in the city will take place from October 11 to 21 and the preparations involve various local companies for logistics, machinery, accommodation, cooking and other activities. The evolution of the sets begins to be visible in the Plaza de Santa María, where the workers have erected some structures from this Wednesday, which imitate the granite stone of the monumental city.
The series will be set 300 years before of the beginning of the events of 'Game of Thrones' to reveal the beginnings of the dynasty of the Targaryen and his reign in Westeros. The new HBO installment, which has been filming in different countries since April, requires a lot of movement. The base of operations is located in a Industrial building of the Casar de Cáceres, next to the N-630, where castings and wardrobe work are also carried out, and where work was already carried out on the 2016 shootings. The production team has been in the city for several weeks to finalize the different locations, that are distributed by the old town of Cáceres, specifically by the most emblematic spaces. It has also been noticed by the tourist apartments in the city, which are already housing blockbuster professionals.
'House of the dragons' will have ten episodes and is expected to premiere in 2022. At the moment it is also filming in England and as of October 1 it will do so in the castle of La Calahorra, in the province of Granada, according to the website 'The Seven Kingdoms', the most specialized in the country in this series. In addition, the cameras will go through Trujillo, as they did in 2016 to recreate the castle of Alto Jardín.
Actors already revealed
The cast is also being revealed. Milly Alcock and Emily Carey will incarnate Rhaenyra Targaryen and Alicent hightower, respectively. Last Friday, HBO unveiled other seven actors of the first season of 'House of the Dragon', which are Graham McTavish (will play the Lord Commander of the Kingsguard at the beginning of Viserys' reign), Gavin spokes (Lord Lyonel Strong), Ryan corr (Harwin Strong, first-born of Lyonel), Matthew needham (Larys Strong or Larys Patizambo), Bill paterson (Lord Lyman Beesbury, Counselor of Currency in Viserys' reign), David Horovitch (Grand Master Mellos), and Jefferson Hall (He will play two characters: Lord Jason Lannister, Lord of Casterly Rock, and his twin brother Tyland Lannister).