The series 'Kings of the night' already has a premiere date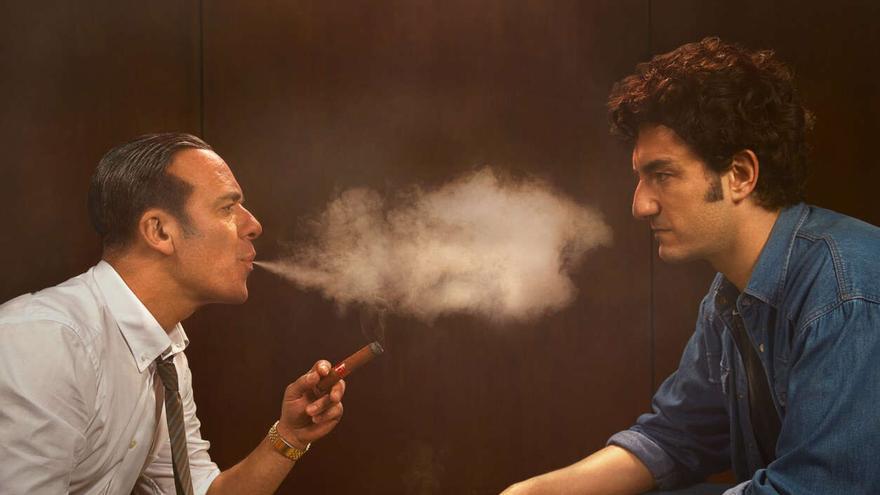 The Serie original from Movistar + 'Kings of the night', in which the actors Javier Gutiérrez and Miki Esparbé They move to the golden age of Spanish sports radio (years 80-90), it already has a premiere date, on May 14, the platform reported this Wednesday in a statement.
Created by Cristóbal Garrido ('I leave it when I want', 'Fariña', 'Elite body') and Adolfo Valor ('I leave it when I want', 'Phantom Promotion'), the series is a comedy with a dose of drama that is Inspired by the radio battles of sports journalism of the 80s and 90s.
'Reyes de la noche' is directed by the winner of a Goya Carlos Therón ('I'll leave it whenever I want', 'Look what you've done') and by Valor himself, who lead a cast headed by the winner of two Goya awards Javier Gutiérrez, who plays Francisco Javier Maldonado, known as Paco el Cóndor , the most respected journalist on the airwaves.
Miki Esparbé ('Losing the North', 'It is for your good' or 'The smart ones') co-stars in this series in the role of Jota, the right hand of Paco el Cóndor, who will hit the table and try to overshadow his teacher.
The actress Itsaso Arana ('Seventeen', 'The Virgin of August') completes the main cast in the role of Marga Laforet, a journalist who sees how her radio program is shifted at dawn to give priority to the new program of Jota and his team.
"The series places us in the late 1980s and early 1990s, a time when radio journalism was done in a very different way from today", points out a statement in which it is specified that "the stories and their protagonists are the result of the invention of their creators."
"It is a work of fiction and, as such, its characters and plots do not respond to reality, nor do they seek to identify any person or faithfully recreate specific events that can be inspired," says Movistar +.
The cast of the series, produced by Movistar + in collaboration with Zeta Studios, is completed by Alberto San Juan, Chiqui Fernández, Sonia Almarcha, Cristóbal Suárez, Óscar de la Fuente, Carlos Blanco, Víctor de la Fuente, Gerald B. Fillmore, Celia de Molina, Fele Martínez and Omar Banana among others.