The seminarian's goal | Babelia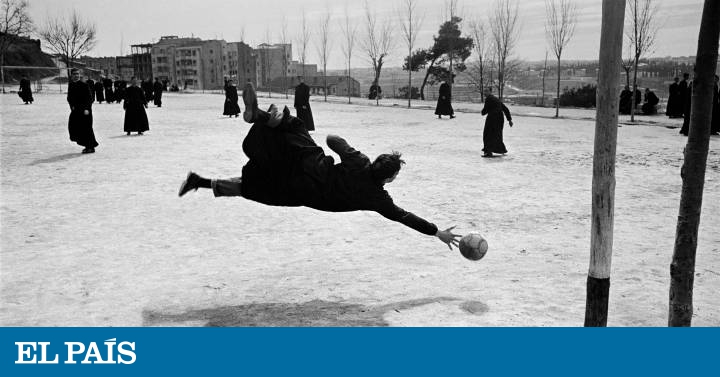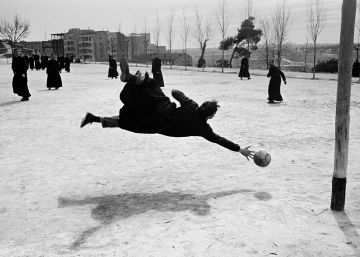 "When you take a good photograph, there is a click in the brain that tells you that it is good," he says. Ramón Masats (Caldes de Montbui, Barcelona, ​​1931). "Very few times when developing an image I have found that it was much better than I had intuited when making it. I have felt the click in 98% of the photographs that I have considered as good ". At 89 years old, photography is already "a memory", as he expresses himself, but only 12 years ago it was still his whole life. "It was everything," he stresses. So, the trajectory This Catalan photographer has spent chasing a moment of revelation, an epiphany within a visible world that, despite being there for everyone, only the trained eye of the photographer knows how to discern. Quick and intuitive, it has been able to create images of great expressive power and freshness, for which it was deserving of the National Photography Prize in 2004, as it is Seminar.
Despite being dressed in a cassock and in order to stop a goal, the agile aspiring priest stretches his body until reaching almost a horizontal plane with respect to the ground. His shadow is cast on the dusty soccer field. The cassock flies. The hand tightens. The hair stands on end. Meanwhile, the other players complete the harmonious choreography as black brush strokes arranged vertically. The seminarian will remain suspended in the air for a fraction of a second that remains in time. A poetic accident where all those characteristics that Henri Cartier-Bresson defined as a decisive moment converge: "The simultaneous recognition, in a fraction of a second, of the meaning of an event, as well as the precise organization of the forms it gives to that event his appropriate expression. " "I am a great admirer of the French master," says Masats. "Any relationship of my work with him is very complimentary to me."
The image was taken with a Leica, as part of a commission made for the Illustrated Gazette at the Madrid Council Seminary. "When I arrived at the seminary, I was struck by a soccer game that the seminarians were playing, despite being dressed in cassocks," recalls the author. "I got behind the goal and watched how they played. I asked them if they could interrupt the game and just shoot the goalkeeper. They did it for me with great affection. They shot like 18 or 20 times, until I could get this image. I have a little mania for him, "he says wryly. "Everyone asks me about her. I think I have other photos, but people's liking has been directed towards this one. "
The author's instinct and immediacy are reflected in the photography, but also his concern for more formal or plastic issues, something that can be seen in all his work where a clear search for a geometry in the composition can be seen. "Each photograph must have a frame, and the rhythm that I am able to get out of the moment," he points out. "It was the photographer and historian Publio López Mondejar who made me see my predisposition towards vertical photos, although in this case it is not so. It is something strange since also I have made a lot of cinema, which is horizontal. But I do recognize this trend. " It was precisely his particular way of understanding photography, capable of synthesizing cultural topics through a clear photographic discourse, that made this self-taught protagonist of the renewal of documentary photography, during the Franco years, as part of the Afal group and La Palangana. "Renewal came from within, so it was easy. It was not a primary or premeditated intention. It was what she saw and tried to reflect through a camera. So I was happy and on top I made money. Now there is a greater recognition of photography in Spain. If you are good, it is easier to succeed ".
Seminar it was first published in the newspaper Already, within a report aimed at celebrating the Seminar Day, on March 19, 1960, and over time it has become one of the most emblematic images in the history of photography in Spain. It is one of the few photographs taken by a Spanish author that is kept in the MoMA collection. It brings together two passions that well defined the era: religion and soccer. "My photography has a lot of irony, but I have always tried not to get mad at people, manipulate, or mask", he highlights. "I am sentimental and this is my vision of Spain. I regret that I could not have been much more optimistic. " Almodóvar would recreate the image in the film Bad Education (2004), turning it into a sign of love for the striker by a goalkeeper who allows himself to score a goal. The image is part of the exhibition Ramón Masat Visit Spain, that can be seen within the programming of PHotoESPAÑA in the Tabacalera space in Madrid until October 12.
"A few years ago the seminarian in the photo recognized himself in the image and called me," recalls the photographer. His name was Lino Hernández. "We were chatting and we met again to return to the seminar with Mariano Enamorado, the scorer of the goal. The latter had left the cassock ". Was it a goal? "Yes, it was a goal! It was, but I didn't find out until I was able to enlarge the photograph to a very large size. I noticed that the ball was behind the priest's hand. I was slow to see it. I didn't find out until 10 or 15 years later… "