The self-employed cut employment for the first time since 2011 and other economic news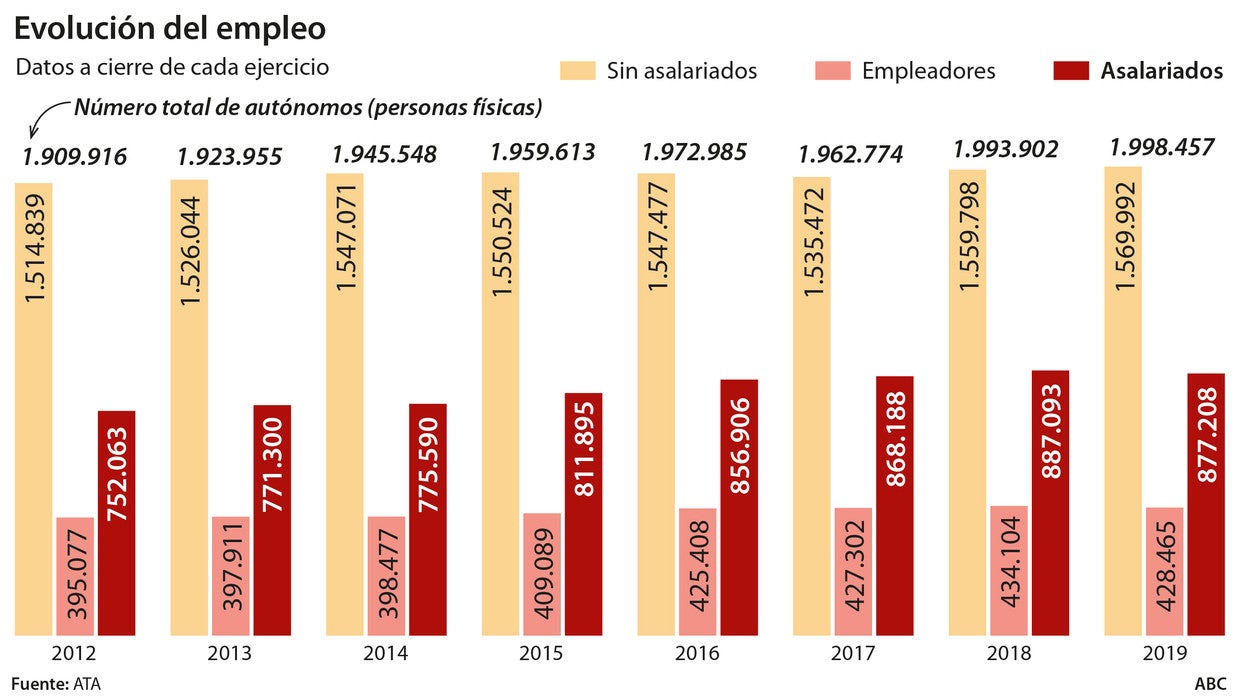 Updated:
save

1.-The self-employed cut employment for the first time since 2011. Self-employment is cooled in Spain; It has entered a deceleration phase, in tune with the main economic indicators. Decrease the size of the companies run by freelancers and the number of workers in their care, in an evolution that reflects the uncertainty in which a sector that is the lung of employment in Spain develops. In the last quarter of 2019, year in which the minimum wage rose by 22.3%, about 10,400 employers were lost
2.-The arrival of tourists in Spain broke in 2019 their record for the seventh consecutive year. The arrival of international tourists to Spain beats their record for the seventh consecutive year. The data released today by Frontur show that our country A total of 83.7 million tourists came, 1.1% more than last year, confirming the provisions of the Government. In this rise, long distance markets such as the American and Chinese markets have been especially important, as traditional markets (United Kingdom, Germany and France) have suffered falls due to the recovery of competing Mediterranean countries, such as Turkey and Tunisia.
3.-Zara has a brand rating similar to that of the six major Spanish banks together. The Zara brand has depreciated 3% since 2017, up to 14,999 million euros, but still worth as much as that of the six Spanish banks listed on the Ibex together, which amount to 15,088 million euros, according to the classification that the Interbrand consultancy makes every two years.
4.-Renfe increases tickets to 5 euros from Avlo from 10,000 to 16,000. Renfe will put on sale a total of 16,000 promotional tickets for 5 euros of its low-cost high-speed train Avlo, 6,000 more than initially planned, "given the high demand and expectations generated", the public railway operator reported Monday. Avlo is put into service on April 6 with three frequencies per direction and day and stops in Madrid, Zaragoza and Barcelona. In fact, the first day he launched the offer, the web collapsed at the number of people who tried to enter.
5.-The Chinese stock markets collapse after more than a week without operating. The Shanghai Stock Exchange, main stock market in the mainland of China, resumed its operations today after the holiday break-extended by the authorities as a result of the coronavirus crisis- with losses of 7.72%. For its part, the parquet floor of Shenzhen, the second in the country, returned from vacations with drops even more bulky, 8.45%.