The self-employed are already demanding the payment of aid or they will not be able to survive the volcano disaster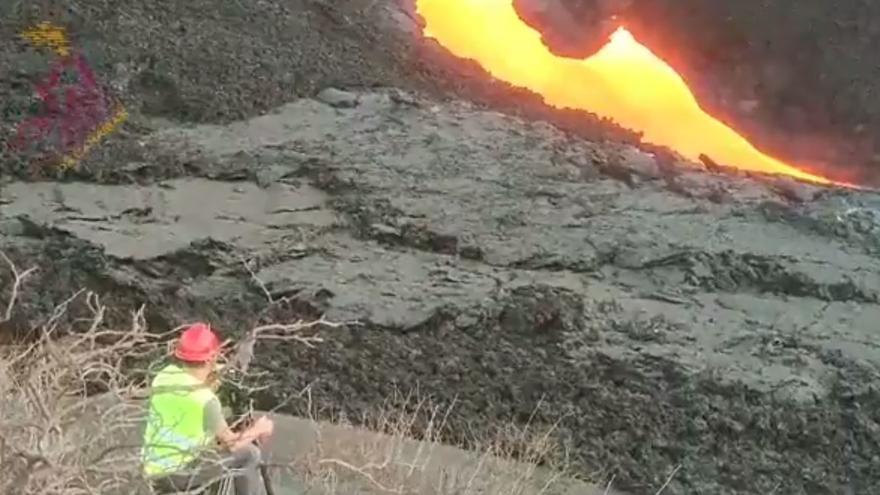 "When someone is very thirsty and it can affect their health, the glass of water has to be immediate because if it does not arrive it may be useless later". With these words, Tomás Barreto, president of the Federation of Entrepreneurs of La Palma, the drowning situation faced by many small businessmen who, after sending their employees to the ERTE, find that they cannot access any type of aid, since to collect it they would first have to cease their activity, for which it is necessary that lay off their workers. "It does not make any sense," adds Barreto, who insists on the urgent need for the central government to carry out a regulatory change to eliminate this condition in order to perceive them.
Small entrepreneurs must continue to pay taxes and contributions
The business associations warned the Executive of Pedro Sánchez almost a month ago of the error in the Royal Decree without it having been modified for now. What leaves many freelancers in an extreme situation, having to face the payment of fees, taxes and contributions without any income.
"Four days ago I paid 2,800 euros for the quarter, in addition to the retention of the workers and the IGIC tax, they do not make any exceptions, the only thing is a postponement, which does not solve anything because they will be added to those you have to pay when that time comes », Explains José Resbel, owner of a bar in Puerto Naos, who bears his last name, and which has been closed since last September 19 due to the eruption. This small businessman, who has hired four workers, asks himself "how am I going to continue paying if I have already had to borrow money to pay for this?"
Resbel assures that its workers have not received the ERTE either. "They call me to ask me, but I have no idea," he laments. This palm tree insists that collecting aid is vital for him since he has been evacuated and lives in a friend's apartment where six people live. "One of my sons worked with me and my daughter has lost everything with the volcano," so turning to the family network in her case is not an option either.
Laly Villalba, who runs the Bar-Café El Bucanero Also in Puerto Naos, she recalls that the situation of the self-employed is now "much worse than during the pandemic" when she was given 640 euros due to the impossibility of keeping her business open. "Before I had savings, now I don't, because I had to keep paying for a lot of things," says this palm tree whose expectations the volcano has cut off. "We thought we would go back in the winter season after how bad we have been due to the pandemic, but this came," she says desolate.
"The truth is that I need the money," he says, since despite the fact that this month he has been able to survive "with what little I have," he has had to face the payment of electricity, half of the rent of the premises and is anguished when thinking about how he will pay the expenses of his university daughter in Tenerife. "There has been a lot of visits from politicians, they tell us that they are going to help us, but little action has been seen," he complains.
For this reason, it demands an urgent solution because it is aware that "at least two years from now" they will not be able to reopen their businesses. "There are no roads, everything has been destroyed and people are not going to travel 140 kilometers around the island to have a coffee," he says.
Both the Spanish Confederation of Business Organizations (CEOE) and the Association of Self-Employed Workers (ATA) have already demanded from the central Government a change in the wording of Royal Decree-Law 18/2021 that articulates these aid, something that was already done in 2020 , when a similar situation occurred due to the pandemic. In fact, it was transmitted to Minister Nadia Calviño last Monday during her visit to La Palma.
"The ruling has surely come from wanting to get the standard out quickly," explains the president of La Palma tree employer's association, who assumes that "now what has to be done is that it be updated and improved." However, he complains that there was no firm commitment. "I heard good words and phrases of encouragement, but no commitment", although he emphasizes that this does not mean "that they will not have it."
The president of the employer association palmera complains that they cannot spend months to collect
Barreto insists that this is one of the problems faced by entrepreneurs and freelancers on La Palma "that needs an immediate solution" and emphasizes that not to do so "would be a lack of responsibility and commitment."
In the same sense, Juan Carlos Arricivita, president of ATA in the Canary Islands, also expressed himself, who estimates that around 600 of the 5,000 self-employed on La Palma may be affected. "We claim this exceptionality for La Palma and we must tackle it quickly," he details, since "you cannot wait months to collect a grant" or the self-employed palm trees will end up being killed by the bureaucracy.