The secrets to be revealed by Fernán Gómez and Emma Cohen | Culture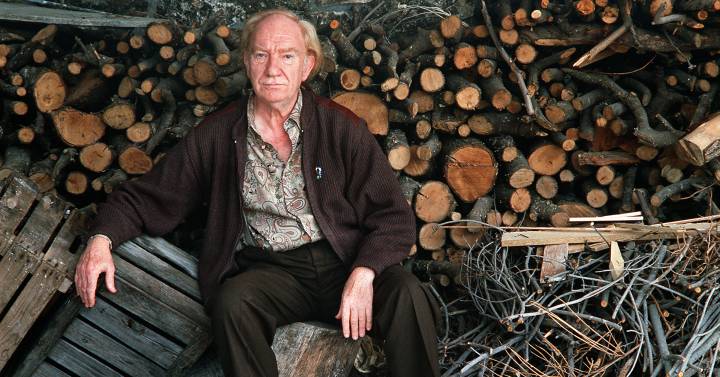 As a good anarchist, Emma Cohen he said a good day to Helena de Llanos that he arranged as he pleased with all those papers. "But still, I am doing what I can," he confesses. He says it three years after he locked himself in the folders, notebooks, originals, drawings and correspondence in the house that both Cohen and Fernando Fernán Gómez, his grandfather, left him in inheritance. So astonished by the secrets that it has been dusted off, as still surpassed by them.
From the basement to the office, where some of the six shine Goya Awards that the artist won. Of the clapperboard The trip to nowhere to the pinitos in the form of manuscripts that he used to play as a playwright … From the unpublished poems of Emma Cohen to the first editions of his novels, of those photos in which the actress showed her side as a mysterious young woman at the doors of the demolition of everything what hid a prejudice, images in company as a testimony of what is the history of cinema and theater in Spain, the haystack with copies of known works, separate projects, unpublished and documents, overwhelms stacked in boxes, distributed by the shelves and scattered on the study table.
The identity card of Fernán Gómez will probably include as a profession: actor. "That is what was considered, above all," confirms Helena de Llanos. But he could well have put a film director, screenwriter, writer … And within that generalization: novelist, essayist or playwright. It is precisely this last facet that will surprise us next autumn with the publication of some unpublished works in the publishing house Gutenberg galaxy.
Works that, according to Manuel Barrera Benítez, Fernán Gómez scholar and co-author with De Llanos of the new edition, will help redefine his figure: "The new discoveries are a joy for themselves as they confirm and reinforce our consideration of him as one of the greatest Spanish intellectuals of the second mid 20th century A total creator, "says Barrera.
A tandem artist, as he acknowledges in many moments of his life since he began to share it with Emma Cohen. Next to her she says to live spring in the middle of autumn. It is something that Helena de Llanos realizes, not only when sharing experiences with them. Even more so when she is left alone with her legacy, determined to complete a documentary film about both of which she had already realized to Emma. "When in 2015 I started to immerse myself in Fernando's huge work and write the script for a film about him; She documents me, guides me in the search for materials around the house and is relentless when it comes to commenting on the project … But she doesn't want to appear before the camera, "says her granddaughter.
After Cohen's death in 2016, everything takes a turn: "She happens to be as central as Fernando." De Llanos settles in the house of Algete and begins to classify and organize his personal archive. "Materials that until then I only knew very partially. Fortunately they were very organized with their jobs. In many of them they indicate the date and were separated in folders. I think when Emma told me to do what you want I was saying what I felt, neither more nor less. I was honest, clear and direct above anything else. "
Even so, facing alone the entire artistic heritage of an iconic couple has represented a huge burden of responsibility for Helena de Llanos. He would like the legacy to remain in a place accessible to all, where care is taken and valued. Aware that the contribution of creativity of one would not be such without the spoils, the care, criticism or judgment of the other party. And vice versa. Together they were two authors who fed back until they conquered levels that they themselves could not imagine alone.
They represented two fused generations of the twentieth century. Fernán Gómez the one who came from hunger; Emma Cohen, the one who wanted to refresh with freedom and color in the second half of the century a country that abandoned black and white. "She was exceptional, too free for the dominant moral. As a couple they formed a very powerful team made of two equally powerful individuals. One day they met and loved each other freely for 36 years. Work and love, that's what Fernando and Emma represent for me. "
And constant learning, as evidenced by the return to the permanent root of the classics in Fernán Gómez. A return to find in genres such as picaresque that art form that defines the way of being Spanish. This demonstrates that mixture of curiosity and humility typical of the great. "The great intuition of Fernán Gómez leads him to realize that we are what we are because we were as we were. Also that the human essence is always, with its relevant variations, accurate. We are all, in one measure or another, rogues and páparos. We can all contain within us an idealist dreamer like Don Quixote or a hypocrite like Tartufo. I think he, more than learning from the classics, what he did was recognize himself in them, "says barrier Benítez.
The author, however, was not satisfied with this recognition or this great intuition, but, as the expert says in his work, applied, he turned his gaze to the past: "To the great classics, to study them in detail and vocational dedication, convinced as I was of the difficulty of expressing a totally new or original thought, admired by how, frequently, what we think has been expressed previously in a deeper and better way ".
Even so, they are facets that mark everything that rushes in it: of plays with fame like The bicycles are for summer to novels that were movie, case of The trip to nowhere or his memoirs, which he titled Yellow weather. "They do it by reinforcing their humility and honesty, two indisputable values ​​that I believe underlie their total work and life. Finally, when he reads, analyzes, studies, admires, imitates and recreates, all that ends up constituting not only one or another creation but a way of living and a way of being in the world. "
And that shows from the first manuscript that will see the light now, Papa Dick's Wink. Something he created as a teenager following the tricks to deceive the hunger that his father applied with the family. I exchanged puppets for bites. They enjoyed it, but the hole in the stomach did not let the other go unnoticed: "Daddy's WinkFor example, one of those new discoveries that you referred to in your first question strongly confirms what I am saying. This obrita, absolutely delicious and meta-theater, wrote it with just seventeen years, "says Barrera.
A decade before starting his career as a playwright. "It shows, in my opinion, on the one hand, the idea that FFG is a playwright not only by vocation, but by destiny and, on the other, what I have always suspected from the moment I decided to do my doctoral thesis on his dramatic literature and then defended: That the theater always occupied the top in the artistic hierarchy within the prolific and varied career of the creator. It was the first thing that overturned his creative gifts and maintained his love for it until the end, "says Barrera Benítez flatly.
From there until he considers his last great work, Die sane and live crazyBut even more, if possible, when we know that even in his last moments, already sick, he continued writing theater and projecting his dramatic fictions. There it is, for example, The world of Arniches, dated 2007, also included in the volume that will be published in autumn. Or as Lightning, Love for square meters, Language, The great naval battles, in addition to a series dedicated to the work of Cervantes with pieces such as Variations on Don Quixote, The Golden Age, Altisidora or Don Quijote is not among us.
Pieces that will see the light for the first time or will be published in print after the words remain in the air after being represented. A few words that his granddaughter and Manuel Barrera Benítez have captured on paper to further enhance their memory.
. (tagsToTranslate) secret (t) unveil (t) fernán gómez (t) emma cohen (t) creator (t) partner (t) actress (t) writer (t) leave (t) large (t) quantity (t) unpublished (t) see (t) light (t) part (t) autumn



Source link