The secret behind Belén Esteban's gazpacho and potatoes: an ex-boss from Carrefour and another from Apple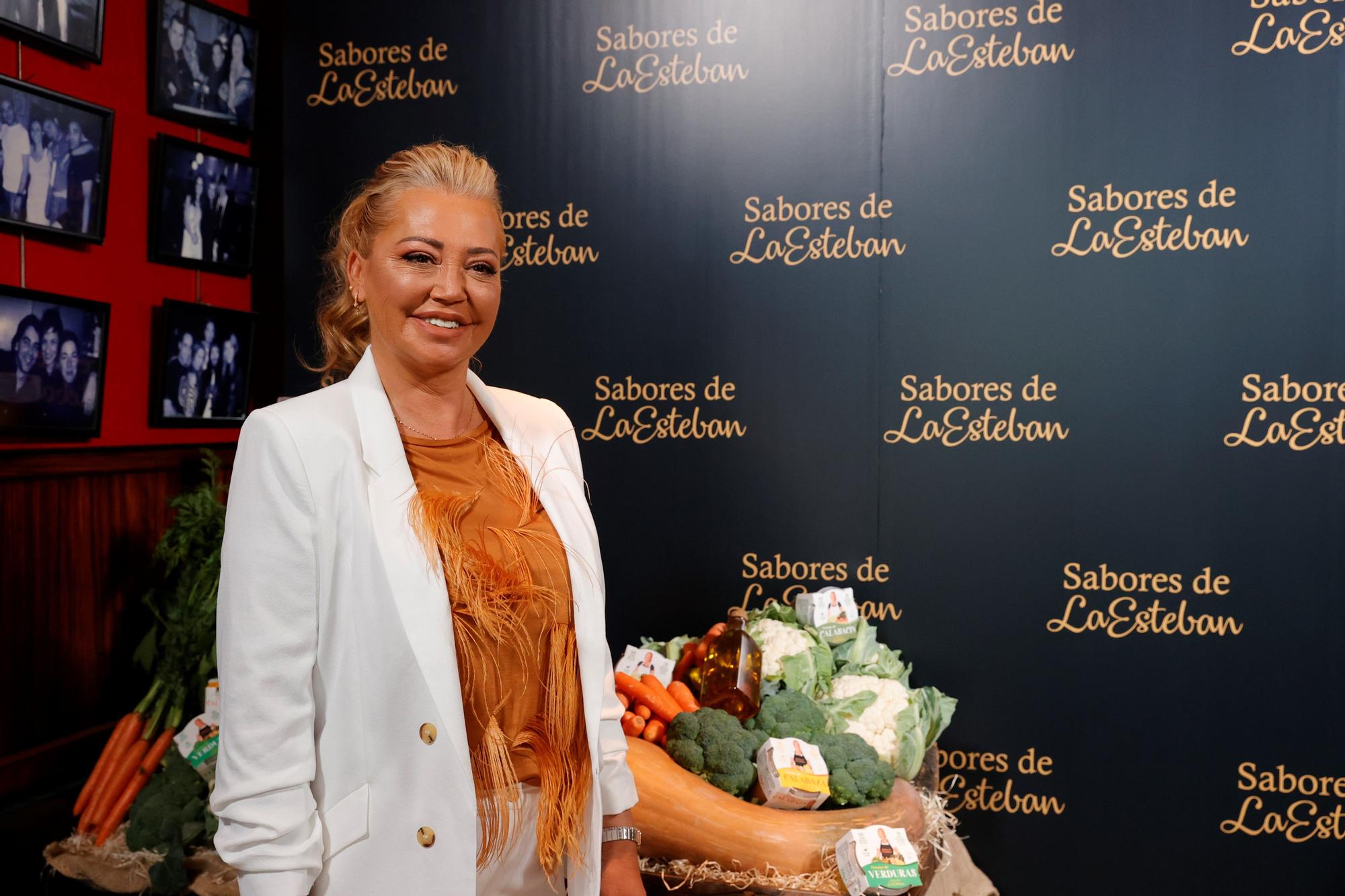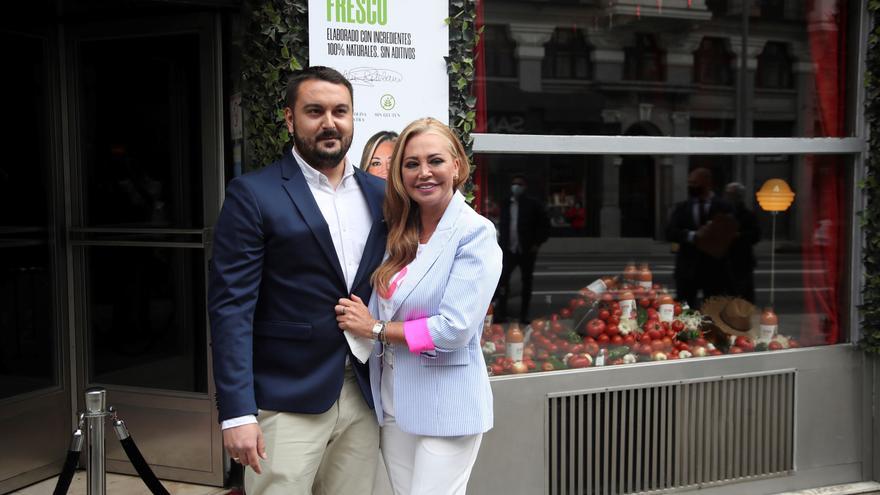 Belén Esteban has placed six products on the shelves in eight months. The food industry is not easy.

She is accompanied by two partners with experience in distribution, catering businessmen and "gourmets"
Belén Esteban Not alone on your culinary adventure.
The popular television collaborator took to the world of distribution last summer with a gazpacho and a salmorejo own, with his face printed on the container and his surname giving the brand name, Sabores de la Esteban.
Although in winter they only remain available in Carrefour and Alcampo, these products – which garnered good reviews on social media but a bad grade from the OCU, which put a 6.3 for gazpacho – were on sale in El Corte Inglés, DIA, Supersol and other large establishments.
Since then, Esteban has continued to expand his food line with chilled creams (of vegetables, pumpkin and zucchini) and with some chips of bag. In just eight months, the company (Sabores de la Esteban SL) has placed six references on the shelves. And that the food sector is not easy.
"It's not an easy world. Other celebrities have tried it before," says distribution expert Javier Pérez de Leza, founder of the Future Retail consultancy. "In gazpachos they compete against people like Alvalle or García Carrión, who have manufacturing processes and a large investment in advertising. Is it easy to launch a product? If you and I do it, we have an impressive cake. Although I know of the subject, penetrating in the distribution is very complicated ".
But Esteban has two aces on the sleeve.
A familiar face and a sybarite partner
On the one hand, its popularity. As Pérez de Leza explains, being famous opens doors when it comes to finding suppliers and getting to stores.
"If you ask them to manufacture your own product, the supplier will ask you for a minimum production. If Belén Esteban goes, the provider will surely gamble. If it works well; if not, it becomes part of the percentage of new products with which innovation is allowed each year ", says this expert.
With respect to stores, "all retailers [comerciantes minoristas] save space for new references. Of the total products that are born each year, 20% reach the shelves and only 2% remain. The rest they fail along the way. She has managed to get in so far. "
On the other, its partners: two distribution experts with more than ten years of experience in the sector.
Esteban has told in some interviews that it was her husband Miguel and his friend Rubén who encouraged her to create something of her own. Ruben is Ruben Gomez, owner of 16% of the company according to commercial information reviewed by THE PERIODIC OF SPAIN and member of the Chicote Museum and the Mercado de la Reina, a famous cocktail bar and restaurant located on Madrid's Gran Vía. Esteban always presents his products at the Chicote Museum.
According to your Linkedin already the newspaper library, Gómez was general manager of stores of the defunct decoration chain Moss and manager senior from the store Manzana in the Madrid Xanadú shopping center. He has spent, he explains, 17 years working in "retail pure. " their wedding In addition to Esteban and her husband, other television characters such as Ana Rosa Quintana, Carlota Corredera and Terelu Campos attended.
Gómez is the one who answers this newspaper by phone. Just before doing the interview, he closed an agreement with Hiperdino, the leading supermarket in the Canary Islands, to sell Sabores de la Esteban potatoes there. He emphasizes that they are "very, very happy" with the sales and that they have "exceeded expectations." "The creams, maximum surprise. The potatoes, very disparate", He says. "The products are very good, 100% Spanish. The main objective was quality."
At the Chicote Museum and the Mercado de la Reina, Gómez is a member of Carlos Padura, the third in question in Esteban's company. Padura is a shadow partner, someone who prefers to remain anonymous, who can only be 'hunted' through the information on the incorporation of the company and the distribution of shares in the Mercantile Registry, since Esteban is the only one who appears as administrator.
Padura worked for twelve years as purchasing director for Pryca, the current Carrefour. According an information from the newspaper Cinco Días in 2004, was director of national purchases for the chain, spent four years in Paris as director of international purchases and was part of the team in charge of the merger between Pryca and Continente. It is 33% owner of Sabores de la Esteban. The majority, the remaining 51%, is in the hands of the tertuliana.
This third partner is a difficult man. It is difficult to find him in one of his stores or to arrange a telephone interview with him. The first restaurant business he set up was Diurno, a restaurant-video store in the Chueca neighborhood, a few meters from Chicote, which is still open.
"There were cocktail bars, discos, clubs and other places for men who wanted a contact with other men. Always at night and sheltered from the dark," he explained in an interview. "That place promised to raise a meeting point for LGTBI people, finally, in broad daylight. "
In another of his few appearances in the press, in an article with "keys to being a gourmand" in the newspaper Expansion, Padura says that he spends an hour having breakfast, that he likes electronic music and that does not go out without sunglasses. He did high school in San Francisco, studied economics in Florida and plays golf.
"We have the knowledge because we have been working on retail ", Gomez maintains. "But the person who has managed to reach the supermarkets has been Belén Esteban. She picked up the phone and has called every director of all the big multinationals to sell your product. It is not easy to access the purchasing managers, there is a lot of work behind it. She has led the factory search, price negotiation and logistics from start to finish. "
Murcian SMEs
Esteban, Padura and Gómez maintain their work in television and restoration. They have an office in the center of Madrid and already have "a department of marketing, press and social networks," explains Gómez.
Although they assure that the sales go like a shot, We won't know how much they bill for a few months, because the company has not yet completed the year and has not submitted accounts in the commercial register.
For the production of the products, the company has hired two Murcian SMEs: Cool Vega (gazpacho, salmorejo and creams) and Patatas Rubio (potatoes). Both also carry out marketing to supermarkets.
Based on industry standards, margins of the product are between 25% and 35% of the price. The normal thing, the sources consulted explain, is that the manufacturer takes 20% and the brand between 10% and the remaining 15%. In other words, Esteban would take 45 cents from each gazpacho (2.99 euros) and the production company 60 cents.
Cool vega It has its own brand (Vibs) and manufactures for Lidl. The CEO of the company, Antonio Molina, explained this summer to elDiario.es that they were selling "40% more than expected" thanks to Esteban's promotion and that, for the first time in his professional career, the distribution had contacted him to show interest in a product. "The birds have come to the shotgun. It's something I've never experienced," he said. Cool Vega is a small company compared to the leaders in its category.
Rubio Potatoes it has a little more history. It was born in 1965 and, although by production it is not among the greats of Spain either, it is very famous in the region.
He entered three years ago Mercadona and since then it has doubled its turnover, going from 6 million a year to 12. It started with some peculiar lemon and pepper potatoes and has been increasing the references: now it is in charge, for example, of potatoes with chicken and lemon flavor of Hacendado, in addition to being behind the well-known brand Patatas Pijo, also with lemon and pepper flavor. Murcians tend to season French fries like this.
The company has launched other products with famous people, such as the WannaFreak brand with youtubers Nil Ojeda and Paula Gonu. And when a delegation from the company recently traveled to the international food fair in Cologne, they took Belén Esteban.
"Rubio and Cool Vega are like family. We spent time in Murcia, but they also come to Madrid ", continues Gómez." Soon the strongest moment of the sale of potatoes arrives: in addition to in summer, at Christmas consumption increases a lot ".
According to Pérez de Leza, the difficulty for Esteban and his partners begins now. They have managed to enter the shelves, but they have to be maintained.
"A few years ago I had the opportunity to help Cayetano Martínez de Irujo, who launched his brand [Casa de Alba Fine Food]. I think Esteban does something similar and that he is going to make the same mistakes that he made and that have led him to have a brand without large volumes ", explains the consultant.
First, he points out, Sabores de la Esteban should focus on a single category. "In large supermarkets, those responsible for purchasing are segmented. One carries ready meals, another carries snacks. By launching both, you already generate complexity, because you have to defend your product before several interlocutors. The normal thing is to specialize. That jumping categories is only achieved by the good guys, like Nestlé and Unilever. "
Second, it is important for the company to have a good quality department. The bad mark that the OCU gave to the gazpacho was very popular.
"If you make another mistake like this, the brand will go down. They removed the salt component, which is usually cheap products because it gives them more flavor. That is because you have not sat down with the supplier to negotiate the technical sheet well, "he continues." Several products failed Cayetano because he looked for quantity rather than quality. It is not easy. "
Both the Duke of Alba and Bertín Osborne, who also launched his food line, had "good companions" like Belén Esteban and have not succeeded in large stores. A very important factor is the character's fame, but the rest consists of negotiate well.
Osborne It sells a wide range of products — from cooked chickpeas to beers and ice creams — through its website, but in supermarkets it is only possible to find its bread picks at Hipercor and El Corte Inglés. Something similar happens to Alba's House, which has placed two oils and one vinegar in the Gourmet section of El Corte Inglés. Legumes, honeys and other products only sell on their page.
"Enter the shelves it is not a guarantee of success", Pérez de Leza concludes." What you need is perseverance and seriousness. "
Related news