The second cruise ship to Spain after the covid docks in Cartagena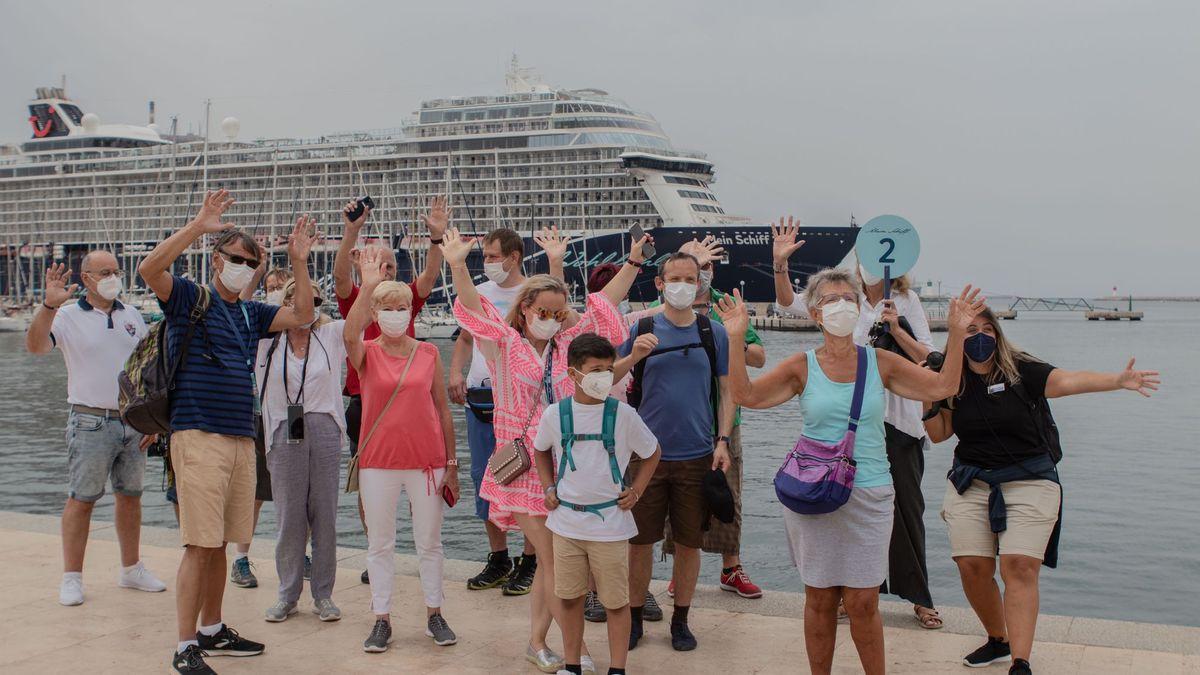 The second cruise ship that comes to Spain docks in Cartagena after months of inactivity due to the Covid-19. The 'Mein Schiff 2', with 900 passengers on board of German, Swiss and Austrian nationality, arrived today in the port city at around 7:30 am to inaugurate the cruise season. During her visit to the ship, the president of the Cartagena Port Authority (APC), Yolanda Muñoz, announced that the Port has planned the arrival of "fifty national and international cruise ships" for this summer. "The Port has done its homework during this pandemic year and they have their reward today, with the first cruise of the ten nationals that we have confirmed until October and with the request for ten international cruises that are scheduled to begin in September," says Muñoz . The next ship will arrive on July 14.
This ocean liner, from the German company Tui, has been the "first test", so it has had strict measures to avoid contagion. A third of the people on board, 300 tourists, have decided to be part of a bubble group to visit the city. In groups of ten to twenty people, accompanied by a tour guide, the cruise passengers have chosen one of the itineraries designed with various activities such as visiting the Museum of the Roman Forum Quarter, the Roman Theater, walking through the historic center or traveling by bus to natural landscapes of Cartagena. During their visits, these spaces are closed exclusively for them, minimizing close contacts with the local population. They have also made restaurants in which tourists will taste Murcian cuisine.
Due to the importance of the arrival of the 'Mein Schiff 2', a band from Carthaginians and Romans received the crew together with institutional representatives who delivered commemorative plaques to the captain of the ship, Tom Roth, in an act of gratitude for having chosen Cartagena as a safe tourist destination for his cruise. This event was attended by the mayor of Cartagena, Noelia Arroyo, the president of the APC, Yolanda Muñoz and the general director of Tourist Competitiveness and Quality, Carlos Peñafiel, the deputy mayor, Manuel Padín, and the representative of the consignee Agencia Marítima Blázquez , José Mª Fernández.