The "seats of shame" are released in the Parliament of the Canary Islands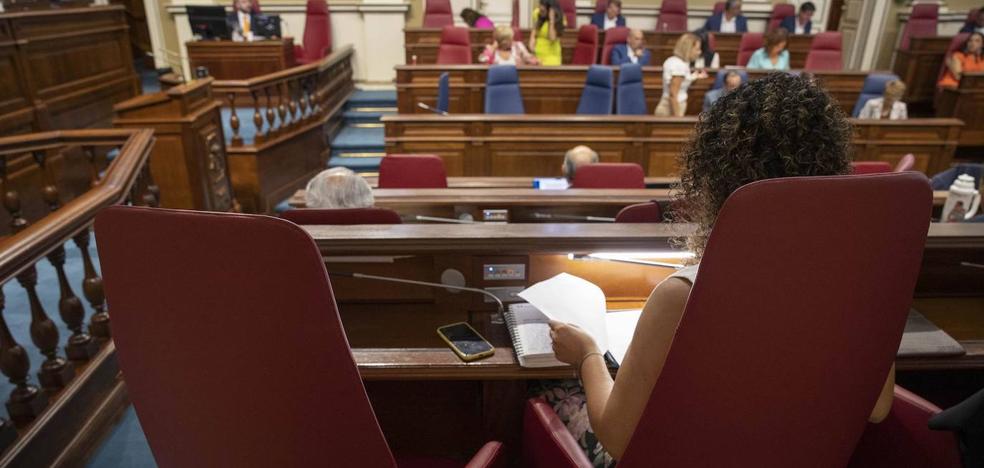 PARLIAMENTARY SESSION
Today the new furniture was released, which has cost 105,000 euros, 1,238 for each armchair
The plenary session of the Parliament of the Canary Islands began this Monday its plenary sessions of the new period of sessions. Besides of
scuffle starring Ángel Víctor Torres, Prime Minister, and Manuel Domínguez, from the PPwith
Reason for lifetime salaries for former regional presidentsthe deputies and members of the regional government have sat down for the first time in the new armchairs in the plenary hall, the acquisition of which sparked some controversy before the summer.
The controversy over the purchase of armchairs arose after knowing
the cost of this change of furniture, 105,000 euros, at a rate of 1,238 euros per seatan operation that went ahead although the Sí Podemos Canarias group and the deputy of the Mixed group Vidina Espino took a position against it.
In his turn to cross-examine, Espino began by asking
Apologies to citizens for having to sit in an armchair for more than 1,200 eurospaid with public money after the decision of the Parliament of the Canary Islands to renew all the seats for a total of 105,000 euros against its criteria.
They are the seats of shame
fruit of "wastage," said Vidina Espinowho then asked the Government of the Canary Islands to end "the luxuries and the feasts".
Premiere last week

The furniture had been released last week in a
visit to the Parliament by the Saharawi boys and girls of the 'Holidays in peace' programorganized by the Canarian Association of Friendship with the Saharawi People.
The plenary session also had as a novelty
the absence of a tie in many of the deputies who usually wear this accessory, including the president of Parliament, Gustavo Matos, and the regional president, Ángel Víctor Torres.