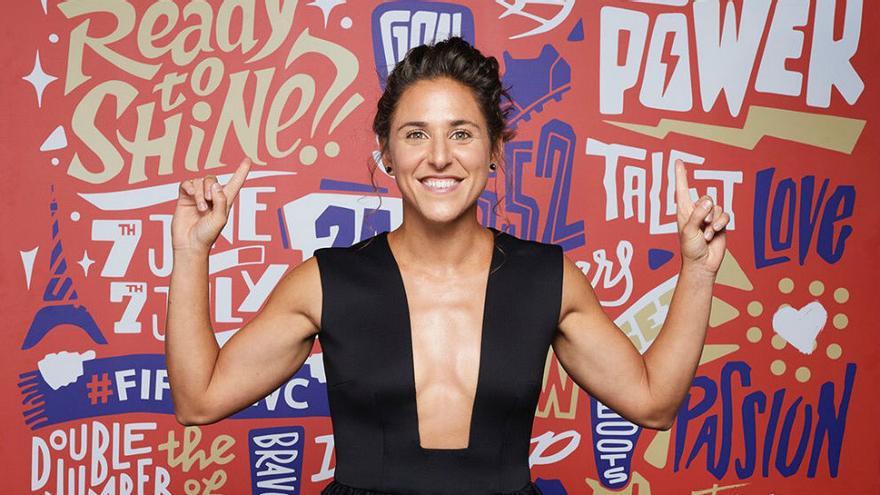 When he was 6 years old, Vero's father had to explain to his daughter, passionate about him football, Something inexplicable: although he could train in a boys' team, he was not allowed to play the games. The reason: your gender. There the family fight began so that the Santiago girl had the same opportunities as, without going any further, her older brother, who was also a madman of the beautiful sport.
Who I am?
"A woman who has been moved by sports ambition and the fight against injustice, on and off the field"
Vero Boquete It is today, at 34 years old, the best Spanish footballer of all time and one of the greats in the world. He won the main competitions: the Champions, the Queen's Cup and even the league of USA and the municipal stadium of Santiago proudly bears its name. After signing for great teams from eight countries, she currently plays for Milan, her fourteenth professional club, and is also involved in the fight to ensure that women have open the doors to a sport so associated with men such as football. some of which she tore down with great effort.
It was not strange that at the Boquete house the ball was always in the middle. The father was a coach and since childhood his two children accompanied him to the games, they watched the matches together at home and, of course, they played at all hours: on the street, in the hallway at home, on the way to school …
Vero grew up doing what he loved the most: playing soccer. And it was obvious that he had a gift. Until she was 15 years old, she always played with boys but she felt that it was more of an individual sport than a collective one, since, except playing, she did all the other things alone. After spending his childhood straddling futsal and football 11, Vero opted for the second option.
He began his career in the lower categories of the Xuventú Aguiño de Ribeira Sports Society and little by little they were offered more important things. Combining studies with high-level sport was complicated and It involved a series of resignations that Vero has never regretted. "It was hard to get out of high school because many times I had calls for the Spanish National Team but I organized well and made the most of the time I had," he says. Vero missed dozens of birthdays and gave up many nights of partying with his friends. "Sport requires sacrifices and it has conditioned my whole life, but each one has their priorities and my lifelong friends understood mine," he is grateful.
In 2005 she was signed by Prainsa Zaragoza, with whom she made her debut in the Superliga, the highest category of the Women's Football in Spain. "Zaragoza was a very thoughtful decision: I could have opted for big teams that were fighting for a title but I chose to go to a recently promoted one where I was going to be the most important player and I did my best," she explains.
In Zaragoza he lived with his brother Adrian, who had also moved there, and studied teaching. But it was time to take another stride. "Leaving Zaragoza was very hard, but if I wanted to grow I had to do it."
After passing through Espanyol, where she won her first titles, the Santiago de Cuba made the leap to the United States. "I took advantage of a vacation to go there and be seen to play and everything went very quickly: they made me an offer in Chicago and I moved without hesitation." On the other side of the Atlantic, it was where the Galician woman discovered a conception of women's football that had nothing to do with what she had experienced in Spain. "For the first time I was a professional and I felt professional and I didn't want to go back to the old thing," he says.
For a few years, Boquete made a career in various American teams such as the Buffalo Flash, Chicago Red Stars, Philadelphia Independence, Portland Thorns and Utah Royals. Leaving her comfort zone as soon as she feels comfortable is like a commandment for the footballer, so her adventure continued at Energiya Voronezh in Russia; the Tyresö, in Sweden; Frankfurt and Bayern Munich, in Germany; the Paris Saint-Germain, in France, and the Beijing Phoenix, in China.
This long and varied route It has allowed him not only to know the most diverse styles of play, but also, on a personal level, to open his mind when approaching such different cultures and societies. "The first months are always difficult, especially when the language is as different as in China or Russia. But every time I adapt more quickly and I hardly feel stress in the changes anymore. In general we understand each other in English, although I have also learned some languages ​​at a basic level ", he says. Now that he is in Italy, he is fluent in this language.
Vero is happy to be able to live what he enjoys the most, but she cannot avoid homelessness when she has been away from her family for so many months. With the added handicap that his father has a phobia of airplanes, so he has not been able to enjoy his triumphs abroad live. "He only saw me in the Champions League final in Lisbon, because he came by train," he laughs. His mother, on the other hand, has hardly missed any of the greats, except those played in the United States.
Vero Boquete has broken many glass ceilings in the world of football. She was the top scorer in the Super League when she played for Espanyol (an average higher than that of the world men's football cracs Cristiano Ronaldo and Leo Messi); first Spanish chosen as the best player of the year (2011) in Women's Professional Soccer; the first Spanish to win the Women's Champions League (2015), a title she won with Frankfurt defeating Paris Saint Germain; She was even the first Spanish player to publish her biography (2013), "Vero Boquete, the princess of the king of sport".
However, she insists on taking weight off her career. "Being the first is overrated; If I have reached where I am, it is because others opened the way for me and the best way to thank them is to continue fighting for equality ", he considers.
Despite his humility, the truth is that Vero has suffered on numerous occasions how difficult it is to become a professional footballer for a woman. Machismo has been her uncomfortable companion since she was a child and she has stood up to him with conviction, although that would bring her sporting consequences, such as when in 2015 he led the protests of the players against the national coach Ignacio Quereda for the treatment he gave them and did not play with the national team again. "I am always very clear, when I speak and when I act, but I do not regret it," he says.
"Men's football generates a lot of money and business but, with more support, we would give more benefits"
The player admits that there is a long way to go in terms of equal pay and working conditions. "It is true that men's football generates a lot of money and business, but it is impossible for us to compete with it because it has not been invested in us in the same way. With the necessary support, things could change ", he says.
Boquete admits that seeing male players who would be at the same level and who have resolved lives is sometimes frustrating, "although that has nothing to do with the satisfaction that this sport gives me," he clarifies.
Vero grew up without female references: "I didn't even know that being a professional footballer was an option," he recalls. She does not want the same thing to happen to today's girls and that is why she collaborates in different projects as a UEFA ambassador for the development of women's football.
In 2013, Boquete started a petition to get players to be introduced to the FIFA video game series. They gathered more than 20,000 signatures in 24 hours and the petition was finally successful. "Everything counts: if the best-selling video game does not include girls, nor do they broadcast just women's football on television, it is normal for girls to lose motivation," he says.
Looking to the future, Vero prepares to be a professional coach, "At the female and male level," he points out. "My experience in different countries can be very enriching." Perhaps in that role, he says, he can fulfill one of the few professional dreams he has left: to participate in an Olympic games.
But for now, Vero Boquete is still on the field. She sets the pace of the game.
THE PIONEERS: IRENE, THE GUARDIAN OF THE 20'S WITH OWN TEAM
Irene González Basanta (A Coruña, 1909-1928) became the first woman to compete on the soccer field as equals between men. Raised in a humble family, Irene was a regular at Campo de la Estrada, where she began playing forward, although she soon delayed her position and occupied the goal.
After a period at Racing Orillamar, in whose goal she coincided with what would become a sports legend Rodrigo García Vizoso, she created Irene FC, where she herself commanded from the goal.
The chronicles highlighted his good interventions, good ball hitting and leadership skills, although some did not hide a macho bias.
His promising career came to an abrupt end. After losing her parents, a brother and a nephew for a short time, Irene contracted tuberculosis and died at the age of 19.