The scars of Cintia Rodríguez, the gymnast who found comfort in cycling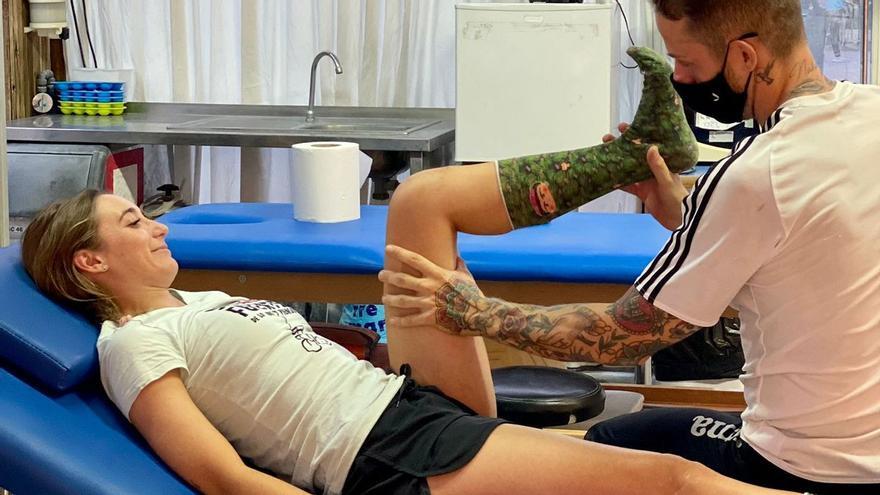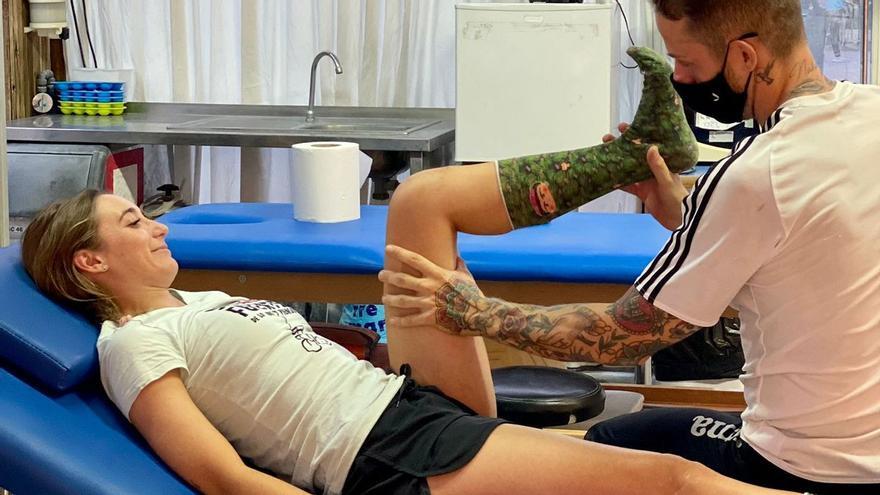 The dream was fading with blows, one after another, but determination to achieve the goal that had marked his career led him to persist to the limit, perhaps a little further. He has no regrets. It was at the beginning of June, a month and a half before catching that plane to Tokyo, when to Cintia Rodriguezdevastated physically and emotionally, she had no choice but to throw in the towel. His left knee, the one that had been torturing him for over a year, had definitively collapsed. There was not going to be Olympic Games for her and instead she would have to submit to his ninth knee operation in 12 years, the fourth on the left. Once again subjected to that ordeal with which life has beaten her mercilessly.
"That is not forgotten," says the Balearic gymnast when asked to list all these interventions, the torture that began in 2009, when it was still a 14 year old girl. Then, at the gates of what was to be his first junior European championship, the anterior cruciate ligament in his right knee broke in a jump, one of many. "It was my first operation and went wrong. I was very young, in gymnastics you still didn't see the crusaders much … I was unlucky, I couldn't get my knee to heal well. It was very frustrating, I was in a great moment, about to take off as an athlete, and suddenly … You don't know what to expect, if people think that your career is over … But I always had the confidence of mine ", he recalls.
After that first intervention, another three arrived to try to correct the initial surgical failure. It was not enough. Already in 2010, he appealed to Dr. Manuel Leyes to undergo a complete rebuild of that left knee. Success, at last. In October of that year, he went to the world championship, "and I forgot all the bad that had happened, because I couldn't imagine that I would get it so soon after so many operations."
Meniscus
In 2014, the fifth intervention came to replace the ligament plasty, worn down by routine physical activity, so aggressive for the gymnasts' knees. Six years later, during the 2020 lockdown, a dumb but "terrible" hit with the couch while exercising at home triggered the current Stations of the Cross. "It was the other knee, the left one, that began to fail. I submitted to three meniscus operations. I had it very touched, 50-70%, but the objective of the Games led me to force it. In the end, the knee said enough, the crusader broke, and I had no choice but to have surgery. "There are already nine.
However, Rodríguez gave up surgery immediately and did it a month and a half ago. "I couldn't, I didn't have the necessary strength, I had worn it out. I had made a psychological work very big and I needed time for myself, to assimilate everything. "At that time, I had been working my mind together with professionals for two years. He started doing it in 2019, putting himself in the hands of a psychologist with the aim of" performing at the best, I was playing the Olympic square and I wanted everything to be perfect and my head in order. "After the accident during confinement, he decided to start working with another psychologist, Roberto Silva: "I needed it to face fear."
It was the first time that the Spanish artistic gymnastics team qualified for the Olympic event since Athens 2004 and Rodríguez assumes that his age, just turned 27, makes it difficult for him to be present in three years in Paris 2024. Despite this, do not give up. "I have my feet on the ground, I know it is difficult, but I will not give it up. I will fight one hundred percent to achieve it," he promises, retaining the same passion as with three years, seeing his older sister practice gymnastics, led him to convince his parents to target her as well.
Future Police
Whether she succeeds or not, life will go on for her. And although he has his next decades planned, (student of Criminology at the UNED, then he will study Private Investigation and finally he will oppose to enter the National Police), injuries have helped him open a new sports window in which he wants to fully immerse himself: cycling. "I already practiced it before this last injury, but very much as a hobby. On Sundays I combined it with my gymnastics coach, I would do a little spin, it was good for my right leg [la primera que se lesionó]. I liked him. "His profile on Strava is a witness to his progress.
The chip change came after his last injury, the one that separated him from Tokyo. "I am a very competitive person and after not competing for so long I felt a bit empty, so I started to train harder, because the doctor gave me the go-ahead. I started training daily and they suggested that I join the Women's Challenge ", she explains about an amateur competition that is held every year in Mallorca, consisting of seven races, tougher than she imagined.
"I had only been biking for a couple of weeks when the idea came to me, but a month later I was on my first race. I suffered like never before I had suffered, I didn't know how hard that was, but I enjoyed it. When I was on the bike, I thought: 'I don't know what I'm signing up for'. But when he finished, dying, he only thought that he wanted more, wanted another. And in the end I spent the whole summer running bike races ", says Rodríguez, who finished the seventh competition after managing to finish six of the seven tests of which it consists.
"Resilience"
After the operation, they wait around ten months without being able to practice gymnastics. With cycling, on the other hand, it is different, since the knee does not suffer impacts and you will be able to resume competitive work sooner. In fact, he has already begun, very cautiously, to practice on the exercise bike. In his team, the Qromia Balearic Islands, they await you back: "I am very clear that the bike has saved me this summer and I want to make it up to you. I love it. I am going to continue cycling, it is that I am very clear about it. For the moment I am going to combine it and we will see in the future ".
27 years old is already a late age for gymnastics, but ideal for cycling. And examples of successful sports reconversions are abundant in the international squad. There they are the ex skier Primoz Roglic, the former runner Michael Woods or the ex duathlete Mavi garcia, three times champion of Spain on the road. Who knows if that future destination that Rodríguez imagines in Paris is not in the gymnastic area of ​​Bercy, but in the Elysian Fields. Despite those nine scars on his knee, the key to everything is in the tattoo that adorns his left arm: "Resilience".
Related news