The sale of homes rose by 45.5% in the Canary Islands in April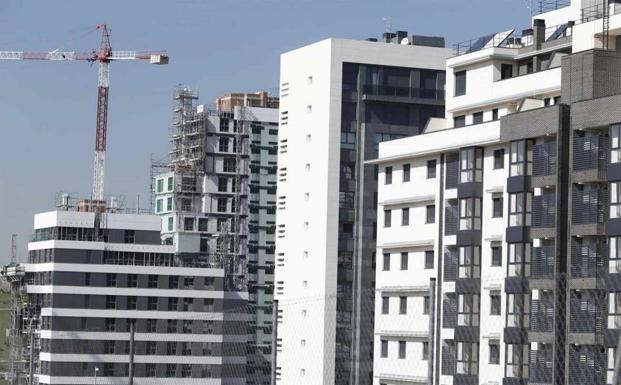 The sale of homes in the Canary Islands rose by
45.5% in April Compared to the same month of 2021, the second largest increase of all the autonomous communities after Navarra (50.4%).
In Spain as a whole there was 15.5% more of this type of operations in April at a price that rose by an average of 6.5%, with 14.7% more mortgage loans for the acquisition, although the amount of these decreased by 1.3%.
According to data from
General Council of Notaries released this Tuesday, the number of sales sealed in April reached 60,734 operations and the average price per square meter stood at 1,575 euros per square meter.
By type of home, sales of flats increased by 16.5% year-on-year, to 46,377 units, while single-family homes increased by 12.4%, to 14,357.
The prices of flats had an increase of 3.6% compared to the same month of the previous year, reaching 1,749 euros/square meter, while that of single-family homes averaged 1,283 euros/square meter, registering an increase 13.5%.
In line with the progress of purchases, in April mortgage loans for home purchase grew by 14.7% year-on-year at the national level, to 32,192 operations, although the average amount fell by 1.3%, to 147,693 euros.
Less sales in Murcia

In April, the sale of housing grew in all the autonomous communities except Murcia, where it fell by 2% compared to the same month of the previous year.
Those that registered an evolution above the national average were Navarra (50.4%),
Canary Islands (45.5%)Cantabria (29.3%), the Balearic Islands (22.9%), Andalusia (22%), the Valencian Community (21.5%) and Castilla y León (17.9%).
Below the national average, but showing double-digit increases, were Castilla-La Mancha, Catalonia, Asturias, Aragon and Extremadura.
As for the price, there was a rise in all the regions except Castilla-La Mancha (-11.5%) and Navarra (-1.8%).
Most expensive houses in Andalusia

By order of magnitude, double-digit increases were recorded in Andalusia (18.3%), Murcia (13.1%), Valencian Community (13.1%), Galicia (12.8%), Madrid (11.1% ) and Balearic Islands
(10.2%)while in the rest of the communities the increases were more moderate.
Loans for house purchase in April increased by 14.7%, to 32,192 operations, with an average amount of 147,693 euros, 1.3% less than in April 2021.
The percentage of home purchases financed by means of a mortgage loan stood at 53% and the amount of the loan represented, on average,
73.5% of the price.
By communities, mortgages grew in all except Murcia (-4.4%) and reached two-digit rates in eleven of them, among which Cantabria (35.8%), Castilla y León (31.6% ),
Canary Islands (28.1%)Andalusia (24.8%), Navarra (23%) and Catalonia (20.2%).
As for the average amount of new mortgage loans for house purchase, the evolution continued to be uneven at regional level, as it grew in nine communities and decreased in the remaining eight.
The increases in Andalusia (9.9%), Castilla y León (8.3%), Galicia (7.7%) and Aragón (6.2%) and the setbacks in the Balearic Islands (14.7%) and Extremadura stood out. (-14.5%).
Slowdown according to loggers

The Association of Registrars has also published its data for April, in which it observes a greater slowdown in the annual growth of registered sales and mortgages, as explained in a statement.
Of the
85,510 operations carried out by the registrars in April 2021, they went to 90,617 in April this year, an increase of 12%, while mortgages constituted on housing rose only 4.5%, going from 42,314 to 41,258, according to their data.
Total mortgages have gone from 41,258 to 42,314, which represents a 2.6% increase, the smoothest in recent months, and total sales, not only of housing, have increased from 85,510 in April 2021 to 90,617 in April this year, 6% more.
By communities, the registry statistics already observe decreases in total sales in some territories and that of Madrid stands out for its volume, where it fell by -2.3%.
The strongest falls in total sales are located in the Autonomous City of Melilla (-76.5%), La Rioja (-12.7%) and the Basque Country (-5.8%).
On the contrary, where real estate sales increased the most in April compared to the same month of 2021, according to the registrars, it was in Ceuta (48.3%), Asturias (18.8%), the Canary Islands (18%) and the Balearic Islands (14 .4%), although Andalusia (10.6%) and Catalonia (8.4%) stand out for their weight.