The sailors Álex Pella and Roman Pilliard embark on a trip around the world in a trimaran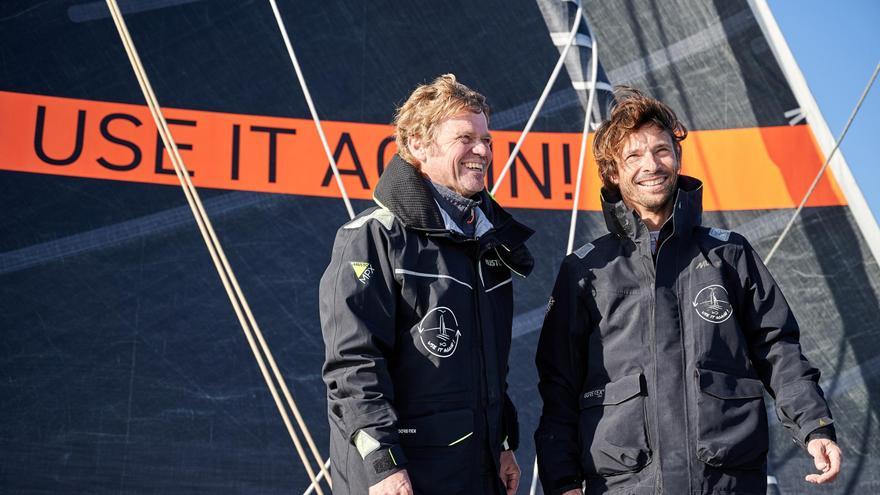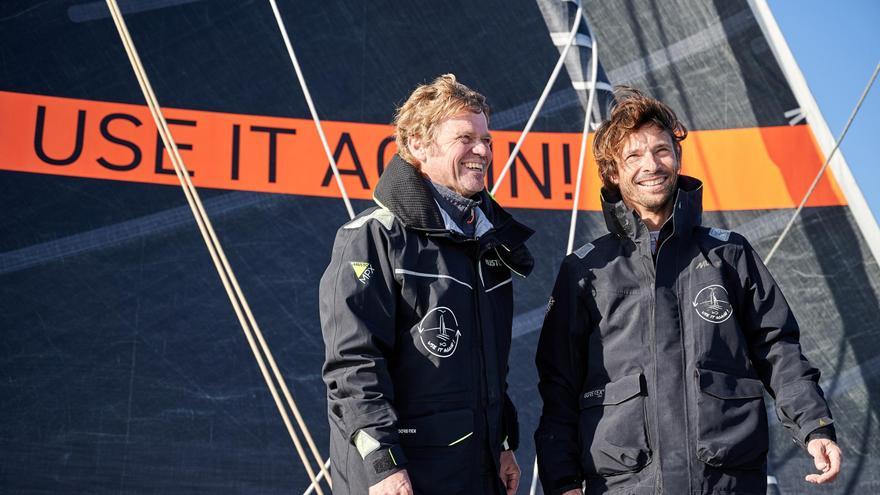 The Spanish transoceanic navigator Àlex Pella started this Tuesday from the French port of Lorient one of the riskiest challenges of the candle World Tour: Around the World from East to West (against prevailing winds and currents), a feat that only five sailors have performed to date and that he will try to tackle with his partner Roman Pilliard.
After a month waiting for the best weather conditions, the team has decided that the current storm is the right one to start the great challenge of 21,985 nautical miles (40,738 km) of route.
The exit window allows them to leave in manageable condition, with a relatively well established trade wind (bearing) to continue towards South America.
"I arrived yesterday morning in Lorient, where we already have the boat ready to leave and everything indicates that it will be this afternoon. I have been very lucky since I have been able to spend the holidays at home with the family and now a very good possibility opens up for us "Pella said Tuesday.
"Maybe not the fastest conditions, but yes very safe to leave the Bay of Biscay at this time of year and we will have a good Atlantic descent, which is what we have been looking for. I really want to go out and be at sea again, "he added.
To get it He would be the first man to achieve World Tour records in both directions. since since 2017 it holds the reference time of the Jules Verne Trophy - Around the world with crew- in 40 days 23 hours and 30 minutes with Francis Joyon at the 'Idec Sport'.
For it, together with the French navigator Romain Pilliard, they will have the trimaran 'Use it Again' (Use it again). The 48-year-old Spanish navigator, born in Barcelona and living in Denia with his wife and two children, has acknowledged that, "the decision to go out to Trying to break this record has not been easy for me or my family. "
"I am aware of the difficulty and the great risks of this new challenge, butor I've been with my head on this route for years. Trying to break this fantastic record fits perfectly with my way of living ocean sailing, "adds Pella.
Only five sailors, since 1895, have achieved this feat, but none have been successful in a trimaran. The East-West record is held by Frenchman Jean Luc Van den Heede, who on March 4, 2004, aboard the 85-foot (26-meter) monohull 'Adrien' set it in 122 days, 14 hours, 3 minutes and 49 seconds.
The 'Use it Again' is a legendary 'Ultime' class trimaran that was launched in 2003 and under the name 'B&Q Castorama' he broke the World Tour record in 2005 under Ellen MacArthur.
Designed by Nigel Ivens and Benoit Cabaret has 23 meters in length by 16 in beam, with a 30 meter mast and displaces 8300 kg. with a sail area of ​​373 square meters. Abandoned in 2011 and recovered in 2016 by Romain Pilliard to turn it into the flagship of the circular economy and in one of the five fastest trimarans in the world.
The ship has been renovated with a concern for the choice of materials and the transformation or the recycling of obsolete equipment. The objective was to reuse as many existing parts as possible, look for second-hand ones to transform them and adapt them to this boat.
Sails recovered from a MOD70 have been reused of a professional team and have been adapted to the trimaran as well as certain parts of fittings such as winch mechanisms, pulleys, etc.
The energy required on board to operate the navigation instruments (autopilot, wind information, speed, mapping, etc.) is produced entirely by the combination of wind power, hydrogenerator and solar panels. This material is not new, it comes from parts reconditioned by suppliers.
Reconditioned solar panels were installed in technical fabric from pieces of fabric used to make car 'airbags'. All are innovative solutions so that this project has the least possible impact on the planet.
The Spanish Royal House transmitted a message of support to the two crew members through his social networks: "Much encouragement to Álex Pella, who together with Romain Pilliard, today embarks on a sail round the world to the West, recalling 500 years later the epic of Magellan and Elcano. The journey aboard your recovered trimaran is already exciting for its sustainable vocation ".