The Sagrada Familia shows what the dome that will become the roof of Barcelona will be like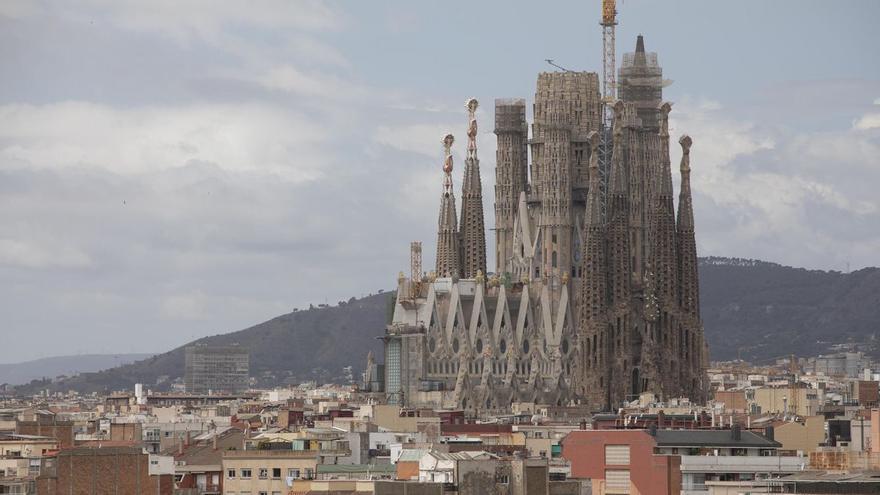 Exactly 172.5 centimeters. This will be the height of the most outstanding building of the 'skyline' of Barcelona when the Tower of Jesus, the highest point of the Sagrada Familia, is built. What it is not clear is when this will occur. The forecast pre-pandemic it had on the anniversary of the death of its architect, Antoni Gaudí (1852-1926), the horizon of completion; but covid-19 It has disrupted everything, including the final date to terminate the monument, as announced by the Construction Board of the Sagrada Familia last September. Visits have dropped and consequently there is no income, and without a budget there is no calendar. Although the basilica continues to work on its construction and this morning they presented what the terminal of the dome will be like when the works can be resumed: 17 meters of white glazed ceramic cross.
What has been said 172.5 meters of tower, as Gaudí projected. The height is not trivial because the brilliant architect did not want the hand of man to exceed what nature had raised in Barcelona: the 177.72 meters that, according to the Institut Cartogràfic de Catalunya, Montjuïc rises above the sea. Thus the dome will become the tallest building in the city, after the 154 meters measured by the Mapfre tower and the Hotel Arts. A tower that will stand out above the other five central ones: four dedicated to each of the evangelists and another dedicated to the Virgin. The latter about to be finished, at the beginning of the month the upper part of the shaft covered with 'trencadís' was placed – in bluish tones, in reference to the Virgin's mantle, which degrade towards white – which will hold the luminous star that will complete the dome and is expected to be installed in December.
Open day
When this happens there will be a celebration party: the star of the Virgin's tower will light up and there will be a party on December 8; while the next 24, 25 and 26 September, coinciding with La Mercè there will be open house. Security measures do not allow access to more than 12,000 people, so on September 20, at 10:00 am, the tickets will be raffled among those who have registered on the Sagrada Familia website.