The Roman Theater surrenders to Plácido Domingo in a great lyrical night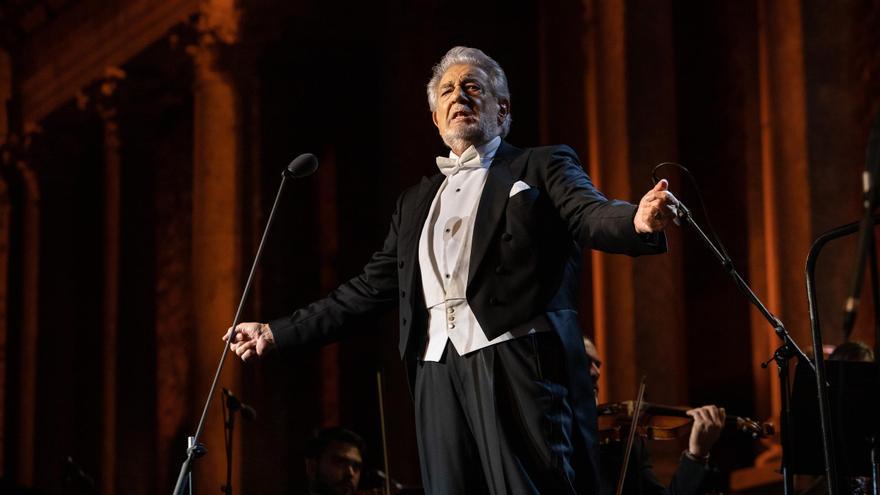 Although it came surrounded by some controversy, the one that lately involves the performances of Placido Domingo, the more than 2,000 spectators that tonight have attended the Teatro Romano de Mérida have surrendered to the Spanish tenor, to whom they have received and dismissed with a great ovation and stood up, in a great lyrical night.
Accompanied by the soprano Adela Zaharia, who replaced Ana María Martínez due to illness, the tenor Xabier Anduaga and the Spanish Philharmonic Orchestra, directed by Josep Caballé Doménech, Plácido Domingo has offered, thirty years later, a concert in the capital of Extremadura, with a program with opera and zarzuela classics.
Before the concert fifty people summoned by the 8M Women's Platform of Mérida, had gathered at the entrance of the Roman Theater for demand its cancellation and to protest against the public financing of the same, understanding that in this way an image of tolerance to violence against women is given.
However, on the stones of the Mérida enclosure the delivery to the artist has been total, to which the tenor has responded emotionally and with gestures of affection towards the "enthusiastic public", as he has described them, and to whom he has not hesitated to "give" some dance passes with Adela Zaharia in one of her final performances.
At the gala they rang arias from operas with a very varied repertoire, sometimes performed alone by Xabier Anduaga, Adela Zaharia and Plácido Domingo, and other times in a duet between him and the other two, as well as pieces by the Spanish Philharmonic Orchestra, which replaced the Extremadura Orchestra, after the refusal of the Junta de Extremadura to authorize it.
After an hour of opera, the second part of the evening continued with songs from zarzuelas such as Maravilla, Doña Francisquita or La del soto del Parral, the prelude to El Bateo de Chueca and the intermission of La Boda de Luis Alonso de Giménez.
In the repertoire tonight and being in Extremadura, he could not miss "In my land of Extremadura", by the popular zarzuela Luisa Fernanda, which Plácido Domingo performed accompanied by the soprano and which the audience thanked with a loud ovation.
At the end of the concert, Placido Domingo received, as usual, the STONE M, with which each year the artists who pass through this festival are distinguished and that, on this occasion, it was Carlos Lobo, director of the contest, who was responsible for delivering it.