The Rolling Stones make it clear in St.Louis that they do not intend to lower the blind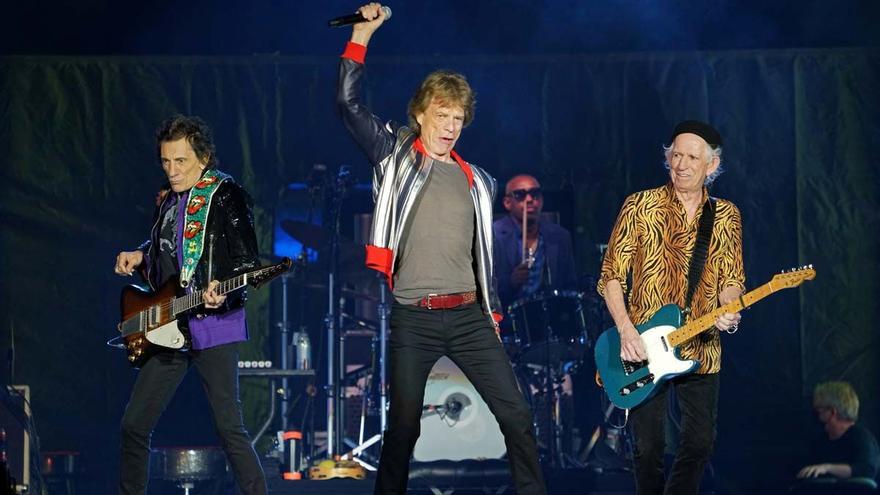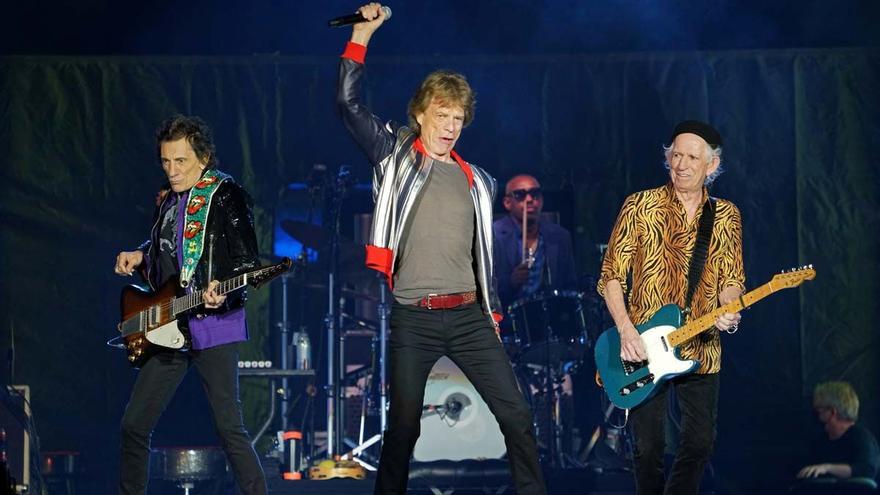 The tongue keeps sticking out red. The body of a 78-year-old man moves in defiance of the laws of life. Those movements, his voice, the music that comes from the guitars of two other septuagenarians and the work of a stellar band accompanied by an electric blockbuster absorb about 40,000 people, masked in most cases, although it is not mandatory here. And yes, there is mourning, a time for emotion and heartfelt tribute, but there is, above all, rock and roll, a journey of just over two hours through 19 songs that in most cases are music history, a story in which the Rolling Stones do not stop writing chapters. They are back. And judging by what was seen this Sunday in St. Louis (Missouri), with no intention of taking a step back.
There were 14 minutes to nine at night when a drums sounded in the Dome. The image of Charlie Watts then appeared on all four screens, playing drums as his satanic majesty had done since 1963. And he looked old and young, in color and black and white, laughing with Mick Jagger and laughing with Keith Richards and laughing with Ron Wood and playing, playing, playing ... .
That video, a minute crowned with a huge ovation, a burst of pyrotechnics and 'Street Fighting Man' was the start of the No Filter Tour 2021, the tour that the pandemic forced last year to postpone and that has come too late for Watts. Already at the beginning of last month it was announced that he would be replaced at the concerts by Steve Jordan, an old acquaintance of the band, and especially of Richards as his drumsticks in X-Pensive Winos. On August 24, Watts died at the age of 80.
Jagger and Richards, hand in hand
The images were never going to be enough to express what he represented and what his loss represents. After performing 'It's only rock and roll' Jagger, a silver jacket with a red waist and cuffs, recognized how "fantastic" it was to be back but also how "emotional" it was for them to see their former partner on the screens. "We're going to miss him a lot, on stage and off," he said. A gesture, however, spoke louder than words: Richards and Jagger holding hands while the singer launched that message and before dedicating to Watts 'Tumbling says'. Subtle and strong.
Regards to Chuck Berry
Then came a terrific version of 'Under my thumb', the touring debut of '19th nervous breakdown' and then, by vote, 'Wild horses'. With the ballad, then with 'You Can't always get what you want' and then with another touring debut, 'Living in a ghost town', he slowed down a bit but the energy soared again with 'Start me up' and 'Honky tonk women'.
It was then the moment to present that band that surrounds, accompanies and sustains the magic of the Stones live, including that Jordan who throughout the concert kept the Watts bar and, at the same time, did not seek any prominence. And there were nods to the local crowd, from a Cardinals (local baseball team) jersey to the mention of Chuck Berry, icon of a city where the Stones offered their first concert back in 1966 before giving way for Richards, a blue silk shirt, to take the lead with 'Happy' and 'Slipping Away'.
Sitting
Then it was the turn of a spectacular 10-minute version of 'Miss you' and another also magical one of 'Midnight rambler' to line up one of those final straights that make it difficult to understand how the Americans, although the majority of the public in San Luis painted gray hair (and white skin), they can watch concerts like this without getting up from their seats: 'Paint it Black', 'Sympathy for the Devil' and 'Jumpin' Jack Flash '. And after almost two hours of concert supposedly the end came but there were still 15 minutes with two encores to complete the ecstasy: 'Gimme shelter' and '(I can't get no) Satisfaction'.
The Stones left then, when the clock touched 11 at night, and a photo of Watts returned to the screens. It was the last goodbye but the message for the public appeared shortly after the fade to black on a blue background: "See you soon."
"Crazy"
What the Stones had made clear, 229 years between the three, is that, as long as the body endures, they will continue. And few after seeing the concert have doubts that they will. "The energy is crazy, they don't act their age," enthused Brad, a 50-year-old man who had come from a town in neighboring Illinois and had just seen them for the first time. "That energy, the musical level, the way they keep enjoying it, leaving room for jamming ... I don't think they do it for the money, obviously they don't need it."
Also Jeremi Lambuley, a 24-year-old from Mallorca who had made this his first Stones concert, the heart of a trip of an authentic pilgrimage (spending even 15 days in Colombia to enter the US, still sealed to Europeans by the pandemic ), declared himself surrendered. "It was very possible that because of expectations and because of so many videos that I had seen of them when they were younger and more explosive, I could be disappointed but they have given me more than I expected," he said after having yelled and, yes, to dances, near the stage and even to have made "a wound in the hand of applauding." "I didn't think there would be so much energy. Mick Jagger is 20 years old. You can tell they enjoy the stage, "he said. "I'm going to follow them around the world."
It's what staunch fans like Kevin Crain do, who first saw them at 17 in Oakland back in 1978 and has since racked up more than 100 of their concerts, "Like a child returning to the ice cream parlor for another ice cream". Arrived from Los Angeles, he had not wanted to read or watch anything about the preparation of the concert this Sunday ("you can only open your Christmas gifts once," he explained) but what he saw was special. Very close to the stage, 61-year-old Crain cried as soon as the second song was played. Because, whatever the title says, "it's not just rock and roll." They are the Rolling Stones.