The ring of equality and sisterhood in sport through the art of Alicia Framis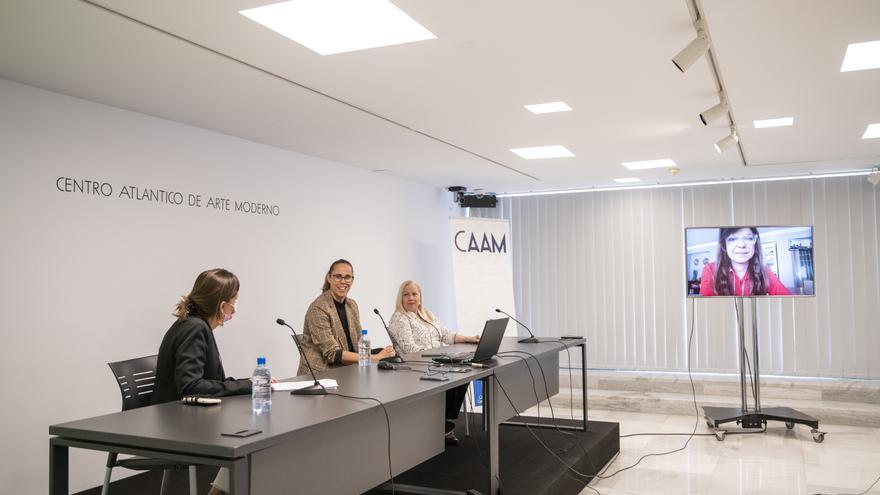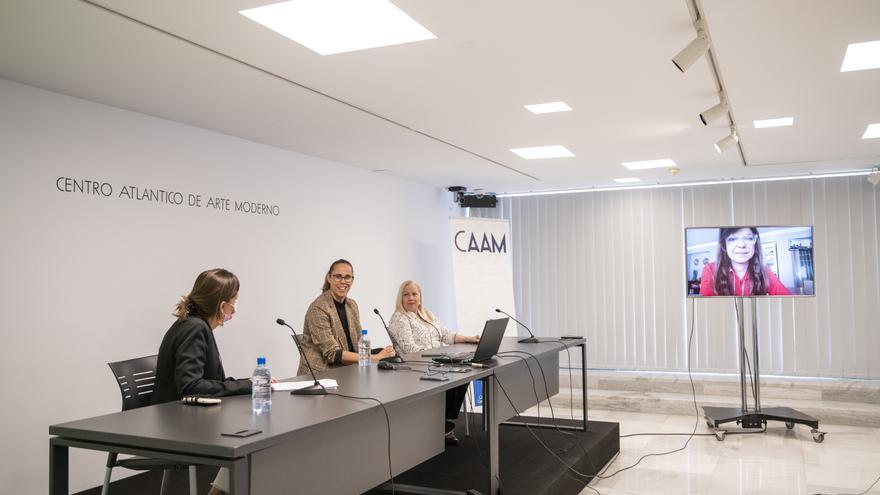 One of the most common means of expression in the artistic and feminist universe of Alicia Framis, one of the national creators with the greatest international projection, is based on sew other ways of looking at clothing and textiles to denounce the patriarchal system that cuts across all the spaces we inhabit.
Your exposure Sistershoop. Garments and Rights, which exhibits the CAAM-San Antonio Abad space, places the focus on the marked inequality and discrimination of women in the field of sport, where Framis embroiders reflections and questions taken from the manifesto Glitch Feminism (2013), by the curator and writer Legacy Russell, in ten fluorine-colored basketball teams. «The privilege to imagine more [El privilegio de imaginar más]»says one of the shirts.
"Now, girls can dream and imagine more, but there was another time where that privilege did not exist ", said Amaya Valdemoro, considered the best Spanish basketball player in history, when observing this piece, which yesterday included a meeting on the situation of women in basketball, organized by the Atlantic Center of Modern Art (CAAM) around the exhibition of Framis, where the artist herself -via streaming- and Begoña Santana, former player, coach and co-founder of Spar Gran Canaria also participated.
In his first speech, Valdemoro reflected in retrospect on his highly successful international career and pointed out that "for a long time, there was a tendency for the visibility of women in sport to come from the hand of clothing, and not excellence" . "When I started playing basketball, I had to wear men's kits, because brands didn't make sportswear for women," he recalled.
In this sense, the former player maintains that "Now we are beginning to redirect and go on the right track, but this is like a marathon or endurance race, where we advance slowly, at a good pace, on the right foot."
For this reason, Valdemoro wanted to convey "my gratitude to Alicia for setting up an exhibition on women's sports and their clothing, because that is one of our victories." But, along with this, both Valdemoro and Santana pointed out several discriminatory gaps that persist, such as wage inequality, the lack of sponsorships and sufficient resources for women's teams, as well as their low visibility in the media, which translates into, also, in the absence of female references for future generations.
Precisely, Santana, who stands as the coach with the most championships won in Spain and whose quarry has enlightened more than 6,000 players -including seven Olympians-, confessed that the meager help for her team threatens to disappear next month. "Equality has not reached me," he lamented.
And these walls are reflected in the fact that "man is news in sport every day, which makes sponsors, the media and future athletes pay more attention," said Valdemoro. "We, based on winning championships and medals, have managed to open a gap", he stressed, adding that "I would have liked to have the same facilities as men to get where I got."
«I have been compared many times with Pau Gasol, and I cannot say that I deserve to win the same as him because I have not generated the same, but I would have liked to have the same means and equipment that he had in order to become the best, "said the champion. But, in the end, she concluded that "even so, without having the same social or economic impact, women have continued to work from the heart and little by little we are losing the fear of asking, speaking and expressing our needs, which is how they get things done.
In this race, culture, hand in hand with feminism, is also a powerful force. "Culture opens the door to other ways of thinking and living better", Framis concluded. "Many players told me that my exhibition was too beautiful, that it was a utopia, but it also shakes consciences because, through art, people are more open to wanting to understand, to look, to want to build a better world."