The reward for not giving up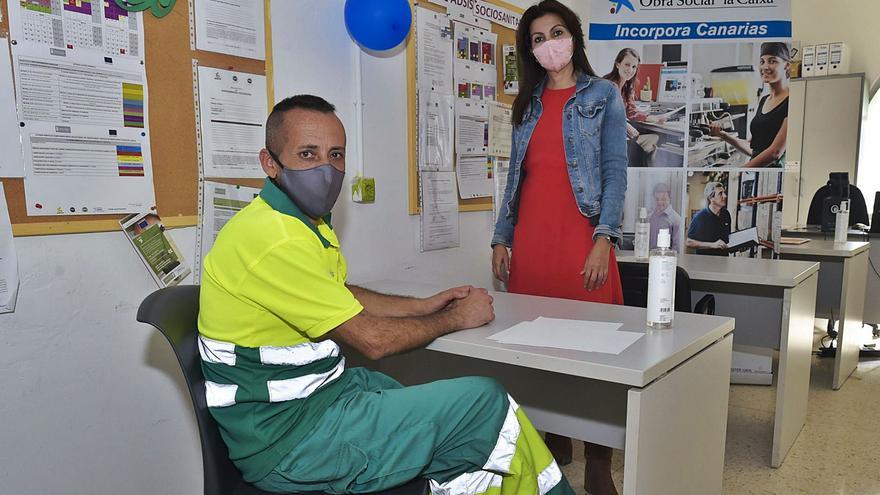 "The important thing is not to give up." That is the philosophy of Marco Antonio Noda who, at 52 years old and with two minor daughters in his charge, does not know what job stability means because he has spent a lifetime chaining temporary jobs. Thanks to Incorpora, the "la Caixa" Foundation's social and labor insertion program, Noda has found a job in the middle of the Covid-19 pandemic. He is one of 207 people who have obtained a job with the help of this initiative, most of them for basic jobs in the context of the state of alarm.
More than 95 socially responsible companies in Las Palmas have not only continued hiring after the arrival of the Covid-19 pandemic, but also continue to employ people at risk of social exclusion, who, in turn, are the most vulnerable to the crisis derived from the coronavirus. This program l offers companies a free advisory service to facilitate the labor integration of people with disabilities or in vulnerable situations, such as young people at risk of exclusion, victims of gender violence, long-term unemployed and ex-prisoners, among others.
Incorpora maintains direct contact with companies to find out their real needs
"We maintain close and continuous contact with companies to find out their real needs," says Cecilia Herrera, technician for the Incorpora program. Who details that, with this information, they can offer job seekers specific training to access the most required jobs. "We also talk to companies so that they admit our trainees, because it is a way for them to gain experience and, in turn, get to know them. They may like how they work and incorporate them if they have a vacancy, "Herrera explains.
Noda has been working on the cleaning and maintenance of parks and gardens in the capital of Gran Canaria since September, with Fomento de Construcciones y Contratas (FCC). "I am very grateful to this program and, especially, to Cecilia, who has always been there for what I needed," says Noda, adding that every time she loses her job she begins her struggle to find a new job. "I can't stop myself and I have to always be optimistic, because I have to take care of my two girls and the rent for the house," she says. In this sense, Noda dreams of having a stable job in the future that will allow her to live with some peace of mind. Now, he claims to be very satisfied with the work he does and feels fully integrated with his colleagues who even congratulate him on the way he works. "This contract is for a few months, but I am hopeful that it will become something more lasting," concludes Noda.
About 200,000 jobs
The "la Caixa" Foundation celebrates fourteen years working for social and labor insertion from Incorpora. Since its inception, 176,976 companies have hired more than 193,752 people at risk of exclusion through Incorpora. In the Incorpora network, made up of 406 social entities, 1,054 incorpora social and labor insertion technicians work, essential figures for their personalized attention to users. This process, which the coronavirus has forced to adapt to teleworking, ranges from the prospecting of companies to the monitoring of the training process, labor support, the solution of possible conflicts that may arise within the framework of the employment relationship, and the promotion of new companies joining the program. | LP / DLP