The return of 'Stalingrad', the novel that the Soviet regime censored | Babelia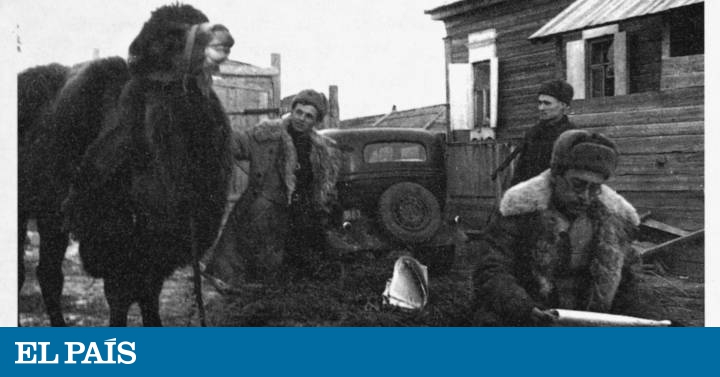 Stalingrad, the great work of the writer and journalist Vasili Grossman, adds another chapter to his particular editorial career. After having suffered the censorship of the Stalinist regime and the media derision of the official press in the early 1950s, the novel had to wait for Stalin's death for a new publication. None of the versions published since then corresponded to the original manuscript that Grossman had drawn up with the aim of narrating the Battle of Stalingrad during World War II.
After unearthing the book in 2011, Galaxia Gutenberg reissues one of the two novels that make up his work on one of the bloodiest episodes of the war that, in addition, had affected him personally: as a correspondent in the race but also personally, due to the death of his stepson, a member of the Red Army. This new edition is based on the work that Robert Chandler, Grossman's English translator, completed in 2018. The reader will be able to identify the never-published fragments in gray, compared to the usual black of the text of the books. Babelia preview one of those unpublished chapters.
---
Zina Mélnikova, Vera's friend, lived in the same building where Mostovskói had been housed. It was one of the best buildings in the city.
Vera's family was unhappy about her friendship with Zina, but Vera didn't care what they thought about her friend. Vera liked that Zina didn't disdain any job, scrubbing floors, doing laundry, and being able to feed herself for weeks on just bread and tea in order to save enough to buy goatskin gloves or a pair of fishnet stockings.
She was thrifty and generous at the same time. She was able to give her favorite brooch to a friend or organize a party with a lavish treat, even if that forced her to eat only potatoes seasoned with vegetable oil for a couple of weeks afterward.
Vera liked that Zina did not treat her like a girl who did not understand anything about life, but rather shared with her the problems of her married life and asked her for advice.
Although Vera, by her way of being, felt alien to everything that constituted Zina's life, her pure and transparent nature did not prevent her from showing an interest in her friend's passions. Zina was only three years older than Vera, but compared to her, she seemed to know everything. She had been married for two years and had been to Moscow several times, in addition to having lived in Central Asia and Rostov. Her husband worked as a supply manager, which is why he traveled a lot throughout the region and often traveled to Kuibishev, summoned by the People's Commissariat.
Vera ran up to the third floor and knocked on the door.
Zina opened it and, seeing it, exclaimed:
–Vérochka, you look worried! What happened to you?
"Can I stay the night at your house?"
–Of course, what a question, of course it is. My husband is back in Kuibyshev. Are you hungry?
-Yes.
Zina invited Vera to sit on the sofa.
Vera watched Zina as she set the table, moving swiftly around the room. Every time she passed the moon wardrobe, she took a brief glance in the mirror.
"I keep getting fatter," Zina commented, "since the war started everyone has lost weight except for this wretch, imagine."
–Zínochka… –said Vera in a low voice and began to cry.
-What's wrong? Zina asked, scared.
Vera stopped crying and explained what she could not and did not want to explain to her family.
The night of the previous day, the head of the hospital had given Vera the list of patients who would be discharged. Vera took the list to the office so that they could complete the corresponding procedures: all those who were discharged were transferred by boat to Saratov from where, after an examination, they were sent back to their respective units. When Vera looked at that list again the next morning, at the end of her shift on duty, which contained twelve surnames, she noticed that they had added Viktorov's surname by hand. She didn't even have time to talk to him alone. She ran to her room to see her, but Viktorov was already coming down the stairs with the others; a hospital bus was waiting for them on the street.
"It's not right that he's the thirteenth on the list," Zina observed.
"It's not the thirteenth." Your last name comes before the first.
Zina sat on the couch next to Vera and began to rub her friend's fingers with her hands, as if she had them ice cream. Then she said in the tone of an experienced physician who had decided to reveal the truth to her patient:
"I know from experience how hard that is, and don't expect things to get better."
"It torments me to think that I will never see him again!" Mom told me a few days ago: "I congratulate you, I have found out that your friend is a vulgar and uncultured boy." Go figure! She would have liked him to be gifted… And I hate those handsome geniuses and colonels as much as I despise the women who marry them out of interest.
"Love does not attend to reasons and should not take into account anything," Zina said.
Vera said through tears:
"Oh, Zinochka, what if I don't see him again?"
Zina thought for a while and then added without rhyme or reason:
–Who I can't understand is Yevgenia Nikolayevna. Why do you dress the way you dress? With her figure, her face, and that wonderful hair she could look stunning!
"I think she's going to marry a colonel," Vera commented with a grimace.
However, Zina did not understand what her friend had meant by that and, forgetting her own words about the unreasonableness of love, she observed:
–It doesn't surprise me. The colonel will provide you with a certificate allowing you to wait in line to get milk for the baby while you live somewhere like Chelyabinsk, for example.
-Yeah, so what? Vera replied, "I wouldn't mind standing in line to get milk for my baby."
She felt the irrepressible desire to be a mother, to have a son by Viktorov and to care for him, like a little flame in the dark of night, despite the privations and needs. The baby would have her father's eyes, her slow smile, and the same slim neck. Such ideas had never entered her head, so that thought, pure, bitter and sweet at the same time, embarrassed and made her happy. Was there a law that forbade a girl to love and be happy? There wasn't! She did not regret anything, she would never regret it. She had done what she had to do. Zina, as if reading her thoughts, asked her:
-You are pregnant?
"Don't ask me," Vera rushed to reply.
–Don't worry, I'm older than you and it was just a comment ... it's no joke. He's a pilot, they can shoot him down at any time. It would be terrible if you were left alone with a baby!
Vera covered her ears with her hands and said, shaking her head:
-Silly stuff! I don't want to hear anything!
They were talking until midnight. Then Zina put sheets on the sofa and said to Vera:
"Lie down, you need to rest."
Zina turned off the light.
In the morning of the next day, upon arriving at the hospital, Vera peeked into Viktorov's room. In her old bed there was a dark-haired man with black eyes and a wasted face, apparently an Armenian. Vera felt an unbearable grief, hurried out into the corridor and went to the window by which she used to meet Viktorov before he was discharged. The flaky water of the Volga gleamed dazzlingly in the sunlight ... By this time, the ship may have already passed Kamishin ... Vera thought. The sky was serene and blue, the river flowed indolent, the bright little clouds seemed so white, light, and alien to the world ...
Suddenly, remembering Zhenya and Novikov, she decided that they led equally measured, calm, and impassive lives, oblivious to her confusion and grief. That feeling of irritation against Zhenia and Novikov did not leave Vera until evening. He was even glad when, returning from the hospital, he surprised Zhenia and the colonel at home. They were sitting at the table; Novikov had apparently just arrived, still holding his peaked cap in his hand.
Vera stared at Yevgenia Nikolayevna's animated face. I wanted to let him know that there was a love that despised reason and interest.
Vera began to tell them a story from before the war that Zina had told her the night before. It was about a young engineer who had fallen in love with an actor from a traveling company and had left her husband to run away with him. And she did it despite the fact that she was preparing to defend her thesis and having to overcome many obstacles, because her husband was desperate and at work they were reluctant to let her go.
After hearing this story, Yevgenia Nikolayevna laughed and observed:
- What vulgarity!
–It is not vulgarity but a true love! Vera replied, furious.
Zhenia, visibly angry, tapped the spoon against the rim of a glass; the crystal clinked, conveying her emotion.
"An operetta romance!" It is a minor flutter, and you call it love. What a crazy think!
As she said it, Vera's eyes were sullen and insistent. Her mouth was open, like a little girl, surprised by Zhenia's words.
"Don't lecture me, aunt." You don't understand any of that, "Vera said.
"Don't talk nonsense," Zhenia insisted coldly.
Stalingrad. Vasili Grossman. Translation by Andrei Kozinets. Gutenberg Galaxy, 2020. 1200 pages. 27 euros. The book is published on October 7.