The return of Jaime Hernández's 'Locas' punks and bisexuals | Babelia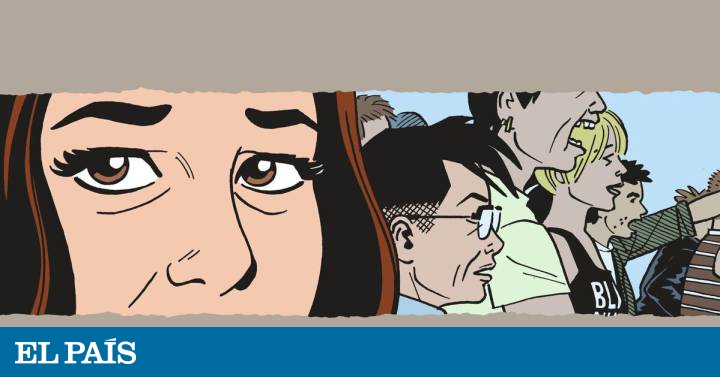 The Hernandez brothers were five. Four boys and a girl. They grew up in a house where there were more comics than anything. The mother of the boys and the girl did nothing but read them. Comics were everywhere. "You couldn't consider being anything other than a cartoonist in a house like this," said the youngest of the brothers, Jaime Hernandez (Oxnard, California, 61 years old), the guy who has been expanding the universe for almost four decades. that he created with two of his brothers on any given day in 1981. The day they decided, together, that nobody was ever going to tell them how and what they should draw. The day he was born Love & Rockets. "The punk It helped us, of course it helped us. He helped us to give us the same. We were not going to wait for anyone to like what we were doing, we were going to do it without further ado, "he recalls.
He is sitting on a stool that does not look very comfortable. There is a small audience in front of him. The place is a bookstore, the Politics and Prose of Washington. The moment, one day last November. Hernández lives in Pasadena, California, and is not overly given to transatlantic walks or interviews, but can be heard talking. of the recent Is this how you see me? (The Dome), his last foray into the universe Crazy, virtually. And find out, for example, that he is married to Hopey Glass. If he. Married to the character who in the series ends up married to a woman. "I met the girl Hopey is based on in the 1980s, just as we started drawing our own magazine. He smoked all the time, he swore. I liked it, "he says.
The magazine to which it refers is the one that contained Crazy, that is to say, Love & Rockets, the instant classic of a time, the eighties, which propelled the Hernandez brothers in, above all, the nineties, the golden age of North American independent comics, that would not exist without the push of Robert Crumb in the seventies and his magazine Weirdo in the next two decades. It is curious the way in which that era, which contains so many classics, appears only as a tiny dot that moves away in the rear-view mirror of the reader in Spanish, who seemed to begin to consider the comic as something more than superheroes from the 2000s onwards. at all times, from a massive reader, since the militant comic reader knows how much the Hernandezes, Peter Bagge, Daniel Clowes and Charles Burns matter, to give perhaps the most illustrious examples.
But let's get back to Hopey. In reality, Esperanza Leticia Hopey Glass –Maggie is not only Maggie either, she is Margarita Luisa-. Hernandez and the girl who inspired Hopey married in 2000. "By then we had been dating together for 20 years, as friends," he confesses, sitting on the bookstore stool. Hopey and Maggie meet again at Is this how you see me?, a whole new bunch of comics from the couple – yes, Maggie and Hopey went out together, in fact, they have come back and broken up many times, but now Maggie is with Ray and Hopey has married a girl, Sadaf, and they have a boy. – they follow them for a couple of days in Hoppers, also known as Huerta. Both have returned to their city to meet up with the other colleagues punrockers and attend a concert night revival. They think they are going to come home, but can one go home?
You can, and the place will still be there, but since none of us will be the same, the idea of House neither. With something like this he meets Maggie and Hopey on his return to Hoppers, so it could be said that Hernandez explores the idea of ​​an unexpectedly out of place maturity. Because if he punk, at the time, reconciled them to the world, now, in the distance and inadequacy – the punk, like the world, has also evolved, and it is evident how niches are nothing more than that, niches, moments that pass and never return and abandon those who believe they can relive them in their own increasingly alienating world–, It makes them feel even more out of place, or too small. Misunderstanding is now just around the corner. And if not, tell Daff. Her daughter Jessica does not stop laughing at her.
In the next installment of the ongoing saga, Hernandez explores the idea of ​​an unexpectedly out of place maturity for Maggie and Hopey.
The funny thing about the expanding universe of Crazy, that Jaime does not stop feeding, is that he can move in any direction. And that is something that the cartoonist was clear from the beginning. "Actually, it was my brother Beto's idea. He loved it Gasoline Alley, a comic starring a guy who was a baby at the door one day. The baby grew as the comics progressed, and he grew older. I always liked that idea, and from the beginning we thought that our characters would age like those of Gasoline Alley"He said, on the issue of aging, in another meeting, at the Strand bookstore in New York. He also confessed that he was nostalgic. "I remember when I was six years old I was already saying to my brothers, do you remember when we went to our uncle's house? Wasn't it great? Oh what times! He said. And it was only two years ago! "He said.
Maybe that's why you like the past so much. Fill in gaps. If a volume of Crazy It could be set at any time in the past or in the future. In Is this how you see me? 30 years have passed since the girls discovered the punk. And the protagonist is still Maggie, because Maggie is Jaime himself. "Maggie is the character that most resembles me, I second all her opinions, and her way of seeing life. Maggie, like me, does not stop trying to fit into a world that does not take her seriously, "Hernandez has confessed. Actually, Crazy it has a lot of autobiographical. It seems that it has everything. Even Hoppers is the vignette version of Oxnard, that poor area surrounded by wealthy Los Angeles homes where the Hernandezes grew up.
Why was a 22-year-old boy drawing and writing in 1981, when the first issue of the still-running Love & Rockets, about a lot of girls when all the cartoonists did back then was write about guys who were downright bad and hated, like Peter Bagge, the world? "I don't know, why the women? Why not? The truth is, I don't have an answer. I like to draw women. They offer more possibilities than men. Also as characters ", answers Hernandez when asked. Still on the stool at the Washington D.C. bookstore Perhaps it is more modest of the account. Maybe it was just his way of giving back to his mother everything he'd given her, starting with the comics he stumbled across the house on the way to anywhere.
Is this how you see me? Jaime Hernandez. The Dome. 108 pages. 14.90 euros.