The return home of Manolo Millares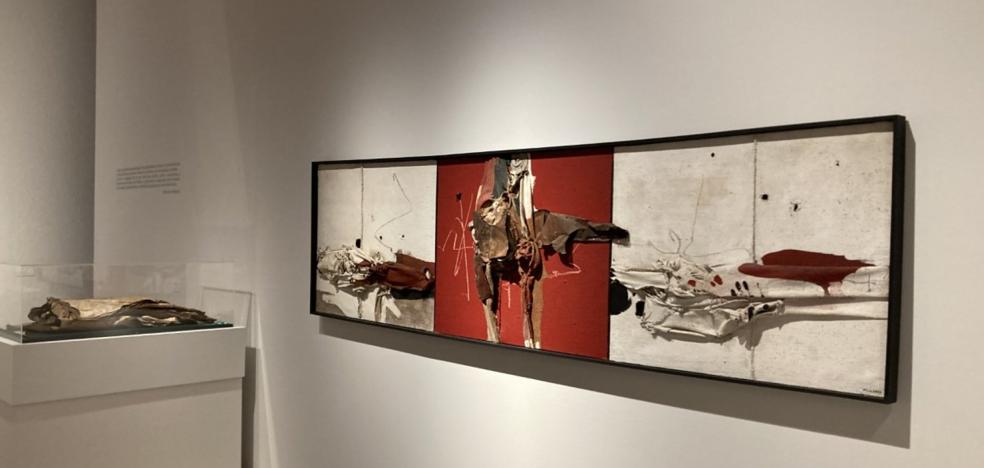 A powerful white light towards which you are approaching. And along that path or tunnel, the most significant moments and images of your life pass at full speed. Some who have seen death up close say that is the final step. Unless science advances by leaps and bounds in the years to come, we will hardly ever know if it is a reality, an urban legend or the fruit of the delusion of those who were about to cross the Styx in Charon's boat. Of course, if something is certain, when the artist from Gran Canaria faced this last vital stretch
Manolo Millares Sall on August 14, 1972among the key images of his existence had to sneak
The Canary Museum or a few pieces of their rich funds.
The Canarian painter and engraver, one of the island's creators with the greatest international significance in history, was passionate about pre-Hispanic art and life and his relationship was maximum with this institution, located at number 2 Calle del Doctor Vernau in the Vegueta neighborhood of the capital of Gran Canaria.
«It can be said that El Museo Canario was his home»notes even his widow,
Elvireta Escobioat a moment in the audiovisual piece by Dácil Manrique de Lara that is part of the exhibition
Manolo Millares. Of the rooting, of the tearing', that until next September 14 houses this capital institution for the history and cultural development of the archipelago.
From childhood

The Museo Canario was like a second home for the artist born on January 17, 1926 without his knowledge. He became one thanks to his family ties to the institution and because when he was nothing more than a skinny blond he already walked through its rooms drawing and painting what he saw, what he imagined or what he had been told. To such an extent that some of his drawings from 1938 are exhibited in one of the showcases of this exhibition. «
His interest in history begins when he was very young and is reflected, above all, in his drawings.. We have thirteen plates in which the Conquest of the Canary Islands is represented as a comic, imitating the old parchments and the drawings of Leonardo Torriano. The influence of history in Millares drinks, especially later, from the reading of the
'General History of the Canary Islands', which was written by his great-grandfather, Agustín Millares Torres», explains Fernando Betancor Pérez, archivist at El Museo Canario since 1999 and a key figure in this exhibition.
Laura Teresa García Morales, curator of the exhibition. /

cover

This is an exhibition project that is part of the 50th anniversary of the death of Manolo Millares. But the artist does not concentrate all eyes, but has opted to contextualize it and place the visitor in the time and the artistic and social environment that surrounded this genius. "We planned this exhibition thinking that
The Canary Museum could not stay without doing anything when it was 50 years since his deathbecause they had a very close relationship. Not only because of what he did right here, but because it was a source of inspiration for his creations and because of the ties to his own family background. This is where his passion for the pre-Hispanic past began », he explains
Laura Teresa García Morales, curator by Manolo Millares. From the rooting, from the tearing'.
«With the exhibition we have a passage of contemporary art from another point of view.
It is a very essential sample, in which we do not focus only on the artist, which is of course the fundamental point, but on the entire group of creators of his time. It was not something casual or anecdotal, but the result of the desire of a group of very young artists who built themselves from scratch. In art they found
something that motivated them and helped them build something valuable in themselves», explains the curator of the exhibition.
Visitors to the exhibition at its opening, along with three pieces by Millares. /

cover

A determining enclave

García Morales acknowledges that "in that environment of misery it was difficult to think of being an artist." «They were very encouraged by the fact that in El Museo Canario, in addition to the pieces with which the works of Manolo Millares and others clearly dialogue, they had an enormous documentary collection to enrich their own speeches». In addition, this institution also became
an oasis of freedom during the harshest decades of Francoism, where artists could not only document and be inspired, but also exhibit their creations. That was the case of Manolo Millares himself, who in 1948 starred in two exhibitions, one of watercolors and a second more interesting one, entitled '
Superrealists'which included his
'self portrait', which belongs to the Elvireta Escobio collection and which welcomes the visitor to this project as soon as they enter the room.
Those responsible for 'Manolo Millares. From rooting, from tearing' they dedicate a special space to
Happy Monsoon. Not only because of its unquestionable importance among those emerging Canarian artists, but because it was a target on which the
Francoist censorship he threw his darts. «Two of his exhibitions were scheduled at El Museo Canario. As Felo Monzón had a great political connection, the Government tried to close the exhibition and suspend the conference that the artist was going to give. We even exhibited a note in one of the windows so that the newspapers of the time would not report on that exhibition. But the Museum had adhered in 1944 to the
Higher Council for Scientific Research, it was exempt from censorship. Faced with these attempts to censor Felo Monzón, the Museum vindicated this figure and held his exhibition and gave his lecture. He was branded as subversive, despite the fact that the exhibition had none of that », he explains.
Fernando Betancor.
Entrepreneur and unity

Laura Teresa García Morales highlights "the entrepreneurial spirit" that Manolo Millares always displayed. «He had ideas and he started to make them come true, even though no one had done it before.
He had a great ability to form a group, to bring together efforts and people», he points.
Without going any further from that conception, the group was born
LADAC (The archers of contemporary art), present in this sample. «We have tried to contextualize the trajectory of LADAC, which was between 1950 and 1954, although its last event was in 1952. We exhibited in one of the showcases the program of the fourth exhibition that they carried out, the first in El Museo Canario », explains the curator. Along with this brochure is the original score of the
'Trio in B flat'composed in 1950 by Juan Hidalgo, and which he expressly sent to Las Palmas de Gran Canaria so that it would be exhibited at that exhibition of the group composed of
Manolo Millares, Juan Ismael, Felo Monzón, Elvireta Escobio, José Julio Rodríguez and Alberto Manrique.
The oils on canvas 'Miseria' (1950), by Alberto Manrique, and 'Tribute to perspective (1947), by Juan Ismael, the 'Monotype with tensions' (1950) by José Julio Rodríguez, as well as 'Composition nº6' ( 1969) and 'Illogical route of a rubber horse' (1950), by Felo Monzón, are some of the pieces by these archers of contemporary art that are now exhibited 'in the house' of their partner in creative adventures Manolo Millares.
Elvierta Escobio and towards abstraction

«We wanted to complete the exhibition with works by Elvireta Escobio. She was an accomplice to everything. They met when she was only 14 years old. She brought an enthusiasm that they constantly fed off of. We show works that were not known since they were exhibited for the first time, "explains the Gran Canaria curator. It's about a
'Self-portrait' (1953) and 'Nude with damaprana' (1952).
The influence of pre-Hispanic art and culture is a constant in Millares. /

cover

In addition to contextualizing his figure, the exhibition also offers a series of quick brushstrokes that allow us to discover the pictorial evolution of Manolo Millares himself. «In Millares, the fundamental legs were
Miró, Paul Klee, Dalí at first, Felo Monzón and Torres García. His fascination with Torres García's book was total, once it fell into his hands in 1944", says Laura Teresa García Morales about the volume 'Constructive Universalism' (Editorial Poseidón, Buenos Aires), which is exhibited at El Museo Canario and which was key in his «path towards abstraction».
An artistic journey that can be seen in the selected pieces that come from the collections of El Museo Canario as well as from private collections. A path, yes, in which the
prehispanic universe that always fascinated Millares was a constant. Sometimes in an obvious way, as in his oil on canvas
'Pictograph' (1952), where he reproduces the eclipse that decorates a pre-Hispanic jar from the Museum's collections and which the artist contemplated in these same facilities.
The same thing happens with his mythical arpilleras, with his
'Fallen man', where the influence of the Guanche mummies and aboriginal funerary rituals coexist with their universe of pain and violence generated from the barbarism of the Civil War and the subsequent Francoist repression. The audiovisual of this exhibition reproduces some archive images of Manolo Millares himself sewing himself inside a sackcloth imitating the pre-Hispanic ritual that inspired him.
Final stage

"The mummies were what impressed him the most. The 'fallen characters' are mummies from El Museo Canario. He forged everything in the subconscious. The first thing he painted were the pintaderas. The tremendous thing and what awakened that force is in his latest work », explains Elvireta Escobio in the
short film by Dácil Manrique de Lara.
"He died in full creation. He came very high and the best pictures of him were the last ones. He died too soon, he missed the success of his painting and his two daughters, whom he did not see grow up », points out his widow in the audiovisual piece about this artist who was also at the point of group departure
Step and whose members dedicated a monograph to him that is exhibited in this project of El Museo Canario.
This sample has a
Catalogue which will be presented
next August 14, anniversary of the death of this artist who has now returned to his allegorical home.