The retrofeminist art of Asiria Álvarez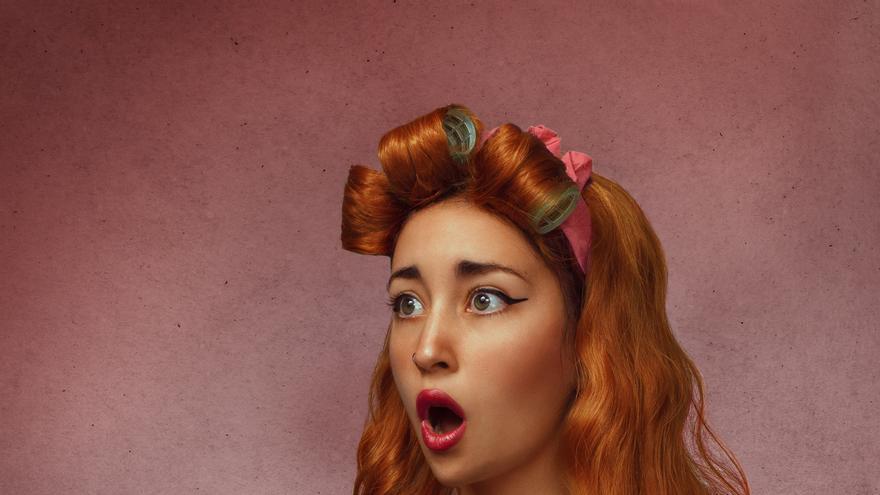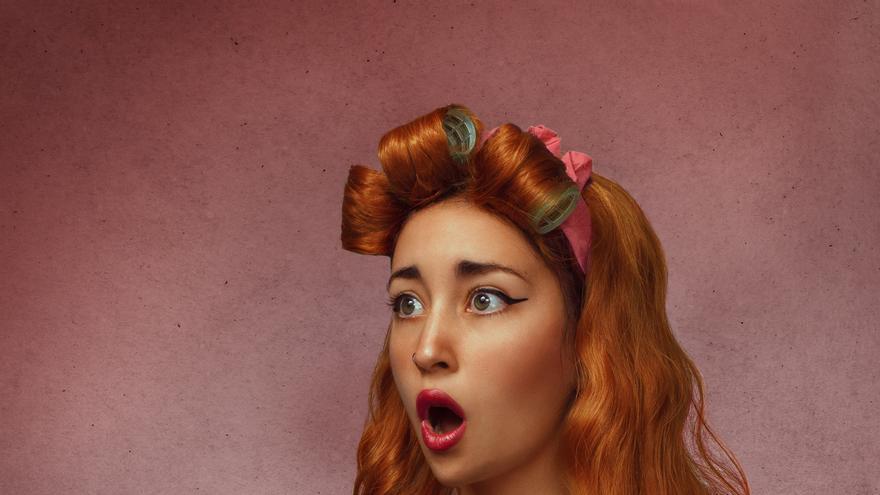 The artistic and feminist photography of Assyria Alvarez (Gran Canaria, 1992) has a satirical aesthetic retrovintage the restraints and macho behaviors that are still contemporary in 21st century societies, as if each image raises the colors to a black and white mentality to channel a message of equality without filters. "I use the image of the woman from before to portray the woman of today, because my objective is to show that the same patterns, problems and inequalities are repeated," says the photographer and graphic designer.
His political art was awarded last Saturday for a battle for social visibility on another front: Neighborhood pride, a creative project of social participation promoted by the artistic collective PSJM, which houses as its centerpiece the homonymous song composed and performed by rapper Alberto Gekah, as well as the video clip shot and edited by Asiria Álvarez herself.
This audiovisual piece, which portrays the daily pulse of the Las Rehoyas neighborhood of the capital through the faces and testimonies of its neighbors, has been recognized in the category of Best Video Clip in the third edition of the Canary Islands Awards. Music. Gekah also picked up the Best Urban Music Album award for his album Fuck: Foxtrot, Uniform, Charlie, Kilo.
«This award made me super happy because the video clip was born from a very participatory project to make life in the neighborhoods visible, where we interviewed many people from Las Rehoyas to arrive at that letter and that video, so it is not an award for a job personal but community, and I think it is very nice that this is recognized, "says Álvarez.
On stage, the photographer claimed with the award in her hands the importance that "the word neighborhood is not synonymous with precariousness." "We want to put neighborhoods in the place they deserve, because not only are they isolated on the margins of the city, but people are out of work and social possibilities," explains the photographer, who defends the urgency that public administrations direct "equal treatment" that grants "the same opportunities to all citizens so that they can get ahead as we have done."
Trained in Graphic Design at the School of Art and Superior of Design Gran Canaria, where photography made its way into her heart to stay, Álvarez intersects the creative paths of art, photography and feminism with her own style in which she projects and she reads herself - and we all read each other - through self-portraits and female portraits.
Since the dictatorship of unreal beauty canons, to which he responds with one of the many images that he stars under the slogan "How to have a beach body: 1. Have a body, 2. Go to the beach" to realities such as mansplaining, the utopia of conciliation, harassment by networks or the long shadow of Judeo-Christian guilt, Álvarez colors with intense hues and a lot of irony the daily and lacerating truth of machismo.
«Photography has become the basis of what I do and it focuses on the lives of women because it is based, above all, on my experiences, so it ends up being a kind of biography, even when I collaborate with other women and , in the end, they are also the stories of all », reveals the artist.
And it is that his artistic universe opened many windows of visibility through Instagram during the parenthesis of the quarantine, which gave him the free time that he longed for so much within the accelerated dynamics of the real world to be able to create. "At last I was able to tell what I always wanted to tell, the anecdotes and the feelings that I kept inside," he explains. "And from my quarantine onwards, I made it a point to focus on myself and really tell what I know, but to do it in a creative and ironic way that could draw attention to being heard, because, for me, it's a process artistic, but also political, "says Álvarez.
Although his imaginary encompasses many other branches of photography and audiovisual language, from albums for different events to album covers or movie posters, Asiria Álvarez's personal project has found its place where millions of women were looking for a mirror in which to reconcile. "That welcome I did not expect and I am very grateful," she confesses, "above all, for the support of so many women who are helped by what I say or how I show the conflicts that women face." "And my dream is to be able to one day expose this project and continue telling our stories," he concludes.