The 'resurrection' of Isabel Pantoja | TV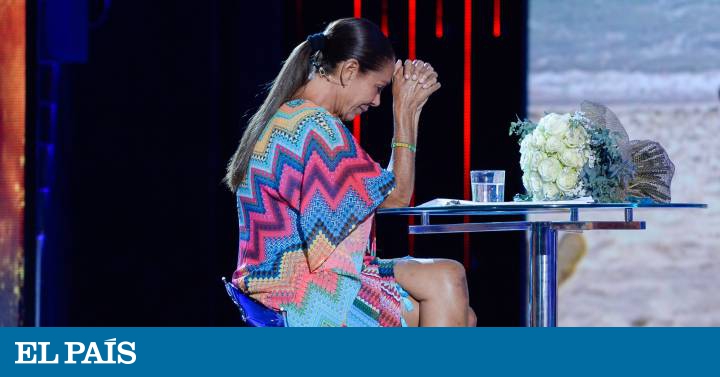 In case it had not been clear to Isabel Pantoja, at about one o'clock on Thursday morning, Jorge Javier Vázquez informed her: "By the way, we have devastated the audience, Isabel …". Upon learning, she wielded the infallible argument of her white smile and let go: "Tell me or tell me?" At that time, Telecinco was already on track to get its second best screen share in the season with Survivors: 36% quadrupling that of its competitors.
What it could not do is overcome what is now known as the pantojazo. That came with your helicopter jump the first day in Honduras to begin his participation in the contest that has given new impetus to his career and has confirmed the chain as a great manufacturer of perpetual phenomena.
From so much pilgrimage to El Rocio, Pantoja is clear about how much it costs to go up to heaven and how cheap it is to go down to hell. From the stage to the prison; from his early widowhood after the death of Paquirri in Pozoblanco Square 35 years ago to the dislikes by chapters of his children, the star of the copla has always been flesh on the cover. Now he has taken a step further and is a television audience: Telecinco has just anointed her as his new star. And to faith, that with the roll that is thrown and stretched, it will last.
If we summarize this edition before it ends next Thursday: who remembers the rest? Who cares about the alleged winner? Everything has been reduced to a choir of gogós around the great diva and fitted to a well calculated script. Even his departure by prescription of doctors has occurred at just the right time. The ideal to dedicate a tribute program and a coronation on the set as the new queen of the screen. A path that has just begun.
We knew about his ability to defend himself and mark the era in a musical genre that takes us back to the 20th century. But not of his instinct and his charisma to defend himself in a show mode invented in the 21st century: reality shows. Maybe the first has enhanced the second. If you are able to provoke crying on a stage and you can interpret before thousands of people with tears and like a soul in pain, you already have a lot of livestock.
For a reality, who dominates the art of suffering in public, who stands out and seduces by instinct, who takes off jets of compassion thanks to a fair dose of exhibitionism, who jumps and spontaneously shows up, who establishes strategies and alliances, who goes to slaughter before expletives and humiliations, it has almost all won for the audience. And for that, Pantoja has been rehearsing all his life.
But it has contributed something more. An authenticity, a truth, a melody. Perhaps she has made it conscious that she was presented before a country that has seen her break up, laugh, suffer and reinvent herself. Who has identified with her in her virtues and her sins. That's why Pantoja has been radically genuine. He has martyred himself before viewers like a virgin worthy of being taken out in procession to be cheered and acclaimed.
The simplicity of the outfit with which she showed up on her return was measured: flip-flops and a colorful shawl to seduce Jorge Javier, sing with him and cry over the fights that his children have held before all of Spain while she was away. He has worn his damaged knees, worthy of a penitent who crawls in search of forgiveness. On the island he has known how to look gray, stay in the bones and resist attacks, scorn and even pumpkins by Colate. He accused her of stealing food, in one of the landmarks of Show, and she endured the guy and melted him, jealous, as soon as he noticed that the truhan preferred Monica Hoyos. After all, this contestant is the only one who has managed to face her with some efficiency. But Pantoja did more: he saw the strategy of complacent shoulder but intentions of Carlos Lozano, reconciled with his old friend, Chelo García Cortés, sought allies that developed his maternal instinct, like Omar, showed his artistic stripes before the cutter of the Brown sugar…
It was, to culminate, grieving mother of something that is styled in the best families: unruly children and to the greña: "My children, my children, why do you hit?", Cried Thursday before the fang of Jorge Javier. A sound with which a good part of the homes with internal doors can be identified. His return served to fuse them in an embrace that no one will doubt again become firewood. Spain is like that, gentlemen. They take it or leave it. That they tell us in these months of unviable pacts, when the personal filias and phobias have become an insurmountable trick of the negotiations to several bands causing blockades of school playground. Vasile, how about putting Rivera and Sánchez in the next edition? They burn the island.