The registrars deliver the Gumersindo de Azcárate award to the Ministry of Justice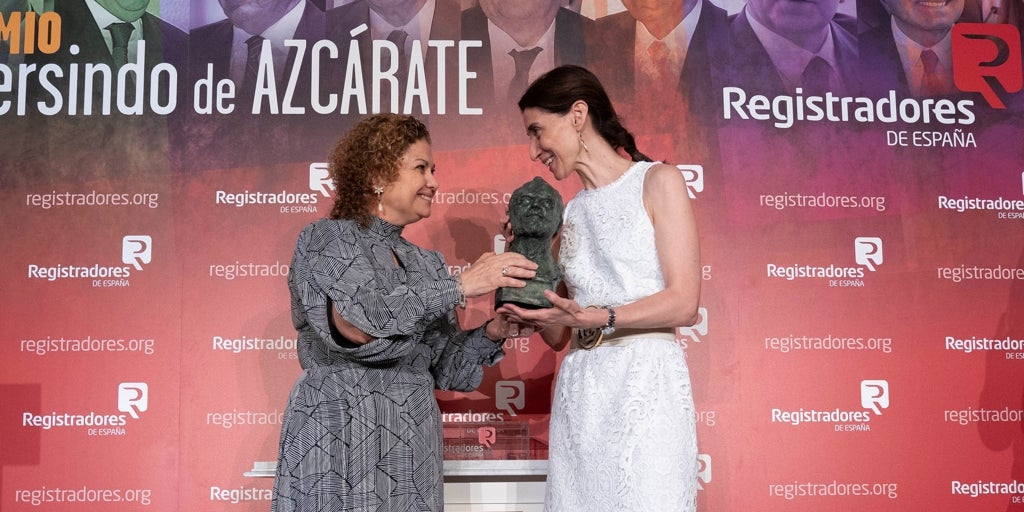 ABC
Updated: 06/19/2022 21:03h
Save

The College of Registrars of Spain and the Autonomous Deanship of Registrars of Madrid have awarded the Ministry of Justice the Gumersindo de Azcárate Award in its twelfth edition, for its nuclear role in promoting legal certainty enshrined in article 9 of the Constitution Spanish.
In her speech, Dean María Emilia Adán highlighted that the registration institution is "looking to the future, all immersed in a digital transformation, without ever losing sight of the fact that we serve human beings, leaving aside corporate interests, with critical spirit we are ready to overcome the challenges that the times require». Adán added that the registrars "hope to continue to have a Ministry that continues to believe in our ability to transform the institution, with a General Directorate that listens to us and demands".
The dean has said that the registrars "offer loyalty, work, and trust in that Institution to which the mortgage law entrusted us."
For her part, the Minister of Justice, Pilar Llop, has extolled the figure of Gumersindo de Azcárate as a clear precursor of the social and democratic State of law and, in line with his actions and values, has claimed a plural and inclusive society in which diversity of ideas, beliefs and opinions is accepted. "We must preserve these values, which are already part of our system, and defend them from any threat," she added.
Registrars have instituted this award to recognize people or entities that promote the social and democratic State of law and institutional development and with them peace, coexistence and economic and social progress. In awarding the prize, the current celebration of the 160th Anniversary of the creation of the Registries has also been considered, which is also the celebration of the so-called General Directorate of the Property Registry in 1861, today the General Directorate of Legal Security and Public Faith, integrated within the then called Ministry of Grace and Justice.
Following the delivery of the award in previous editions to the Cortes Generales, the Constitutional Court or the Press in the person of Alex Grijelmo, this edition's award comes to recognize the relevant role of the Executive Branch, and very specifically of the Ministry of Justice as one of the essential pillars of the social and democratic State of law.
The award ceremony took place today at a ceremony held at the Hotel Villa Magna in Madrid, in recognition of the Ministry of Justice not only of the registrars but of the entire Spanish society.
The event was attended by former Ministers of Justice and numerous authorities of the state and the Community of Madrid.
View commentsTopics

Source link