The Regenta and the IES El Batán create a mural in defense of equality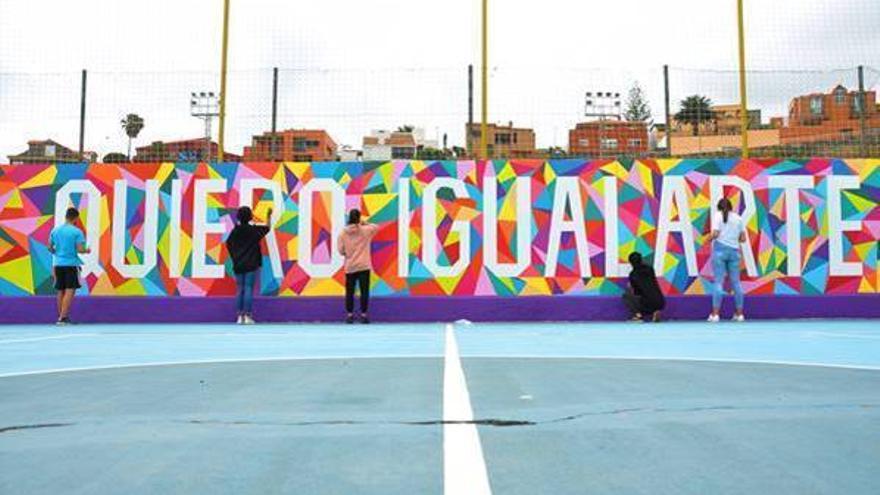 The students of the IES el Batán in Las Palmas de Gran Canaria have worked hard to create this 30-meter mural, whose message is a declaration of intentions in the will to create a reality among equals. From May 7 to 14, these adolescents enrolled in the subjects of the Department of Plastic Arts and Drawing became artists committed to a center of equality and free from discrimination. This pedagogical project was born from the collaboration between the Department of Education and Cultural Action (DEAC) of the La Regenta Art Center and the Institute's Plastic Arts Department, in the development of a sexual and gender affective education project.
The DEAC takes as a reference the work of artists of recognized prestige in their pedagogical companies. This time, they were inspired by the collective of muralists Boa Mistura. "That it is the students themselves who paint the mural, not only that the message goes deeper, but that they commit to take care of it and make it their own," they point out from La Regenta. On the other hand, the department points out how the motto the continued presence of the motto I want to match you It will help all students not to lower their guard against possible sexist attitudes.
But the purpose of this mural is not limited to a strong message or to contribute to the beautification of the center's facilities, but is built on solid pedagogical proposals, which aim to disseminate coeducational materials and the use of non-sexist or LGTBphobic educational resources. and the normalization of inclusive language, as defended by the project of Equality and affective sexual and gender education promoted by the teachers of the IES El Batán.
Within its work, the DEAC of the La Regenta Art Center designs activities based on the learning process under a philosophy of 'cooperative and learning methodology', based on artistic projects, with the aim of promoting social and civic skills. From the department, they point out that 'the foundations have already been laid so that this transformation project continues to develop without the need to tutor its execution' and they appreciate the commitment and passion that the students of this capital center showed during the last week.