The Real golea and aggravate the problems of Alavés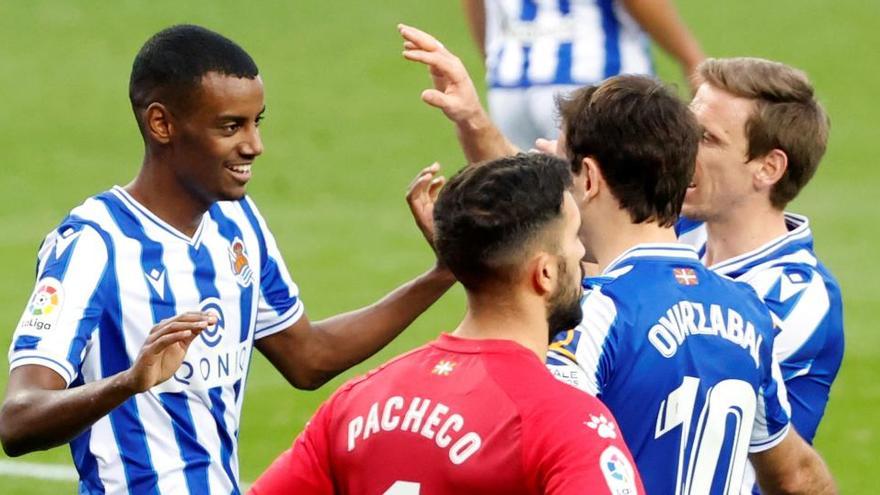 The Real society was compensated this Sunday before Deportivo Alavés (4-0) of the defeat by the same result that Manchester United inflicted on him in the Europa League and, with a spectacular full-fledged game from Alex Isak, who scored three goals, he firmly maintained his fifth position in La Liga.
The San Sebastian team had to fight a lot in the first half to get rid of sticky marking of the team that trains 'Pitu' Abelardo, which had the best chances to unbalance the balance.
Deyverson and Joselu tried it in a few minutes in which Real was still touched by the memory of that win in the Europa League and things seemed like they were going to get worse for the locals.
Alex Isak came to the rescue once again, who had done very little up to that point, but as a scorer he waited for his moment and reached 4 minutes before the break, on a measured ball from Merino that the swede did not waste to score again for the sixth consecutive day.
The blue and white star followed sweetly and as soon as the second half started, in the first against those of Anoeta, Silva gave him a gift that he took advantage of to skillfully circumvent Pacheco's departure and achieve a beautiful goal that gave peace to those of Alguacil.
Alavés was expected to attack in the second period, looking at least to shorten the gap, but Isak was not for work and avoided any reaction with his third goal that sentenced the game.
It was another of the usual play of the Real's tiralíneas, with Silva and Oyarzabal as protagonists, which culminated Isak pair sign the triplet.
The babazorro team finally lowered its arms against a Real who wanted to like themselves and also expand the score. He got it through For your in another rapid counter that surprised an Alavés resigned to defeat.
4.- Royal Society: Remiro; Gorosabel, Zubeldia, Le Normand, Monreal; Illarramendi (Guevara, min. 57), Merino (Guridi, min. 66), Silva (Merquelanz, min. 80); Portu, Isak (Jon Bautista, min. 65) and Oyarzabal (Januzaj, min. 80).
0.- Sports Alaves: Pacheco; Laguardia, Lejeune, Tachi, Aguirrebabiria; Manu, Edgar (Burgui, min. 70), Pina (Pere Pons, min. 70), Córdoba (Pellistri, min. 57); Joselu (Guidetti, min. 80) and Deyverson (Lucas Pérez, min. 57).
Referee: Munuera Montero (Andalusian Committee). He admonished the locals Merino, Illarramendi and Bautista, and the visitors Manu García and Pina.
Goals: 1-0, min.41: Isak. 2-0, min. 49: Isak. 3-0, min. 62: Isak. 4-0, min 73: Portu.
Incidents: Match of the twenty-fourth day played at the Reale Arena without an audience.