The rate of new daily infections in the Islands grows to 214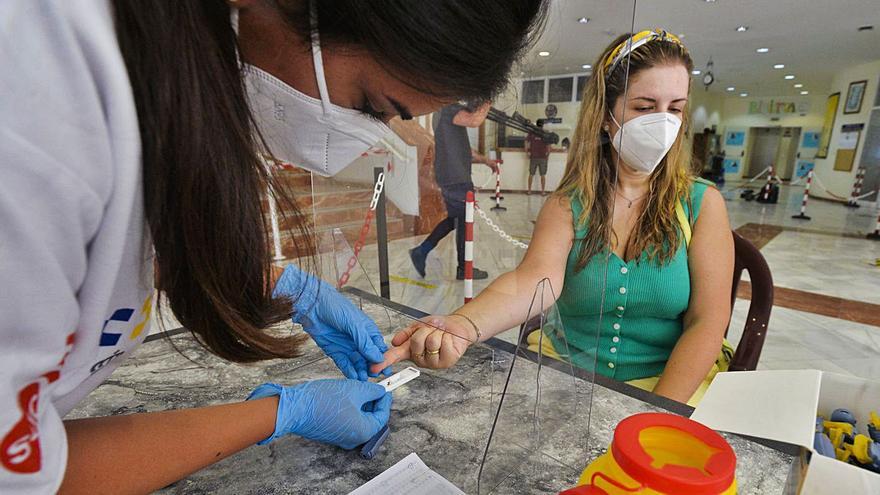 The rate of new daily infections by Covid-19 in the Canary Islands yesterday exceeded the barrier of 200 cases, with 214 positives in 24 hours, 150 of them on the island of Tenerife, in addition to a deceased, a 74-year-old woman who accused other pathologies. We would have to go back to September 25 to find a similar daily record, in this case higher, when 258 were reported in one day.
So far this week there are 600 infections, according to the daily count: 85, 110, 191 and 214 from yesterday.
The latest update of the pandemic data in the Islands, with a total of 593,078 PCR tests performed -3,407 on Wednesday- of which 27,368 were positive, 4.6 percent of the total, with the aforementioned 214 new cases, leaves an accumulated in the islands of 21,584 cases. Yesterday's death, also in Tenerife, brings the death toll to 341.
Active cases stand at 4,292, three more than last Wednesday, and the cumulative incidence rate in the Canary Islands rises three and a half points after seven days to 44.58 cases per 100,000 inhabitants, while at 14 days it also it rises four points to 84.33, according to Europa Press. Of the active cases of Covid-19, 39 patients receive care in the ICU -three less- another 205 remain in the ward -thirteen more- and 4,048 are isolated in their homes in quarantine. Likewise, a total of 16,951 people have been discharged after having contracted the coronavirus virus, which is 210 more than a day ago.
Regarding the distribution by islands, Gran Canaria continues to lead in the number of cases with 9,526 adding 41 in the last 24 hours, of which 1,085 are active -56 less-, while 128 people have died and 8,313 have overcome the disease . Tenerife follows with 9,315 cases registered since the pandemic began, of which 3,063 are active, 193 have died and 6,059 have received medical discharge.
Lanzarote accumulates 1,421 cases, thirteen more in the last day, of which 62 are active, with eleven new, another nine people have perished and 1,350 have overcome the disease.
Fuerteventura remains with 921 cases, nine more, of which 59 are active, 858 discharged and four deceased. For its part, La Palma remains with 216 cases, seven of them active, 203 discharges and six failed. La Gomera adds a new case and marks 116, with 15 active and 101 discharges. And El Hierro, with 69 cases of Covid-19, one active, 67 discharges and one deceased.