The queen receives orphans for sexist violence and asks that there be no setbacks to combat it | Society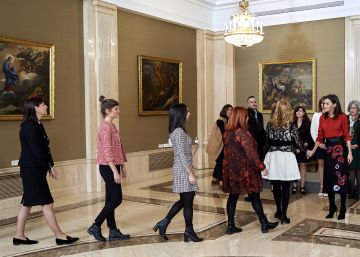 Javier lost his mother and sister. He is the legal guardian of his two nephews at 39. It does not give name or place of origin. "We are from northern Spain," is the only thing that clarifies. He wants to protect children. The trial to his brother-in-law for a macho murder still pending. He killed them both and burned the house. This Tuesday, Javier has talked about his history with Queen Letizia at the Palacio de La Zarzuela. He has told him how in mourning, with the world uphill, the bureaucracy must also be assumed and it is difficult to get ahead. Letizia has heard him: "She is involved with gender violence, she knew our concern," he summarizes.
Javier is one of the 18 people who have attended the royal reception. In the entourage were other relatives of murdered women and the board of the Women Foundation and of Soledad Cazorla Scholarship Fund, Dedicated to helping children of women killed by sexist violence.
The queen has listened to all the relatives, she has transferred her support so that there are no setbacks against sexist violence and she has pledged to help them in their demands. Javier has sent a request so close and painful for his family that the State does not recognize his father as a victim, because he only protects women and their children, not other relatives. After some procedures that were not easy, the orphanhood of her nephews was recognized, to whom as victims of gender violence they are entitled to a pension, although they have told the queen that she has not yet reached all orphans, because no It is automatic. Letizia "has pledged to take some of the petitions to the European Parliament and try to help as much as she can," Javier tells the phone after receipt.
The president of the Women Foundation, Marisa Soleto, thanked the queen that families "can count on her." "We have been concerned that the policies against gender violence necessarily have to continue moving forward and that we do not allow certain political positions to undermine this progress in the protection of victims," ​​he said in reference to Vox, which denies the existence of specific violence against women. The promoter of the Scholarship Fund, Joaquín Tagar, added to the queen it is "surprising that at this time there is no consensus" in the face of a problem of the violence against women. The Soledad Cazorla Scholarship Fund, which has raised about 90,000 euros since 2016, attends about thirty families.
Soledad Cazorla, who died in 2015 and who was Tagar's wife, was the first room prosecutor against violence against women, one of the issues that Queen Letizia devotes most attention to in her institutional activity.