The Pujerra fire originated in a farm in which 1,900 homes were projected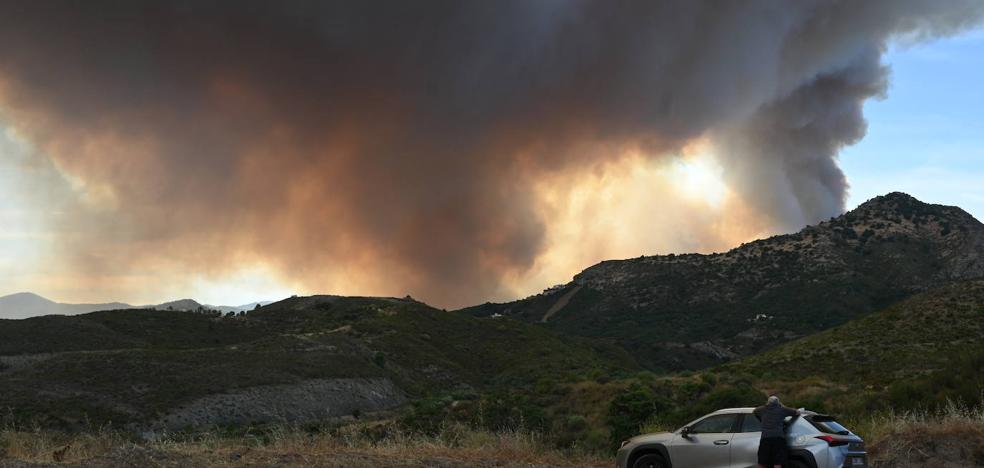 The area of ​​La Resinera, which extends over 6,500 hectares, was the subject of a failed urban plan that included another golf course
The fire that is devastating Sierra Bermeja again originated in the area of ​​La Resinera, one of the largest farms in the area, with an area of ​​6,500 hectares that runs through the municipalities of Benahavís, Júzcar and Pujerra. La Resinera takes its name from the entity that once exploited these lands, the Spanish Resin Union. In 1995, the estate was acquired by the Libyan Foreign Bank (Forebank), a public bank in the North African country.
Of the 6,500 hectares of La Resinera, approximately half a thousand, which are now ravaging the fire (area known as La Resinera Sur), are in the municipality of Benahavís. On them, given that they escaped environmental protection at the time, Colonel Gaddafi unfolded an ambitious urban project: a golf course, 1,915 homes, tourist buildings and public facilities. But in March 2011 the government froze the assets (and with them, the project) of the dictator, who died in October of that same year. Currently, the farm is used as a private hunting reserve.
The fire originated around 3:00 p.m. yesterday, when the land was blowing more strongly, in the Pujerra district and more specifically in the Los Baños area. It is not a transit area or well connected, which makes both the investigation and the extinction of the fire difficult, in which the members of the Infoca and the Military Emergency Unit (UME) are now working.
The affected surface is very similar to that of the fire last September, a terrain of peridotite (hence the vermilion color), pines and cork oaks. The term of Pujerra is divided into two slopes, one that goes towards the Genal valley and the other, towards Sierra Bermeja, in the direction of the Coast. It is through this last face that the fire is now advancing.
3,000 residents evicted

Terraces closing in a hurry, confusion among the locals and surprise for foreign citizens who were in the town enjoying a few days of vacation on the coast.
The mayor of Benahavís, José Antonio Mena, indicates that between 2,500 and 3,000 inhabitants have left the urban nucleus, since of the almost 8,000 residents, a good part live in urbanizations outside the urban area.
The San Pedro tent has been the place enabled to welcome the neighbors. Seated on a curb are Segundo and Antonia. She is 63 years old, he is over 70. "We could not imagine that we were going to experience this," she says. "In the afternoon we went to the pool and seeing how the sky was setting, we decided to go home to keep an eye on what was happening," explains Segundo. «He was our ten-year-old grandson the first to alert us. He told us that in his school class group they were warning that they had to evacuate », says Antonia.