The public stands up at the premiere of Rafael Amargo: "I am honest and serious"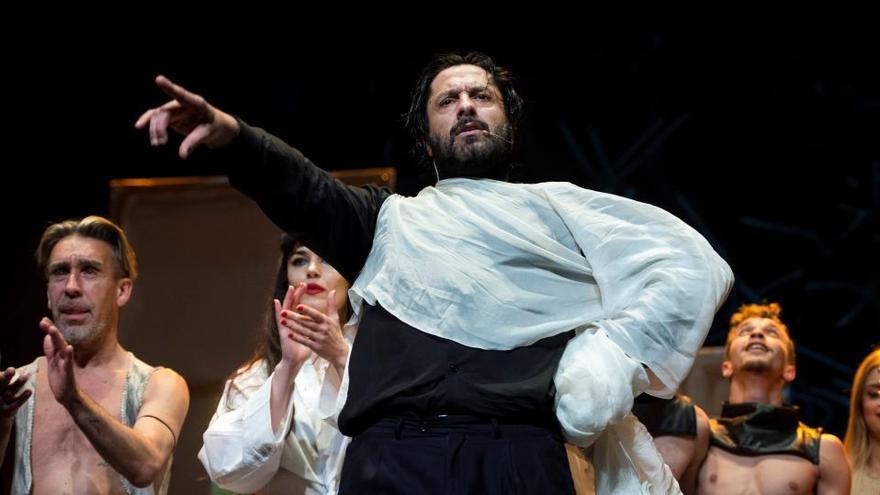 The Dancer Rafael Amargo has premiered his work 'Yerma' this Saturday, December 5 at the Teatro de la Latina, which has been received upon completion with the audience stood and applauded. Amargo has addressed viewers to thank this support and claim his innocence, ensuring that he is someone "honest and serious".
"Thanks to the theater where we are, because among so much uncertainty it would have been normal that they would not have let us dance," Amargo began his final address, when the audience had been standing for almost three minutes cheering the cast. The dancer has recognized that he is going through "hard days" and does not know how he can "be whole".
"It is the first time that I am softer", has recognized the artist, while from the public he was praised asking him not to "never lose his humor" and that he is a "much loved" artist. The capacity of La Latina in this premiere -with restrictions due to the covid- has practically not reached 40%, although the stalls did give the feeling of being complete -with the spaces required by security-.
"Thanks to all who love me, I have to measure the exact words and the bottom of everything is a lot of love. I'm very nervous. It had been five years since I came to Madrid, because every time I come I get a fair this big. It scares me, because it costs me a lot, and I prefer to express myself here for a lot of money that they give me on television", he continued.
Amargo, visibly moved, has also distributed thanks to his family and his team, who "have fought and are still here by the side." "I will be what I can be, but if I have something it is that I am honest and serious And in times of covid, which is very difficult, I fight for these families to be able to entertain a people, "he defended.
With a "long live culture" and citing Lorca -also comparing in a certain way the persecution that this author suffered with his own-, Amargo has closed a function that has ended as it has begun, rescuing the figure of the poet from Granada.
"With what I entertained myself when I was in a dark dungeon ..." are the first words that are heard in this eclectic 'Yerma', which mixes flamenco and urban dance, theatrical text and song. "I want the theater to be a scandal", replies Amargo-Lorca in one of his first speeches, paraphrasing the author of 'La casa de Bernarda Alba'.
The dancer has managed to put on a show after a very hard week, in which has gone through the police station to testify for an accusation of drug trafficking and belonging to a criminal organization. "I am more than innocent, that is why I am here. I cannot take a step back, it is my company and what I want is to take three steps forward", explained the dancer before the premiere, who also reiterated his innocence and highlighted that what wanted was "dance".
The show that Amargo has presented has a sober staging, with a stage of dry leaves, simulating a large Bullring, and hanging doors over a tablao. The costumes are run by Rafael Amargo himself, with his Amoramargo brand.
On stage, the idea proposed by the dancer is to show an autobiography of Lorca, dreaming of being Yerma. And in between, flamenco dance, urban dance and the word intersect to shape "a full-blown musical". Amargo, on this occasion, is more of a master of ceremonies, leaving the prominence of the dance to Daniel Navarro.
Rafael Amargo is accompanied in this show by actors such as Blanca Romero -not present today as she alternates with Sara Vega- or Chelo Vázquez; Flamenco artists such as Mayte Maya, El Perrete, Sandra Hita, Vicky Duende and Daniel Navarro -one of the most acclaimed- and even a contortionist, Abdel Luna.