The PSOE-Podemos Government takes May 1 as the last bullet before the elections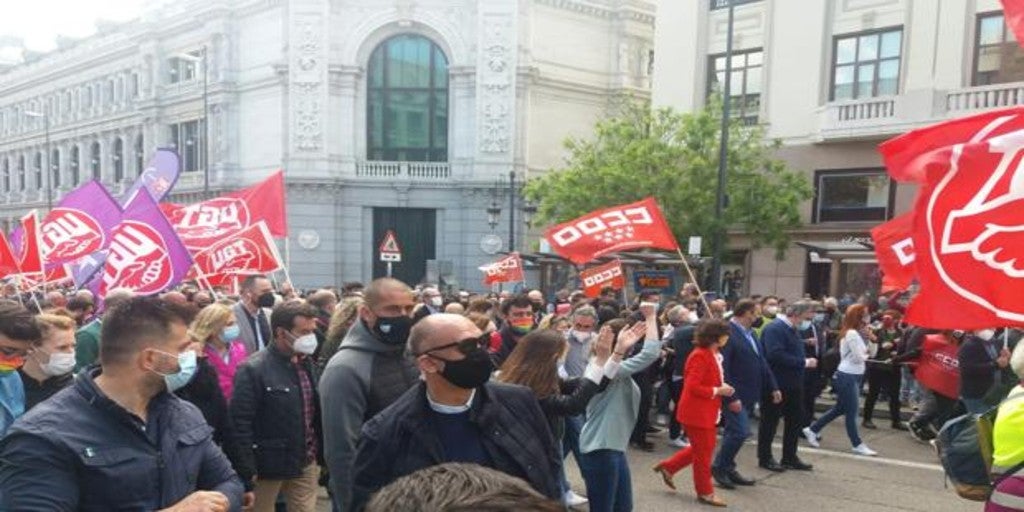 Madrid
Updated:
Keep

Just three days before the 4-M elections, the left assaults the streets of Madrid as the last bullet in the face of the elections. The Government of PSOE and United We Can It has been overturned with the call for the demonstration for Labor Day with the presence of several of its ministers in a meeting with thousands of people.
Unai Sordo and Pepe Álvarez, general secretaries of CC.OO. and UGT, lead the march from Cibeles to Sol, escorted by the Executive of Pedro Sanchez. Not in full, but with notable participation. Pandemic environment, with little safety distance, in a celebration loaded with political signs.
The union representatives have again demanded during the day, the repeal of the 2013 pension reform, to end the "duality of the labor market." In this sense, the unions asked to implement the social agenda "pending and committed" by the coalition government of the PSOE and United We Can with social agents and citizens. "When rights are being questioned, it seems to me that we have to say that this is not possible," argued the leader of UGT.
Yolanda Diaz, Third Vice President and Minister of Labor; Jose Luis Ábalos, Minister of Transport; José Manuel Rodríguez Uribes, Minister of Culture and Sports; Carmen Calvo, First Vice President and Minister of the Presidency; Irene Montero, Minister of Equality; the new Minister of Social Affairs, Ione Belarra… Government representatives have been arriving before the start of the march, which also highlights the presence of Pablo Iglesias, candidate to preside over the Community of Madrid and already former vice president of the Government.
Iglesias has given himself an effusive hug with Unai Sordo and Yolanda Diaz, moments before the start of the demonstration. And as the minutes passed, Mónica García, candidate for Más Madrid; Ángel Gabilondo, socialist candidate; and Adriana Lastra, from the PSOE.