The pride of the Nautical Club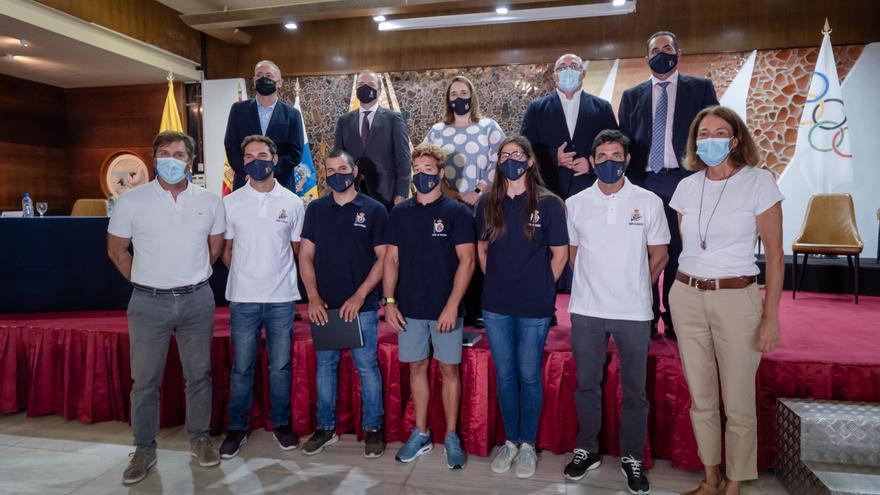 The president of the Royal Nautical Club of Gran Canaria, Maica López Galán, received in the Dámaso Hall of this entity, the athletes and coaches linked to its nautical section, designated to represent Spain in the next Tokyo Olympics in the discipline of dinghy sail. Accompanied by the mayor of the city Augusto Hidalgo, the general director of sports of the Government of the Canary Islands, Manuel López and the sports counselor of the Cabildo Gran Canaria, Francisco Castellano, the three sailors of this nautical entity, received the recognition for being part of the Spanish Olympic dinghy sailing team, which will be at the next Olympic Games in Tokyo.
Athletes Patricia Cantero Reina, current world champion, crew member of Silvia Más in the female 470 class, Angel Granda Roque Spanish representative in class RS: X and Joel Rodríguez Pérez recently appointed to the ILCA7 individual class They were accompanied by the coaches and members of merit of the RCNGC Aarón Sarmiento Padilla, coordinator of the double classes of this club and coach of the 470 Portuguese men's team that will attend the Olympic Games and Gustavo Martínez Doreste, coach of the Royal Spanish Sailing Federation for female 470 class.
In addition to the numerous sporting achievements that these three sailors accumulate, the Royal Nautical Club of Gran Canaria It is history once again as it is the yacht club that includes the most sportsmen in the Spanish team. After the seven Olympic gold medals that the entity treasures, Tokyo presents itself as a new challenge to increase its extensive sports record.
During the event the mayor of the city of Las Palmas de Gran Canaria, Augusto Hidalgo highlighted the important feat that these young athletes had achieved after overcoming a long period of pandemic. Likewise, the general director of sports Manuel Lopez He thanked the tremendous effort that it has represented for them, to achieve this classification wishing them the best winds for the next Games.
Patricia cantero He thanked on behalf of his colleagues for the reception and support received from the RCNGC and the institutions, highlighting the importance of having this help, so that new generations can achieve their dreams. The Olympic gold medalist in Atlanta '96 Fernando León closed the event, encouraging the protagonists to enjoy the experience and achieve the best results.