The price of light skyrockets just when air conditioning is essential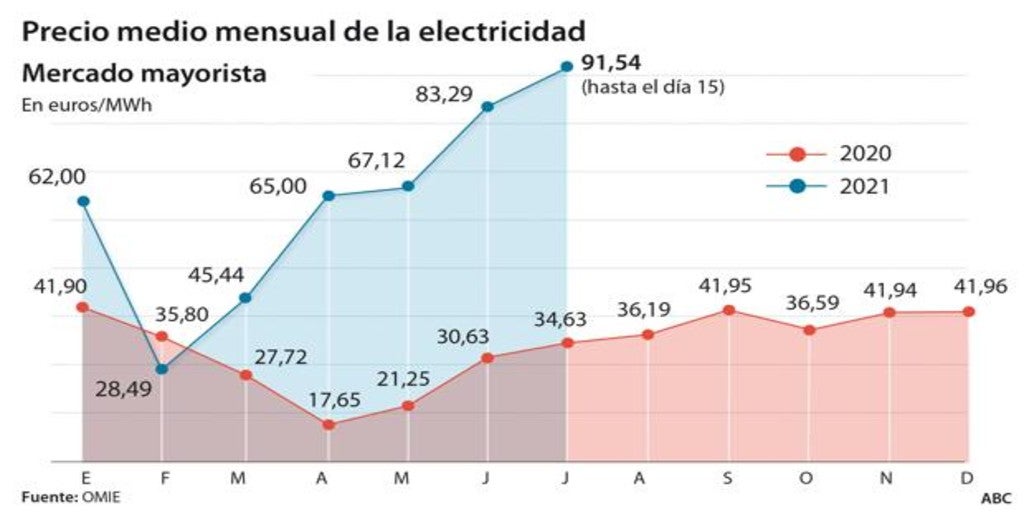 Madrid
Updated:
Keep

Electricity prices remain at levels almost never seen before. The regulated tariff, which has almost 11 million consumers, it will reach a new high of € 0.2677 per kilowatt hour (kWh) tomorrow at a time when air conditioners are essential, significantly increasing electricity consumption.
The first 'peak' period, between 10 a.m. and 1 p.m., the rates range between 0.2522 and 0.2554 euros per kWh. The second expensive period of the day, between 6 p.m. and 10 p.m., prices range from 0.2515 to 0.2677 euros. Precisely, between 9:00 p.m. and 10:00 p.m. the new maximum will be registered: 0.2677 euros per kWh.
This rise is due to The average price of electricity in the wholesale market will reach its annual record on Tuesday and the second most expensive in history: 101.82 euros per MWh. The maximum throughout this Tuesday will be played between 9 a.m. and 10 a.m., with 111.36 euros / MWh, and the minimum, of 94 euros / MWh, will be recorded between 4 a.m. and 5 a.m.
It only exceeds the average daily price that will be for this Tuesday the 103.76 euros per MWh that marked the price of electricity on January 11, 2002.
These daily average price levels touched in July on several occasions exceed even by far the almost 95 euros per MWh that were registered on January 8 in the middle of the storm Filomena.
These increases are due to rise in international gas prices and CO2 emission rights, which are marking the upward trend in the pool in recent months, together with the lower contribution of renewables in the mix.
They are also joined by the high temperatures at the beginning of the week, which will exceed 40 degrees Celsius in various parts of the country, causing a rebound in demand.
On June 24, the Government approved an urgent royal decree-law to reduce the taxes applied to the supply of electricity and, with it, the electricity bill of homes, the self-employed, SMEs and the whole of the companies, which suppose the VAT reduction on electricity from 21% to 10% until the end of this year and the suspension of the 7% tax on electricity generation for three months.
Despite these measures, the electricity bill of an average user has risen 34.6% in the first half of July compared to the same month last year, according to data from Facua-Consumidores en Acción.