The price of electricity in October has fallen almost 13% compared to September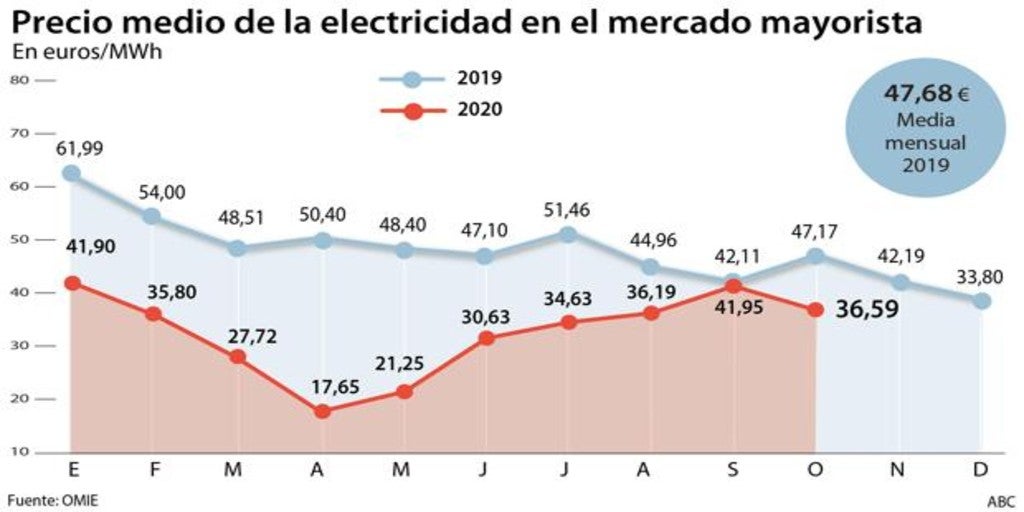 Madrid
Updated:
save

The average price of electricity in October is 36.59 euros per megawatt hour (MWh), 12.78% cheaper than in September which, with 41.95 euros is so far the most expensive month of all 2020, according to data from OMIE, the operator of the wholesale market.
The 36.59 euros per MWh in October represents a decrease of 22.43% compared to the same month last year.
The drop in electricity prices in the wholesale market is due to several factors, such as the increase in wind power generation, which significantly lowers prices. Also, the decrease in the prices of natural gas, which is the most expensive energy when demand and supply in that market are matched. Finally, the squall Alex sank prices during the first days of the month with its heavy rains and winds.
Something similar could happen in November, when the storms Barbara and Clement are announced, according to the Aemet (State Meteorological Agency). The average price for November 2019 was 42.19 euros per MWh.