The pressure also played with Argentina and Brazil | sports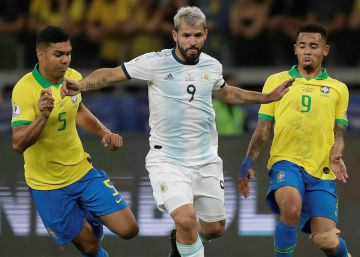 When Argentina and Brazil face each other there is always an emotion, a special meaning. Their sporting rivalry is maximum in all the modalities in which they compete internationally. And since soccer is the most practiced sport in both countries, it transcends any type of expectation that can be generated in a match like the one experienced in the Copa América.
It seems to me that Argentina has not yet found the ideal operation to be able to use its best individualities, especially Leo Messi. Lionel Scaloni tested at the start of the Copa América with a single striker. In the last matches he tried to use two and had a slight improvement in the quarterfinals against Venezuela. In semifinals was seen, in general, a little more harmony. Messi, for example, was the best against Brazil since he was very close to the level he usually has in Barcelona. But that harmony does not reach Sergio Agüero, Lautaro Martínez or the players who come into his replacement.
In addition, it was not only the first time that Scaloni repeated equipment, but it is the first one that is achieved in the last 40 matches of the Argentine national team. Four technicians have passed and none could repeat due to injury, expulsion, good or poor performance of a player.
On the contrary, Brazil found, in a scheme with four defenders and five midfielders, how to cover the areas of their field and cut any rival action drawn up. That allowed him to have some plays to the contrary, and with his goal it became more evident: he took refuge a little more in his field and gave more possession to the Argentines. With his second goal the match was defined. Argentina was no longer seen as strong enough to unbalance, and Miranda's entry helped Brazil consolidate and even try to extend the result to counterattack.
Undoubtedly, the fact that it has been a long time since Argentina's last international achievement not only weighs on the players, but also on the Argentine people and fans. It generates a lot of anxiety and is transmitted to the players, who do not have to carry with that backpack of disappointment, it is undeniable that the fact of losing three finals in the last five years makes them reproach the lack of achievement of a title .
I think it is difficult for rivals to take advantage of this fact, it is a self-imposed pressure generated by the Argentine team and that undoubtedly prevents them from developing the level that each of their players has in their teams, specifically in Europe.
Brazil also faces this tournament with a lot of pressure, because it has very recent the sudden elimination of the World Cup that they organized in 2014. In his case, he has been consolidating the idea of ​​his coach, Tite. That's clear. Playing before his public and having the requirement to reach the final generated a great pressure, but despite that he has a level of players and a very good amount that allows him to consolidate any system that his coach proposes to obtain good results. And without counting in this tournament with his referring player, Neymar.
The merit of the Brazilian team is that it strengthens a style of play. It is not as colorful as one is used to by the technical and physical characteristics of its players, but it does have different variants. Sometimes it overwhelms its rivals and in others it must strive hard to win, as it happened against Argentina.
His future is associated with the results and there is still the final on Sunday. However, it will be necessary to see how the players arrive at the World Cup in Qatar in 2022 and if they have chances to win the title. A priori, because of the history of her football, she will arrive once again as a great candidate.
Juan Antonio Pizzi He won the Copa América as coach of Chile in 2016.
You can follow EL PAÍS Sports in Facebook, Twitter or subscribe here to the Newsletter.