The president of the College of Physicians trusts that the pandemic "will be almost resolved" in two months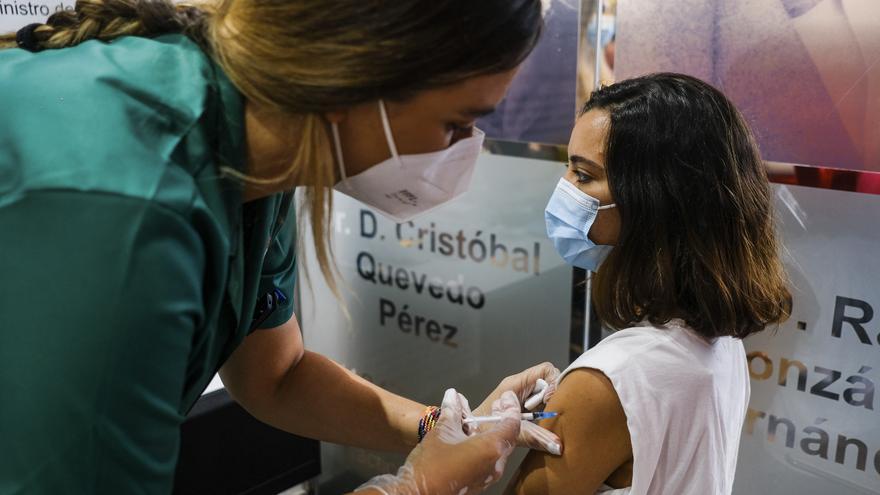 The president of the College of Physicians of Las Palmas, Pedro Cabrera, has trusted that if the vaccination against covid-19 continues its current course in two months the pandemic "is almost resolved", in addition to having recognized that deaths and hospital pressure must already be taken into account ahead of the accumulated incidence.
Regarding the incidence that the pandemic is having among the young population, Cabrera has clarified that when a vaccinated young person tests positive and has to be admitted, the case is subsequently studied and "the reason is found", stating that there are people who have an immune system "of low quality" but that "never" has faced a serious infectious disease, reason why until that moment is a "normal person" at the health level.
"When those cases are analyzed, which are very high-profile, we doctors are used to the fact that when we study it throughout analytics there is always a basic defect, there is an immune defect and, whoever has it, unfortunately pays for it even when vaccinated ", said the president in this regard in a conference of the College.
Regarding the growing presence of the Delta variant of the coronavirus in the Canary Islands, Cabrera has clarified that all the variants are covered by the vaccine. "There is speculation that the variants are not covered; the vaccines are designed for a part of the virus that is common to all of them," he concluded.
Vaccination against the coronavirus of the new collegiate
On the other hand, on the morning of Tuesday, July 13, the College of Physicians of Las Palmas has 116 new resident internal physicians (MIR) in a conference to bring future health workers closer to the institution. In addition, the meeting has been used for the vaccination of 58 of the students The other 58 already have a dose or appointment next.
The president of the professional association added that many doctors "do not even know what a medical college is for," or that it is "where the defense of the profession lies" and the deontological codes of medicine. Affirming that this day serves for residents to join knowing the functions of the school.
One of the future internal doctors Jesús Lázaro, from Madrid, said about the sessions that it is a "very complete" system because that way they take advantage of one day to do everything and leave with the first dose.
Likewise, Lázaro criticized the new MIR election system because it has been chosen "blindly", thus stating that "it has been an adjudication, not an election", considering that the Ministry of Health "has not" treated them "well". In his case, the option he finally got was number 19 on a list that each student ordered according to their preferences.