The premiere of Anfi-Mogán brings together 215 athletes next Sunday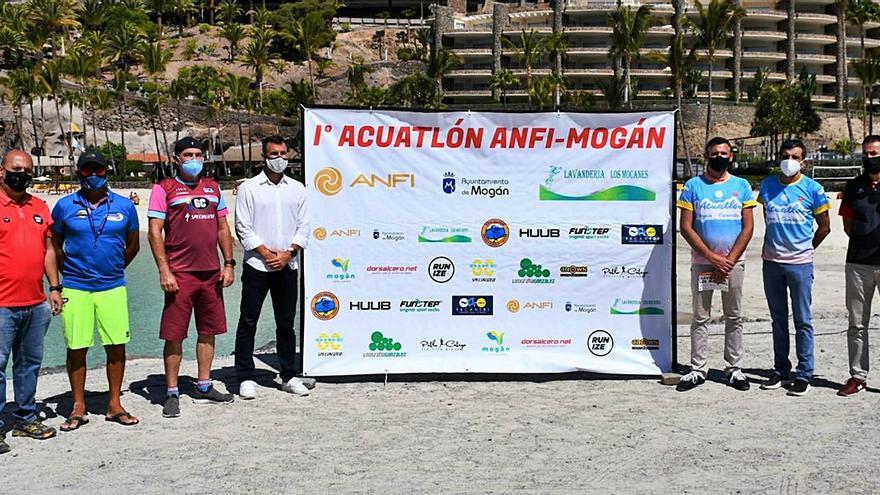 The municipality of Mogán will host this Sunday the 1st Anfi-Mogán Aquathlon, organized by Runize Shop and Dorsal Cero, together with the collaboration of the CD BikeGC South Triathlon, the Mogán City Council and the Canarian Triathlon Federation. The event will take place on the beach of the Anfi Tourist Complex with the participation of 215 athletes and will serve as the setting for the Canarian Cadet and Youth Championship.
Of these participants, about 90 are in the absolute category and the rest in the lower categories. The day will start from 9 a.m., with the Open start. At 11.00 am there will be the staging of the participants of the Cadet and Youth Championship of the Canary Islands, to end at 12.00 pm with the minor categories (children, fry, youngest and prebenjamines).
The outputs will be made in batches of ten participants every ten seconds, since the health protocol must be followed. The Anfi-Mogán Aquathlon consists of three segments. A first running race in a 1,250-meter circuit along the avenue, another 500-meter swimming circuit in the bay of the beach and finally, the 1,250-meter running race. The distances will be reduced in the minor categories.
Both Pablo Cabeza, director of the test and president of CD Bikegc South Triathlon, and Juan Carlos Serrano, president of the Canarian Triathlon Federation, have thanked the Mogán City Council for the facilities to hold the test and also the main sponsor Grupo Anfi.
In addition, Serrano, indicated that for the Federation this "is an important event because it is the first test of the Canarian triathlon calendar." In addition, he assured that "we are facing a very responsible sporting event, with significant support from both the City Council and the Anfi Group, something to value in these times."