The Prado removes a painting of 'Guests' upon discovering that it was painted by a man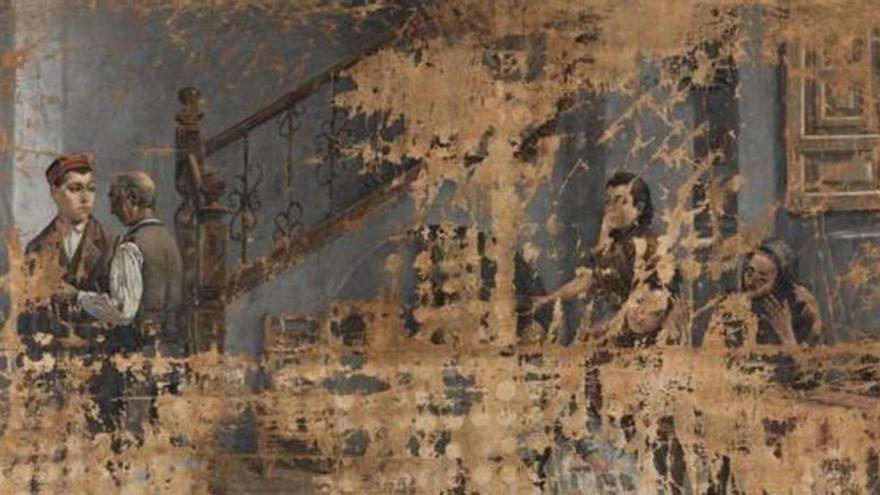 He Prado Museum has withdrawn a painting from the exhibition 'Guests' due to "doubts about its authorship", specifically the one attributed in the sample to Concepción Mejía de Salvador with the title 'Family scene', which would actually correspond to Adolfo Sánchez Megías (1864-1945).
Recently opened, the exhibition 'Guests. Fragments on women ideology and plastic arts in Spain (1833-1931) 'has as its purpose show the stereotypes that Spanish art has legitimized about women and rescue the names of the forgotten artists who worked on it.
According to the statement sent by the Prado Museum, the withdrawal of the aforementioned work occurs after the "Evidence provided" by Concha Díaz Pascual that both her attribution and the title are wrong of it, which is actually 'The Soldier's March'.
The center, which has regretted "this setback", explained that the piece arrived in 2016 from the Museo Nacional Centro de Arte Reina Sofía under the attribution of 'Mejía de Salvador, Concepción; Family scene 'in the rearrangement of collections between the two institutions, "authorship that was maintained for the current exhibition."
"This confirms the open project nature of this exhibition and the need to continue research on women artists from past centuries," adds the Prado Museum in its justification.
The canvas was already listed in a relationship prior to 1924 of the Museum of Modern Art, among the non-inventoried paintings from the National Fine Arts Exhibitions. In that relationship it was already pointed out that it was broken and without a frame.
Then it went to the now defunct Spanish Museum of Contemporary Art and, from there, on a roll and without a frame, to the Reina Sofía warehouses.
The 'Guests' exhibition, which will remain at the museum until March 2021, is made up of more than 130 works, almost all from the collection of the gallery, which only has fifty painters and almost five thousand male authors.