The PP asks that the emergency of the work of the Maternal be declared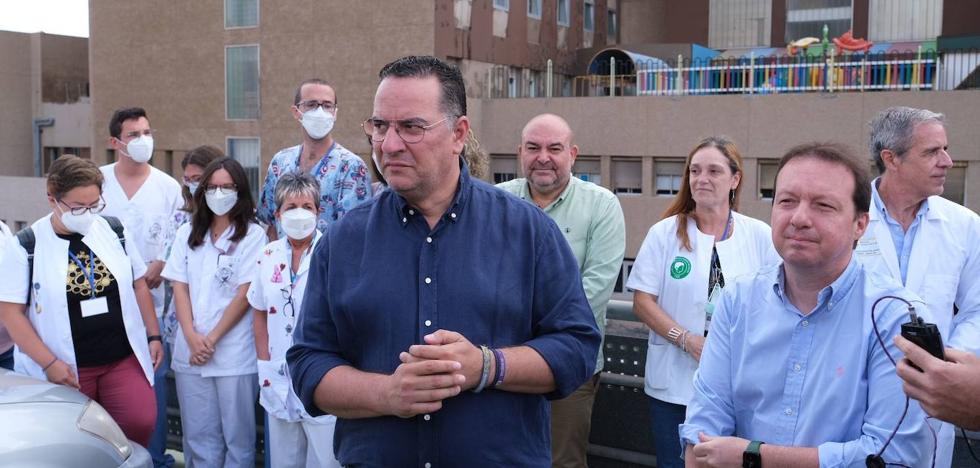 health
They demand the appearance of the Minister of Health to explain the new delay in the expansion of the hospital
The popular group in Parliament will ask the Canarian Government to declare the
emergency of the improvement and expansion works of the Maternal and Child Hospital of Gran Canaria to try to speed up the execution deadlines, after the bidding process was paralyzed due to a ruling by the Ministry of Health.
Also,
the popular ones will demand the appearance of the person in charge of the Ministry, Blas Trujillo, to explain the reason for the new delay in the works to expand and rehabilitate the oldest and most deteriorated hospital in the Canary Islands.
The general secretary of the Popular Party of the Canary Islands, Poli Suárez, announced both actions this Tuesday at the gates of the health center, accompanied by the popular deputy in the Canarian Parliament, Miguel Ángel Ponce, and representatives of the hospital staff and the affected families.
Suárez described as «
administrative bungling» the delay in the construction of the expansion of the Insular Maternal Hospital whose adjudication, paralyzed by an error by the Ministry of Health, will force the execution of the project to be delayed for another year.
"This Ministry is in the ICU for different reasons and, among others, because of that botched management," said Suárez, who recalled that the PP invited the oncohematologist, Carlos Lodos, and the pediatrician, Maite Angulo, to the Parliament of the Canary Islands to to report the serious deterioration suffered by the center and the appalling conditions in which they carry out their work.
In addition, Suárez added that the training will ask «
the appearance of the Minister of Health in the plenary session of the Parliament to give explanations to the citizens of the Canary Islands, because this is not only a problem in Gran Canaria or only exists in the province of Las Palmas, boys and girls from other islands that do not belong to this province are also cared for here, "said the Secretary General of the Canarian PP.
For his part, Ponce described as "regrettable" the
lack of transparency of the Government of the Canary Islands and acknowledged that he learned from the press of the new delay in the works of the new children's tower.
With this appearance before the media, the popular deputies wanted to show their support for the children treated at the hospital and the health personnel who work in the health center.