The Portuguese Government threatens carriers with jail sentences if they do not meet the minimum services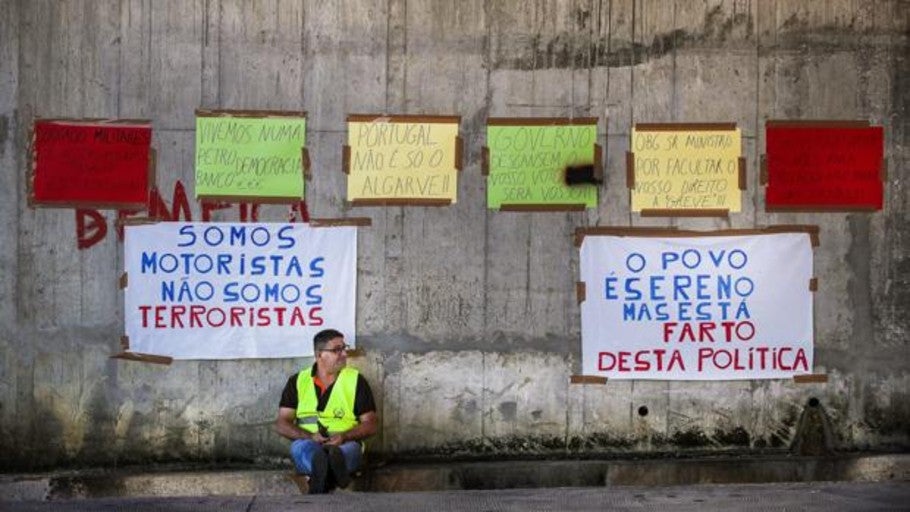 Updated:
The Portuguese Government confirmed that striking carriers they are not following the legal intervention of unemployment, which forces them to work, because if they refuse they can face even prison sentences, and warned that this measure can be extended if at the end of the day the breach of the minimum services is found.
In the balance of the half of the day, presented at a press conference, the Minister of Environment, João Pedro Matos Fernandes, said that the civil requisition, legal name of the intervention of the strike, was not being fulfilled in Faro (south).
The situation was described as "serious" by the minister, who stated that the military had to take care of the transport of fuel from Loule to the airport of that city, a task that the carriers were required to do by law.
Faro was one of the places where on Monday the Portuguese Government had decreed the civil requisition, an extreme instrument that did not only mobilize the military to guarantee supply it forces the strikers that are necessary for the essential supply to work. If they refuse, they can even face jail time.
The decision of intervening the strike generated a malaise Among the carriers that exploded this morning, when the spokesman for the union that brings them together, Pedro Pardal Henriques, warned that the workers would not comply with this legal obligation to go to work.
«If a driver is going to be arrested, then the Minister has to bring several buses to take also to the 800 carriers in the country», Pardal Henriques added, referring to the possible consequences of not complying.
In that sense, Matos Fernandes recalled in his press conference today that fourteen drivers have been identified who breached the civil requisition on Tuesday, eleven of which have already been notified, and urged to take into account the consequences that defy such a measure can have.
Apart from this issue, the minister said that the minimum services were being fulfilled at the moment, although he warned that the final balance can only be made at the end of the day, when it is not ruled out that the legal intervention of unemployment is extended.
"If we reach the end of the day and the minimum services had not been fulfilled, the civil requisition will surely be extended," he warned.
. (tagsToTranslate) portugal (t) stops (t) carriers



Source link