The Pope undergoes a knee infiltration to relieve pain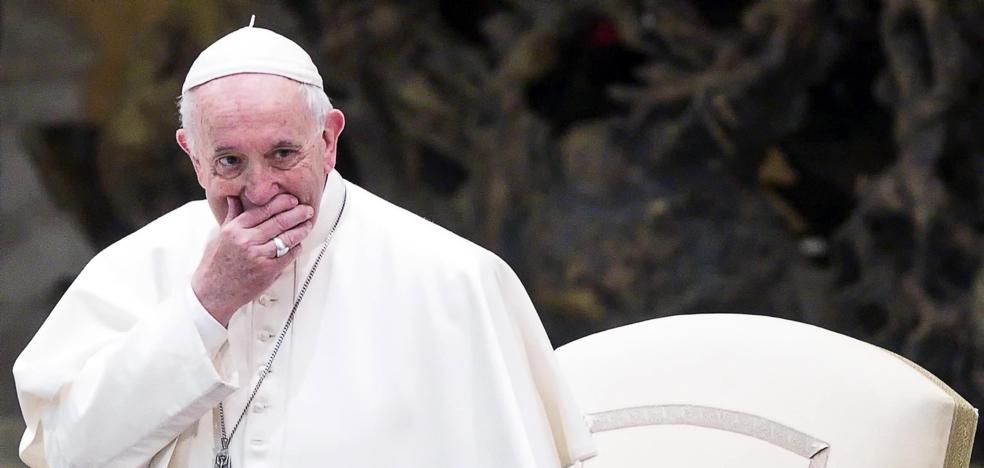 Francisco affirms in an interview that he is willing "to travel to Moscow" and meet with Putin to try to stop the war
Pope Francis will undergo an infiltration in his right knee this Tuesday to help him overcome the mobility problems he has been suffering for months and which, in recent weeks, have forced him to cancel several events scheduled on his agenda, also preventing him from standing for long periods of time to deliver speeches or greet the faithful, as he would have liked.
"I have a damaged ligament. I will do an operation with infiltration and it will be seen. I've been like this for a long time, I can't walk. Some time ago the Popes walked with the gestatoria chair (portable throne). It takes a bit of pain, of humiliation… », explained Jorge Mario Bergoglio in an interview published this Tuesday by 'Corriere della Sera'. The 85-year-old Pontiff said last Saturday during a meeting with pilgrims from Slovakia that his leg "was not good, it doesn't work", so the doctor had asked him "not to walk".
In February, the Vatican reported that she was suffering from acute gonalgia, a severe rheumatic-type pain in the knee that Bergoglio himself described last week as "nun's disease", since, as he explained, the nuns "from praying so much on their knees, they got sick." "This will heal, but in the meantime things must be done well," said the Pontiff, whose intervention should clear up any doubts about his participation in the trips that he has scheduled in the coming months. In June she is scheduled to visit Lebanon, while she will go on an African tour moving to the Democratic Republic of the Congo and South Sudan the following month, when she is also expected to go to Canada.
Most of the interview with 'Corriere della Sera' was devoted to the war in Ukraine, which began on February 24 with the start of the Russian invasion. "On the first day I called the Ukrainian president Zelensky by phone. On the other hand, I have not called Putin. I had spoken with him in December on my birthday, but this time I have not called him. I wanted to make a clear gesture that the whole world could see and that is why I went to see the Russian ambassador," Francis declared, referring to his visit the day after the beginning of the invasion to the Moscow Government legation to the Holy See, a unprecedented gesture.
«I asked them to explain it to me and I told them: 'please stop'. Then I asked Cardinal Parolin (Secretary of State), after 20 days of war, to send Putin the message that he was ready to go to Moscow». He also affirmed the Pontiff that at the moment he does not plan to travel to kyiv, where Zelensky has invited him. Before he would have to go to Moscow to meet with the Russian leader. «But I am a priest, what can I do? I do what I can". For this trip to be possible, it would be necessary for the Kremlin leader to grant "some window" beforehand with the establishment of at least a ceasefire, but so far "there has been no response." The Holy See has continued to insist on this line, although without success. "I am afraid that Putin is unable or unwilling to hold this meeting at this time. But how not to stop such brutality? 25 years ago we lived the same with Rwanda».
In his conversation with the director of the aforementioned Italian newspaper, Bergoglio partially supported the thesis that the expansion of the Atlantic Alliance in Eastern Europe could have prompted Moscow's reaction, stating that "NATO's barking at the gates of Russia" facilitated the "anger" of the Kremlin, which "I cannot say if it has been provoked." When asked about the delivery of weapons to the Ukrainians to defend themselves against the invasion, the Pope threw balls out by saying that he "did not know how to answer" because he is "too far away". He made it clear, however, that "weapons are being tested" in that country.