The poet Miren Agur Meabe wins the 2021 National Poetry Prize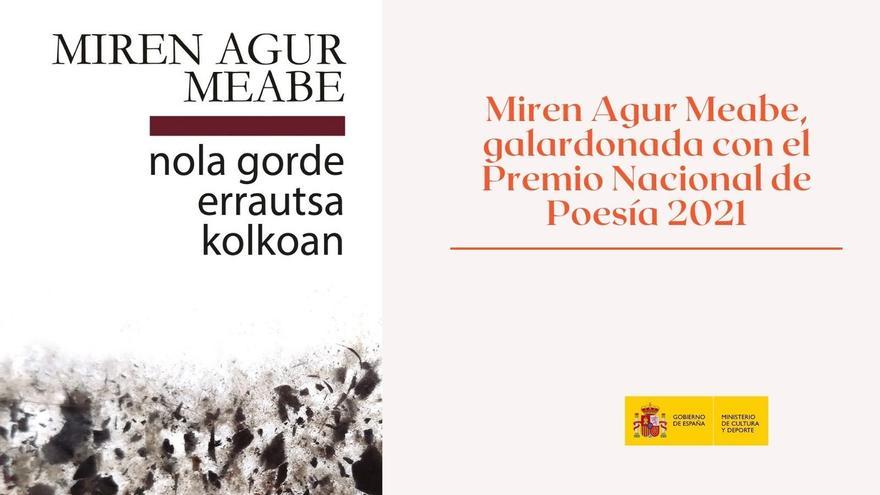 The Basque poet Look Agur Meabe has been awarded today with the National Award of Poetry 2021, endowed with 20,000 euros for 'Nola gorde errautsa kolkoan' ('How to keep ash on the chest'), a collection of "maturity" that "accommodates a multitude of voices, styles and tones."
Published by the Susa publishing house, this collection of poems has also been distinguished, according to the evaluation, for the "reflections on desire and death, nostalgia and the passage of time are combined with a perpetual search for enjoyment through words ".
A work that, as a counterpoint, adds the jury, offers an "ironic dimension in its language and in the attitude it embodies". "Elaborated over ten years, it masterfully brings together the bitterness of the passing of the years and an unbreakable vitality and freshness", he clarifies.
Poetry, children's literature and adult narratives
Miren Agur Meabe (Lekeitio, Bizkaia 1962), graduated in Teaching within the specialty of Social Sciences, also has a degree in Basque Philology. Writer and translator in Basque, she has dedicated herself to editorial direction and management within the Giltza-Edebé group.
He has mainly written poetry and children's literature, although he has also cultivated storytelling for adults.
The collection of poems 'Azalaren Kodea' ('The skin code') received the National Critics Award in 2000 and his next book of poems 'Bitsa eskuetan' ('Foam in the hands'), published in 2010, won the Critics' Prize for Poetry in Basque.
In 2002 he received the Euskadi Prize for Children's and Young People's Literature with the work 'Itsaslabarreko Etxea' ("The house on the cliff"), an award he also received in 2007 for 'Urtebete itsasargian' ('A year at the lighthouse').
Also, the album 'Mila magnolia-lore' ('Mil flores de magnolio', 2010), in which he combines prose and poetry, was included in the IBBY Honor Roll.
The following year with 'Errepidea'(' The road ') won the Euskadi Prize for Children's and Young People's Literature.
Since 2006 he has been a member of the Royal Academy of the Basque Language Euskaltzaindia.
The jury for this award has been chaired by María José Gálvez Salvador, general director of the Book and Promotion of Reading.